The Wagoneer S Is an Electric Jeep that Goes 0-to-60 mph in 3.5 Seconds
crossovers | jeep | wagoneer s
This week, Jeep presented its initial plans for increased electrification of its lineup, announcing new models and variants with battery-electric drivetrains. Three new models were revealed: the rugged and trail-ready Jeep Recon, a global-market crossover called the Avenger, and a sleek, powerful addition to its upscale Wagoneer line. The Wagoneer S is a sporty and modern crossover with the potential to take on the Tesla Model X and other premium electrics. Jeep says that they wo;; release a total of four zero-emission models by 2025, so we can expect at least one more new model to debut sometime in the next 18 to 24 months.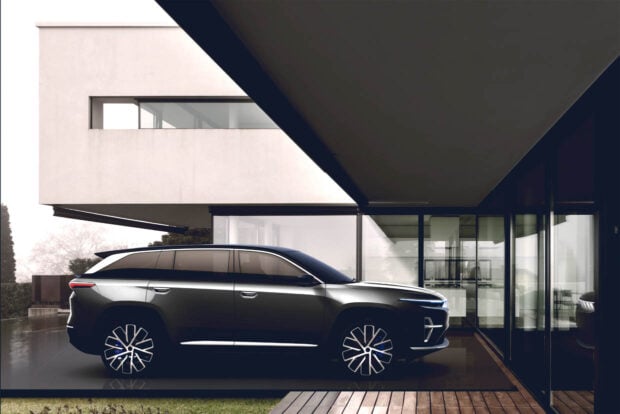 Jeep dropped some very pretty pictures of the Wagoneer S during its 4xe Day event. The photos show off the coolest interpretation yet of the Jeep seven-bar grille, with sculpted, LED-illuminated sections between slim, sculpted headlights. There's also an aerodynamic spoiler dubbed the "hovering wing" that spans the vehicle's rear above the liftgate. Jeep didn't release any interior photos and simply says it will have an "elevated style."
We don't have much information on specs yet. Still, Jeep is aiming for a not-too-shabby 400-mile driving range, a 600 horsepower all-wheel drivetrain, and a zippy 0-to-60 mph time of 3.5 seconds, which puts it on par with the base Tesla Model X. Jeep hasn't offered up any pricing details on the Wagoneer S. Still, the brand's dabbling with six-figure pricetags on the Grand Wagoneer, and a $112,590 base price for a Tesla Model X, I wouldn't be surprised if this car tops out above $100,000. Expect more information on the Wagoneer S later this year or into 2023 as Jeep prepares to release it for the 2024 model year.
You can check out a video preview of the Wagoneer S in the video below, starting at the 2:41 mark. Or watch the whole video to see the other new Jeep electric vehicles revealed during 4xe Day.