2022 Volkswagen Atlas V6 SEL Premium R-Line 4MOTION Review: A Road-Tripper's Delight
2022 | volkswagen | volkswagen atlas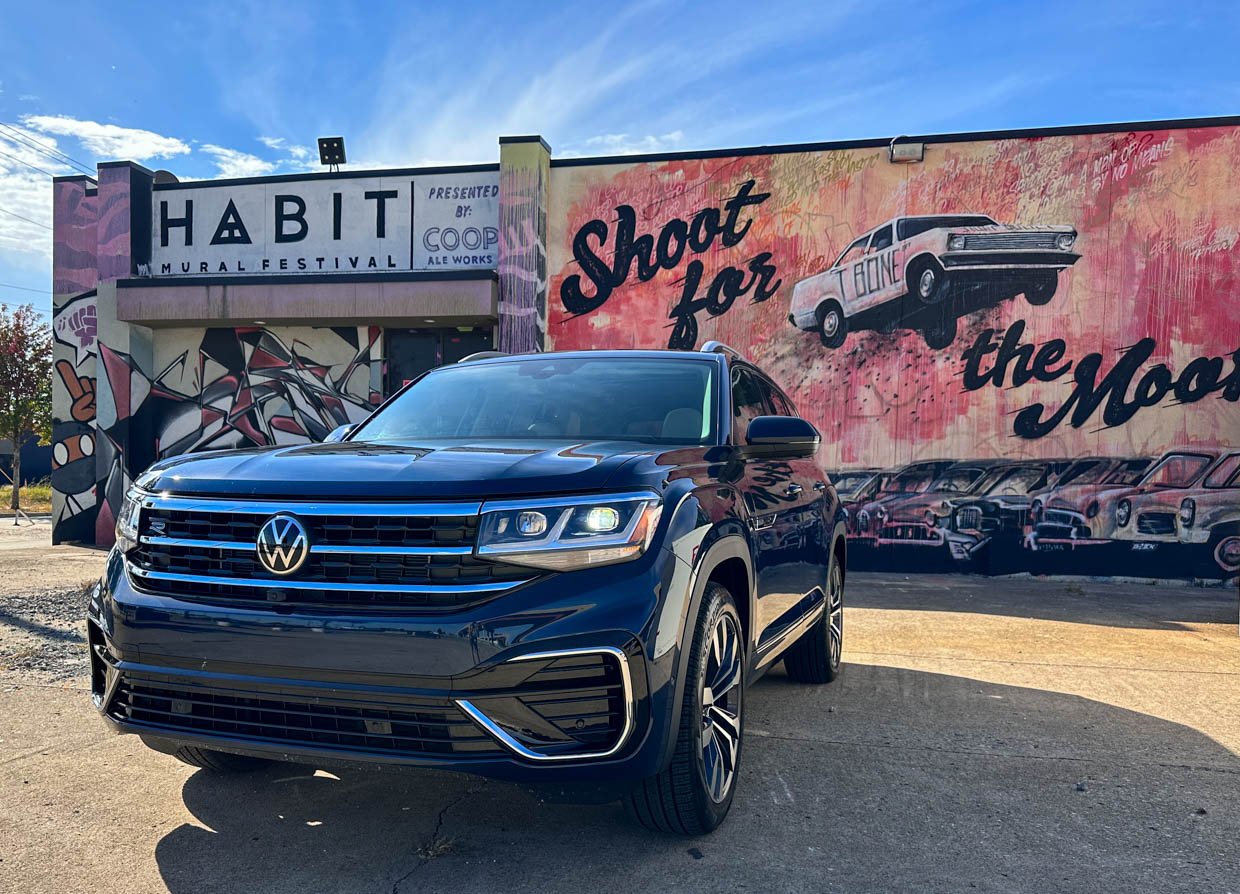 When it comes to everyday SUVs, the Volkswagen Atlas is a solid, purposeful vehicle that does exactly what it sets out to do. It's a purposeful daily driver with exceptional space, a thoughtful and pragmatic cargo area, and clean straight-down-the-middle styling that's far less divisive than most competing models on the market. There was a line in the Dudley Moore movie Crazy People where they pitch an ad campaign for Volvo, "They're boxy, but they're good," and that's precisely what we've got going here with the Atlas. Only this is a VW, not a Volvo.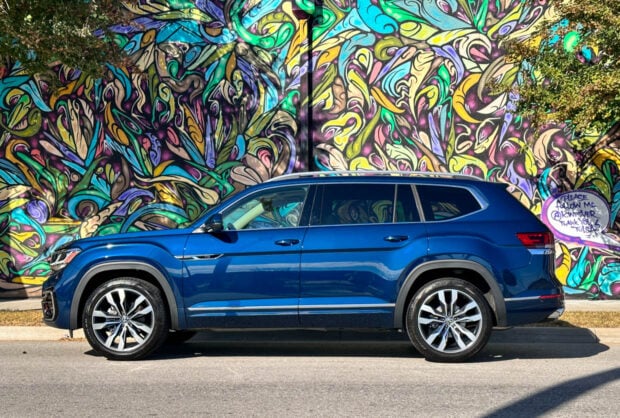 In the top-of-the-line Premium R-Line trim, the Atlas rides high on some good-looking 21″ alloy wheels and features black trim details, along with large air intakes up front and a black rear diffuser. Less expensive Atlas models are powered by a 2.0-liter turbo-4 that makes 235 horsepower, while the model here has a 3.6-liter V6 that produces 276 horsepower and 266 lb-ft. of torque. Connected to an 8-speed automatic transmission, it provides a decent amount of power for its size, though it sacrifices a bit in the fuel economy department compared to the 4-cylinder models. The loaded AWD model I drove is rated at 23 mpg on the highway and 17 mpg in the city. I averaged 21 mpg during a week of mixed urban and country driving. For comparison, AWD 4-cylinder Atlas models get 24 mpg on the highway and 20 mpg in the city.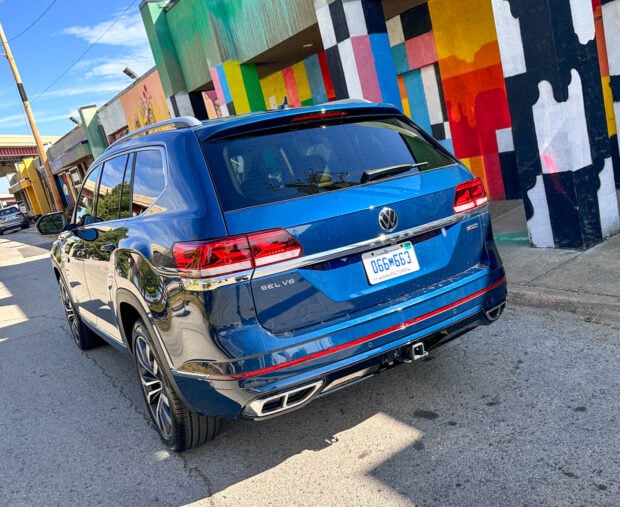 Unlike some of its Japanese and Korean competitors, the Atlas handles like a big vehicle and isn't very car-like in its driving dynamics. It's got a soft and floaty ride with a good amount of body roll. But it's also very quiet and cushioned. It soaks up speed bumps and potholes like they're not even there, and the only sound in the cabin is a modest amount of wind noise at highway speeds. I enjoyed driving the Atlas in the city, but where it really shines is in its smoothness and comfort on road trips. The front-row seats offer living room-quality padding and are wrapped in genuine leather. As for the rest of the cabin materials, other than the aluminum pedals, they appear to be mostly plastic and not as upscale as the R-Line's $51,000+ price tag should command. The R-Line's front seats come with standard heat and ventilation, something you'll appreciate when sitting on leather after your car has been baking in the sun on a 90º day. The automatic climate control keeps the entire cabin temperate and offers three-zone control.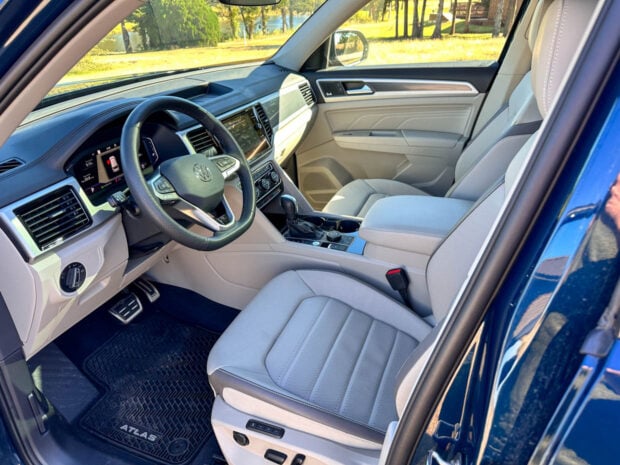 VW's technology package is quite good, with an uncluttered interface on its 8″ touchscreen unit that provides navigation, access to media, climate, and vehicle controls. The 10.25″ digital cockpit display can be configured to show a variety of information, including maps, speed, distance-to-empty, music tracks, and more right behind the steering wheel. The infotainment system supports wired and wireless Apple CarPlay and Android Auto, though I had some issues with wireless CarPlay spontaneously disconnecting audio. I ended up switching to wired mode, which worked reliably. The 480-watt Fender audio system offers clean sound and plenty of kick. Other tech features include a very good adaptive cruise control system and a lane assist system, which helps keep you from drifting out of your lane on the highway. It tends to ping-pong a bit between the lane markings, though, so it's not as precise as some of the other lane-centering features on the market. There's also a dynamic road sign display, blind spot monitoring, a convenient wireless phone charging tray, and a backup camera with an overhead view, which is quite helpful when maneuvering this 200.7″ long SUV into parking spaces.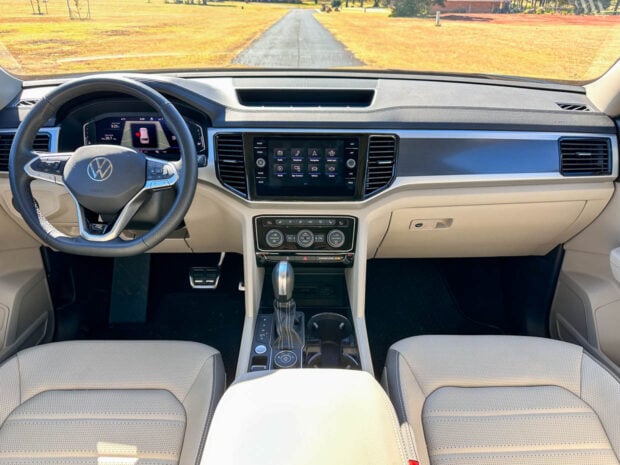 The second-row seats are also comfortable and offer outstanding legroom; the outboard seats both have heat. They can slide forward or backward and tilt forward to access the third row of seats. My test vehicle came with the 60/40 split bench, which seats three. Plush captain's chairs are also available if you won't mind losing the middle seat. Getting into the back row is more accessible than some other 3-row SUVs I've been in recently, thanks in part to the placement of the C-pillar. While headroom is pretty good back there, back seat legroom is tight, and that row is best left to the kids.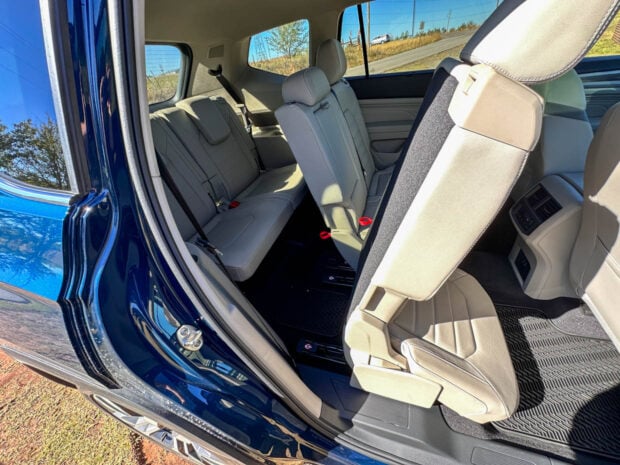 Another place where the Atlas excels is its cargo capacity. Both the second and third rows fold completely flat, and the boxy shape of its roof provides a cavernous 96.8 cubic feet for cargo with both rows folded down. With the second row in use, that drops to a still-respectable 55.5 cubic feet and 20.6 cubic feet with all rows in use. I also quickly came to appreciate the deep cargo bins located behind the wheel wells, which provide an excellent spot for grocery bags or other small items you don't want sliding around. I found myself using those on more than one occasion and have missed them in the SUVs I've been in since driving the Atlas.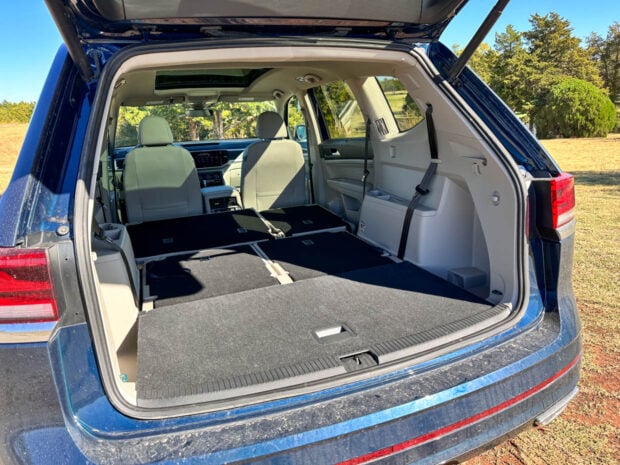 In all, the Atlas is a handsome, versatile, and capable family vehicle with a pleasant demeanor. It's got tons of space for people and their stuff, a thoughtful interior design, comfortable seating (for the first two rows), and a smooth and quiet ride. The R-Line I drove packs virtually every available feature, but you can get into a base Atlas for as little as $34,335 and still get much of the same utility. There are modest price increases for the 2023 model year, with the base SE FWD starting at $24,600 and the SEL Premium R-Line starting at $51,790.