2014 Ford Fusion Energi SE Plug-in Hybrid Review
electric | ford | hybrid | January 29, 2014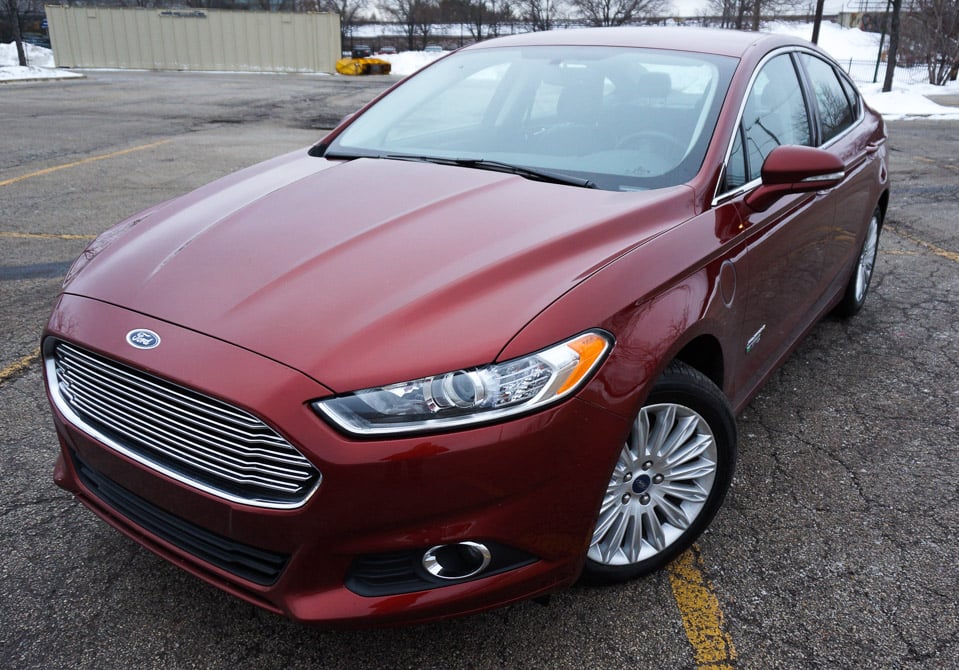 2014 Ford Fusion Energi Hybrid

Powertrain: 2.0L Atkinson-Cycle I-4 Energi Plug-In Hybrid Engine, E-CVT Automatic Transmission
City/Hwy/Combined MPG: Hybrid: 43 MPG (combined), Electric: 100 MPGe
Curb Weight (lb): 3,986 lb.
Wheelbase (in): 112.2 in.
Total Length (in): 191.8 in.
Width (in): 72.9 in. (w/o mirrors), 83.5 in. (w/mirrors)
Driving Range (mi): 600 Mi.+ (Hybrid + Electric Combined), Electric Only: 21 Mi.
Base Price (USD): $34,700
Price as Tested (USD): $36,585 (incl. destination fee)
The Ford Fusion is one of my favorite mid-size cars of the last few years. From the minute you lay your eyes on the car's muscular exterior, you can tell that Ford really stepped up their game with the Fusion when they redesigned it last year. And if you're in the market for a vehicle with exceptional fuel efficiency, the Fusion Energi is definitely one to check out. For a car that seats five adults comfortably, it gets better mileage than most, thanks to a hybrid drivetrain and a pure-electric mode for short urban hauls. You also can take advantage of the extra tax credits afforded by plug-ins.
Exterior
The outside of the Fusion is one of the great success stories of recent years. The car has an unmistakable body style, which starts out with a bright chrome grille that channels Aston Martin in the best way possible, flanked by sculpted projector style halogen headlamps, and fog lamps built into a sporty lower fascia that mirrors the horizontal lines of the grille.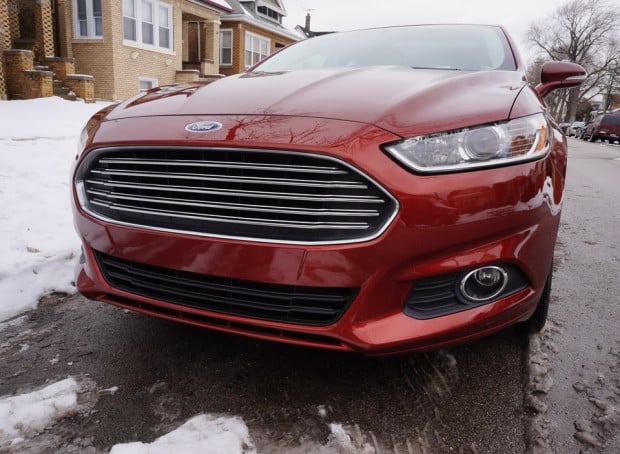 Moving along the sides of the Fusion, the car has a look of strength and substance, and is much dynamic than its more pedestrian looking competitors such as the Toyota Camry and Volkswagen Passat. In fact, its side profile that looks almost like a four-door fastback.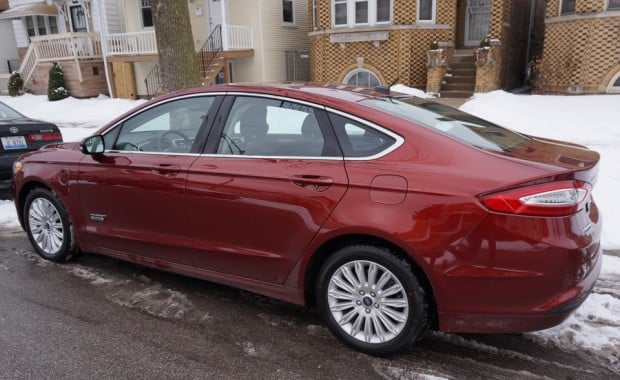 The car's 17″ aluminum wheels are perhaps the least exciting part of its design, but they're certainly better than hubcaps. Of course, you can always change your wheels, right?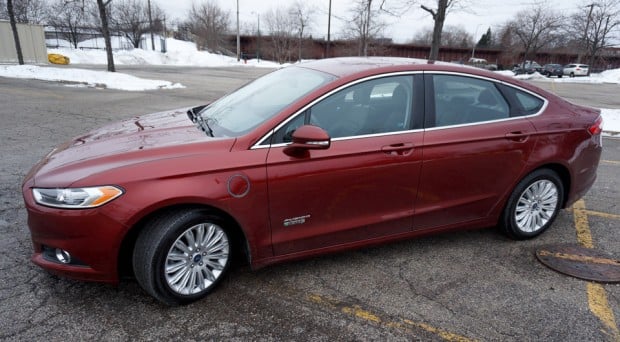 The rear of the Fusion mirrors the shape of its grille, with a hexagonal license plate cutout, and sculpted LED tail lamps.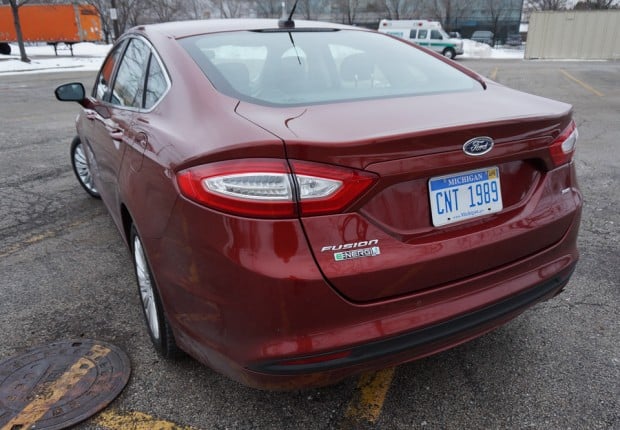 Interior & Technology
The inside of the Fusion Energi SE is outfitted with stitched leather seats, which provide ample support and comfort for driver and passengers. Both driver and front passenger get three-level heating in their seats, which were plenty powerful to cut through the bitter Chicago cold during the week of my test drive. The driver's seat offers 16-way electric adjustments with memory, while the front passenger's seat has 4-way electric adjustments.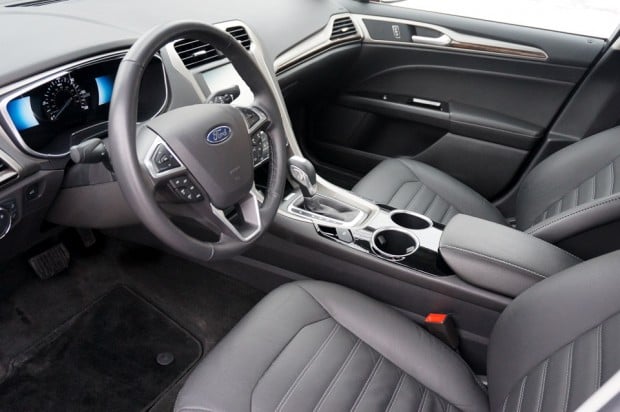 The car's interior trim is clean and modern, with aluminum-finish accents, and matching soft-touch armrests. Sitting in the front seat of the Fusion, I found the driving position to be quite comfortable, and I was able to lower the seat very close to the floor, which is good for me, as my preference is to drive closer to the ground for a more sporty feel. And while the steering wheel doesn't offer electric adjustments, you can manually adjust tilt and distance.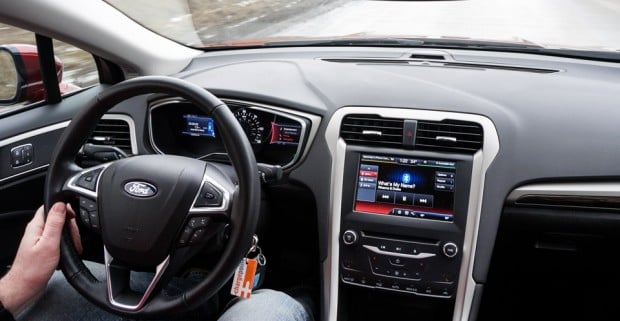 Visibility is good everywhere but the lower half of the rear end, though I'm a bit spoiled by having backup cameras in most cars I drive these days, and my test car lacked this option. However, this particular car was equipped with an audible backup sensor which alerts you if you're too close to an object when backing up.
Controls are thoughtful and well placed, with a good blend of touch-based and tactile inputs. A large 8 inch touchscreen provides access to infotainment, navigation, climate and energy information, complemented by knobs for volume and tuning, and flat, but responsive buttons for climate control.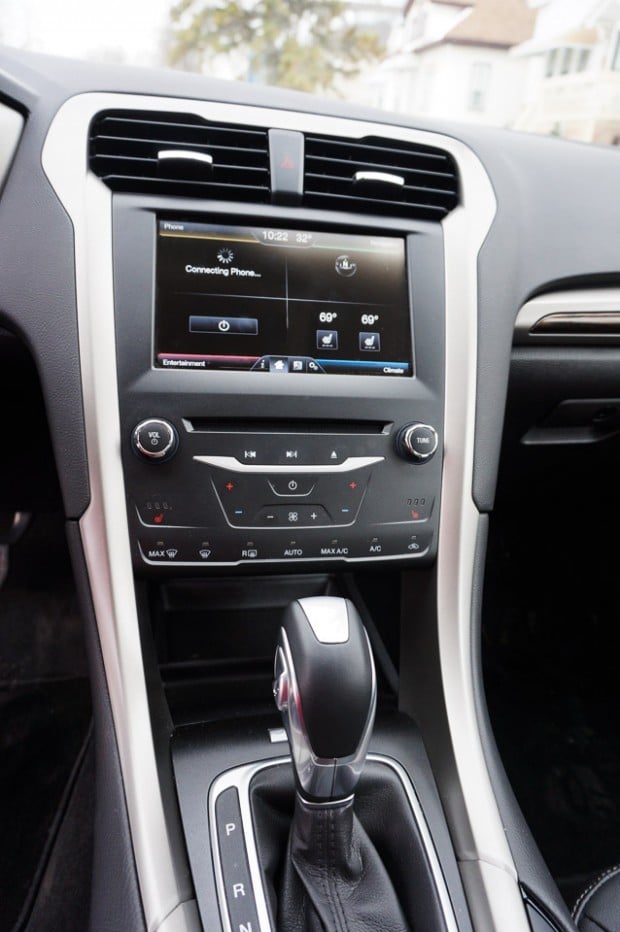 The steering wheel provides controls for navigating on-screen menus for the dashboard, as well as cruise control, media playback, phone calls. The main touchscreen uses Ford's popular SYNC with MyFord Touch system, which provides hands-free calling, AM/FM/HD/SirusXM radio, Bluetooth, USB and SD card media playback.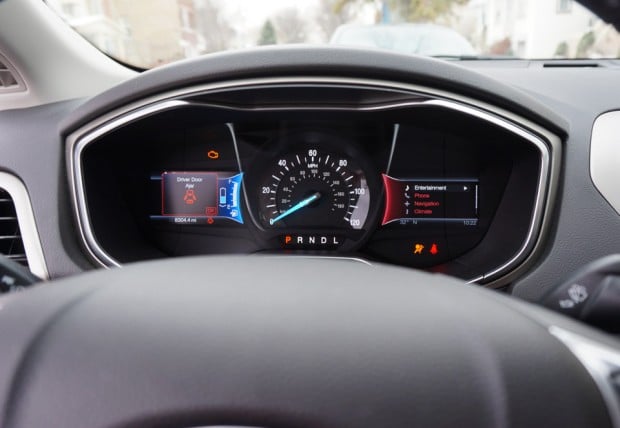 Speaking of the dashboard, I'm a big fan of what Ford's got going on with their dash here. An analog speedometer is located front-and-center, and flanked by a pair of 4.2-inch color LCDs which can display useful information such as fuel usage, trip counters and regenerative braking efficiency on one side and track information for media, or navigation updates, among other things. One minor complaint is that when you're playing music from a Bluetooth device, the track information doesn't display here, only on the main display.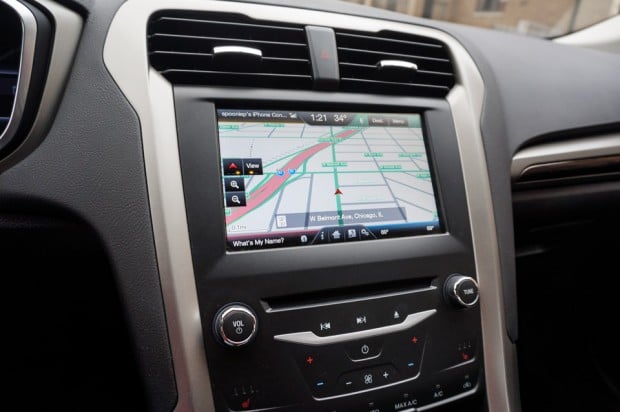 My car was also outfitted with Ford's solid and reliable SYNC navigation system, and I was right at home using its controls via touchscreen or voice controls. It's turn-by-turn directions didn't steer me wrong during any of my travels, and its map display is clean and easy to read. I especially like the next turn information that can be displayed on the right-hand screen next to the speedometer, as well as the ability to repeat the last direction if you missed it.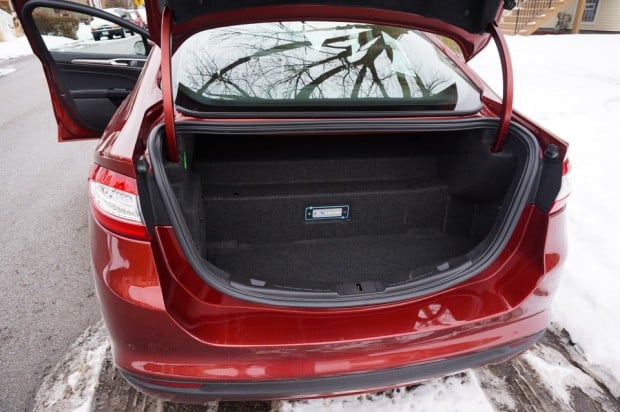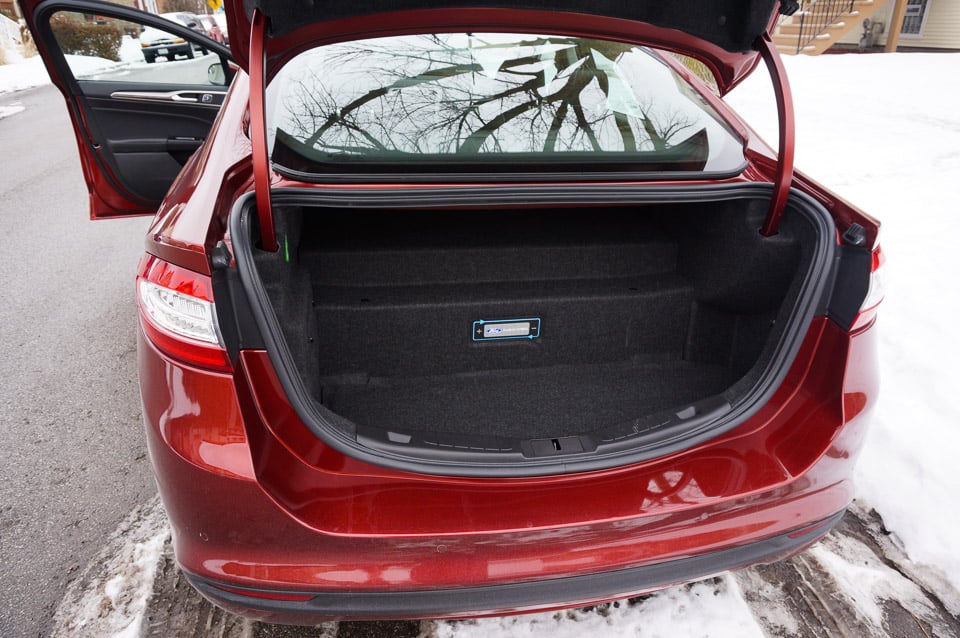 One trade-off with the Energi is its lack of trunk space. In order to make room for its 7.6kWh battery pack, its trunk space drops to just 8.2 cubic feet, versus the 16 cubic feet in a standard Fusion and 12 cubic feet in the Hybrid. There's also no room for a spare tire – just an emergency inflation kit, and a charge cable for conventional 120V outlets.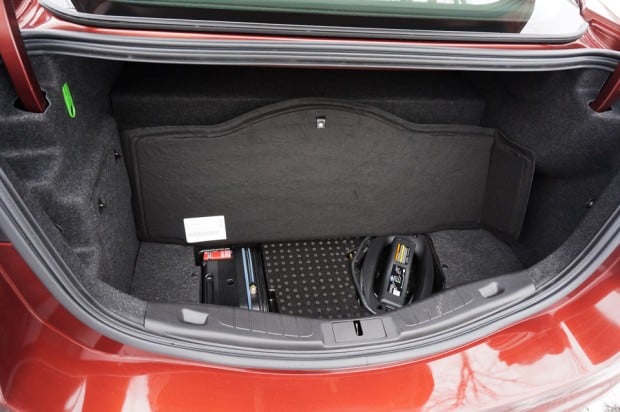 Drivetrain/Engine
Of course, if you're opting for the Fusion Energi instead of one of the other available models, the powertrain is of utmost importance. The Energi model is powered by a hybrid gas/electric system which is augmented by a full, plug-in electric mode. This gives the Fusion the ability to not only act as a fuel efficient driver for long road trips and daily use, but as a 100% electric for those short runs to the mall, grocery store, or around the neighborhood.
The gas engine is a 2.0-liter I-VCT inline 4-cylinder which produces 141 horsepower, augmented with an 88kW AC synchronous motor on the front wheels, producing a combined 195 horsepower when both the motors and gas engine ar engaged. Yes, the Fusion Energi is only available in a front wheel-drive configuration. If you must have AWD, and like the Fusion, you'll need to look at a gas-only model.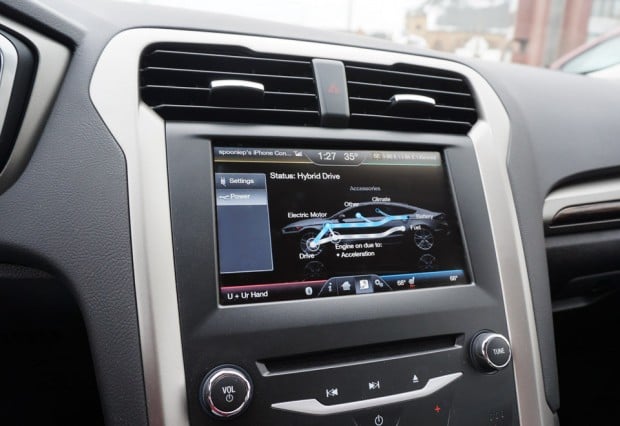 Most of the time, I found myself in hybrid mode, which dynamically adjusts between gas and electric motors, and typically gave me around 37.5 mpg combined between city and highway. That's not bad for a car of this size. In fact, it's the best real world mileage I've gotten on any car that's not a pure electric in the past year. Ford claims that the total range for the Energi when using a fully-charged battery and a full tank of gas should get you a whopping 620 miles total range. I didn't drive the test vehicle that far, but according to the fuel gauge, I was expecting to get just under 500 miles on a full tank, prior to charging up the battery.
Of course, the reason you go with this model, and not the standard Fusion Hybrid, is the ability to drive in a pure electric mode. Ford says you should be able to go about 21 miles in this mode in optimal conditions, but I only managed to muster about 12 miles. Granted, it was about 10 degrees F here in Chicago when I tested this mode, and batteries are notoriously weaker in sub-freezing conditions. I'm certain that pure electric range would offer greater operating range in a more mild climate. Still, you're not going to take long road trips in EV mode – just jaunts around town, but if you regularly travel short distances, it could save you a whole lot of money on gas.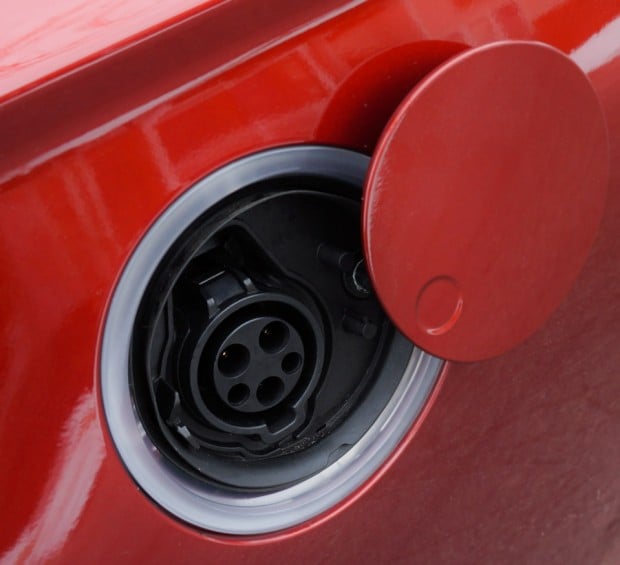 Charging the battery for pure-electric mode was simple – you connect a cable to the standard vehicle charging port, and plug it into either a household outlet with the included adapter cable, or a 240V charging station. I managed to fully charge the car at a 240V ChargePoint parking space in a little over two hours. Charging in a standard 120V outlet takes closer to seven hours. Once charged, you can choose to use the pure EV battery charge immediately, or save it for later use.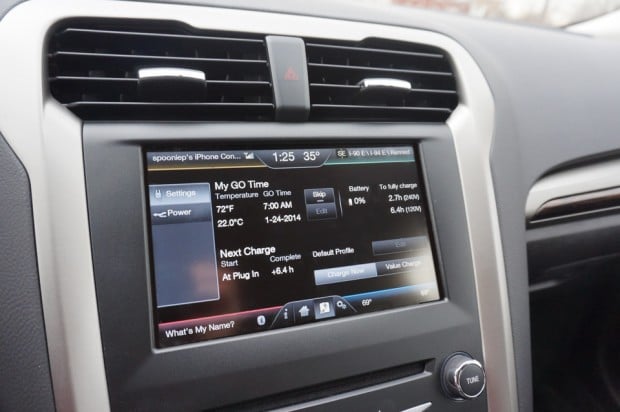 Ride & Performance
Behind the wheel, I found the Fusion to handle well, and I felt well connected to the road when driving. Steering was tight and responsive, and the ride was smooth and comfortable even over tough, potholed city streets. The car definitely feels a bit different in hybrid mode than in pure-electric mode, primarily in the acceleration department. In hybrid mode, acceleration follows a more gradual curve, while in EV mode, torque felt more instantaneous to me. Despite dropping 70 of its horsepower when in EV mode, I didn't find any lack of power when I needed it. There's also no engine noise or rumble in all-electric mode, of course. 

If I have any complaint about the driving experience, it's the electric CVT transmission. CVTs offer consistent linear acceleration, and better fuel efficiency than conventional transmissions. I'll just go on record and state that I can't stand the way that CVTs sound as they increase speed, and I've yet to encounter a CVT that really excited me. Instead of natural shift-points, you get a sort of gradually increasing whirring noise as you push the accelerator to the floor. I'm not sure how much of this is attributable to the electric motor or the CVT itself, but either way, it's a sound that takes a little getting used to.
The car includes electronic stability control which definitely was a help in navigating the slippery, snowy streets in my neighborhood. It also has a torque vectoring system which improves cornering by selectively applying braking to adjust the speed of each front wheel independently.
Pricing and Options
Base price for the 2014 Fusion Energi SE plug-in hybrid is $34,700(USD), and my test car came with the optional reverse sensing system ($295), and the navigation system ($795), bringing the vehicle price to $35,790. An additional $795 destination and delivery fee brought the total price to $36,585.
While this is significantly more expensive than a standard Fusion SE ($23,935 base) or the Hybrid SE ($27,280 base) , you will enjoy some tax benefits which favor plug-in hybrids. Currently, the federal tax credit for this car is $4,007, and many individual states offer tax breaks on top of this.
Among the other useful options available for the Fusion Energi SE are a power moonroof, universal garage door opener, adaptive cruise control with forward collision warning, active park assist, and a rear-view backup camera.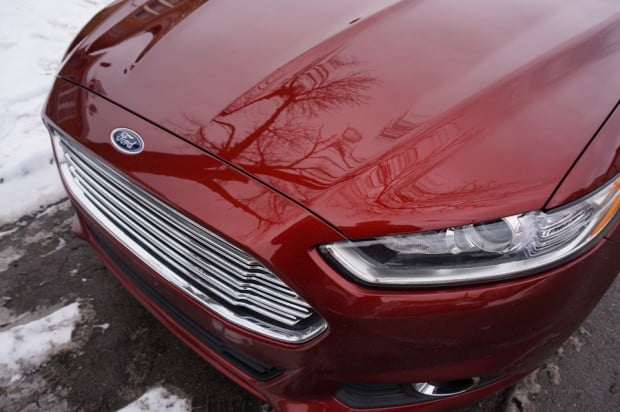 Summary
I was quite pleased driving the Fusion Energi SE. The Fusion is one of the best looking American cars of the decade, and its well appointed and built solidly. It handles well, and is a comfortable and capable daily driver.
Of course, if you're just going for its looks and driving experience, you could go for a pure gas model, and save quite a bit of money up front. On the other hand, if you're concerned about fuel efficiency and environmental friendliness, the Energi offers significant benefits. With a real-world combined mileage of over 37mpg (43mpg EPA) in hybrid mode, and the option to drive short distances as a pure EV, there's no question you'll save money on gas driving this car in comparison to the standard Fusion SE. If you don't ever drive short distances, It's definitely worth checking out the Fusion Hybrid SE as well, as it offers even more stellar fuel efficiency (47mpg EPA combined), and a bit more trunk space for about $7,000 less.