2023 Toyota Corolla Cross Hybrid Revealed
2023 | crossovers | hybrid | toyota | toyota corolla cross
Last year, Toyota rolled out its Corolla Cross compact crossover. Like most other Toyota vehicles, it's getting a hybrid variant. Looking like a RAV4 that went through a shrinker ray; the Corolla Cross is quite a good-looking little vehicle. It's especially slick in this new color called Acidic Blast, contrasted with a black roof.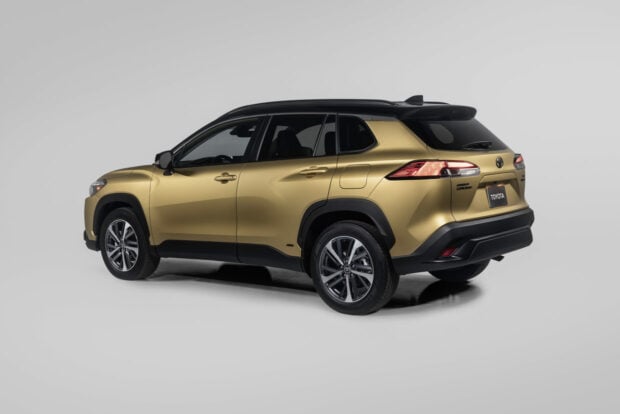 The 2023 Corolla Cross Hybrid produces 194 horsepower and offers a combined 37 mpg, which is quite good but surprisingly 3 mpg lower than its big brother RAV4 Hybrid. Available exclusively with an all-wheel drivetrain, the crossover runs with Toyota's fifth-generation hybrid system, though the engine and motor specs weren't available at press time. All we know is that it does 0-to-60 in a modest 8.0 seconds, but you're not buying this car for its speed.
You'll be able to buy the Corolla Cross Hybrid in the current LE and XLE trims, along with three sporty new trims: the S, SE, and XSE. The S and SE get 17″ alloy wheels, an 8-inch touchscreen, a sport-tuned suspension, LED headlamps and taillamps, and smart key access. The SE adds privacy glass, roof rails, and paddle shifters, along with blind-spot monitor and rear cross-traffic alert safety features. Upgrade to the XSE, and you'll get 18-inch wheels, premium LED headlamps, taillamps, fog lights, and Softex-trimmed seats with heat up front and power controls for the driver.
Toyota Safety Sense 3.0 comes standard, along with Toyota's new Audio Multimedia system, which a variety of connected services, over-the-air updates, dual Bluetooth phone connectivity, and wireless support for Apple CarPlay and Android Auto.
Toyota plans to produce both the gas and hybrid models of the 2023 Corolla Cross at the new Mazda Toyota Manufacturing plant in Huntsville, Alabama, with the capacity to produce up to 150,000 of the vehicles annually. Pricing and an exact release date for the Corolla Cross Hybrid have yet to be announced.