Toyota Tacoma Polar Expedition Truck for Sale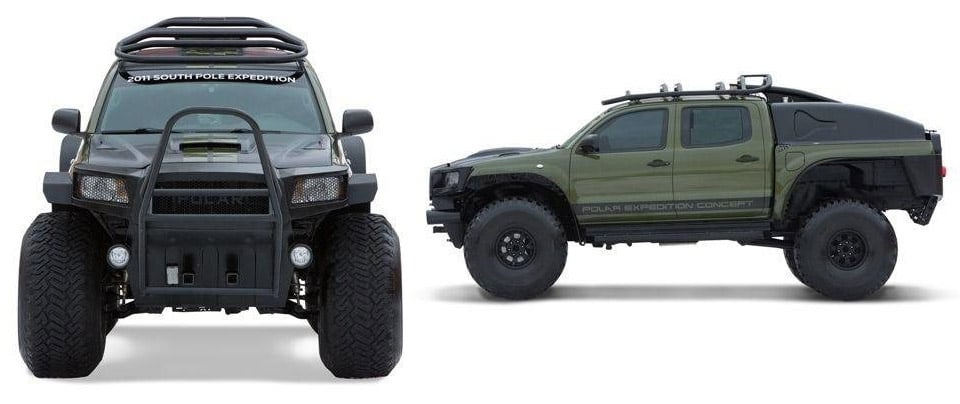 Those looking for a truck with a difference will want to check out this one-of-a-kind 2010 Toyota Tacoma Concept that was outfitted to handle the most challenging driving conditions on Earth.
The 4×4 was used on Discovery's World's Toughest Drive, and it took nearly two years to plan out and equip the truck for its dangerous polar missions. This Tacoma Polar Expedition broke two Guinness World Records for its drive back and forth across the Antarctic ice cap, registering a time of 39 hours and 54 minutes at an average speed of 27.9mph. While that doesn't sound fast, you try driving across a polar ice cap with your car and get back to us.
The truck is powered by a 4.0-liter DOHC V6 engine which was supercharged by TRD to achieve 341hp. While its engine and transmission are modified from factory components, the body was completely hand-fabricated from military-grade steel. Inside, it's been fitted with four racing seats, and insulated to protect riders from the extreme cold. It's also got a steel lining and full rollcage. Cameras abound, including three HD cameras inside the cabin, one outside, and GPS devices to help with mapping and to send data to the engine management system.
Of course, there are no gas stations in the middle of the Antarctic, so the thing has a whopping seven gas tanks, with a total capacity of 330 gallons. The whole shebang rides on a set of massive 44″ Dick Cepek tires, and it even has built-in air compression and a 9-ton winch.
All told, the vehicle cost over $400,000(USD) to build, and it's currently up for auction on eBay. As of the time of writing, the top bid is $71,110, but the reserve has yet to be met. Of course, it also comes with the Guinness World Record certificates.