2015 Jeep Renegade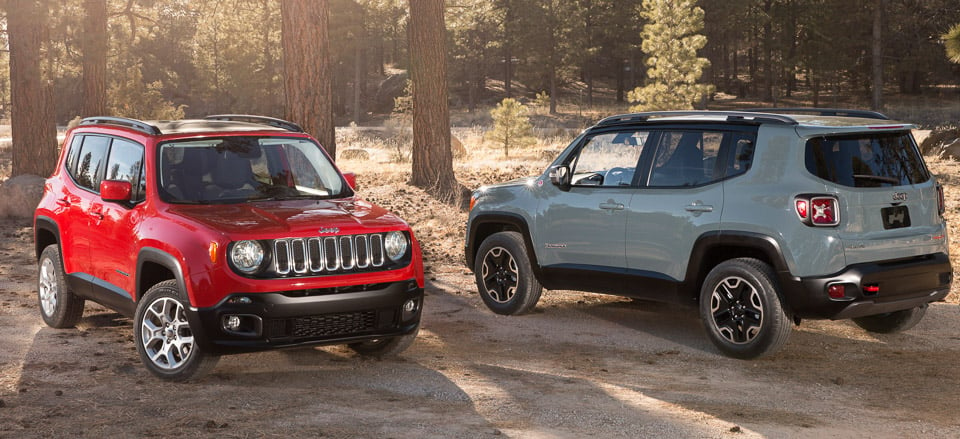 We're big fans of the latest generation of the Jeep Cherokee, but unless you want the rugged outdoorsy feeling of the Wrangler, they don't really offer a vehicle for those looking for something a bit more compact. That is no longer the case, with the announcement of the 2015 Jeep Renegade.
Built on a "small-wide" 4×4 platform, the diminutive SUV is designed for global markets, in order to address the desire for smaller, more fuel-efficient vehicles. Despite its small size, the Renegade will offer options typically found in Jeep's larger, more expensive vehicles, including a nine-speed transmission, and premium multimedia systems.
And just like its bigger brethren, the Renegade will come in an off-road optimized Trailhawk model, which includes Active-Drive Low with a 20:1 crawl ratio, hill-descent control and Jeep's Selec-Terrain system. The Trailhawk also offers 8.7 inches of ground clearance.
Its boxy body and round headlamps are distinctively Jeep, but eschews the temptation to curve out the front-end as seen in the latest Cherokee and Grand Cherokee. We also like how they managed to offer up two panoramic roof options including one with removable panels, providing the same sort of open-air feel as the Wrangler.
One thing to keep in mind is that the Renegade is being built by Fiat in Italy, and shares core platform elements with the less than exciting Fiat 500L AWD, a car we're not big fans of after having experienced its underpowered drivetrain and yawn-inducing handling characteristics first-hand. That said, Jeep has surely modified their vehicle for a more rugged, off-road feel, and we reserve judgment until we can get behind the wheel of one. In addition, Jeep will be offering a total of 16 different powertrain combinations depending on the market, including a 2.4-liter gas engine, which should help provide sufficient power, though many seeking greater fuel efficiency will opt for the 1.6L or 2.0L diesel variants which could hit as much as 52mpg.