Devolro Diablo Custom Toyota Tundra 4×4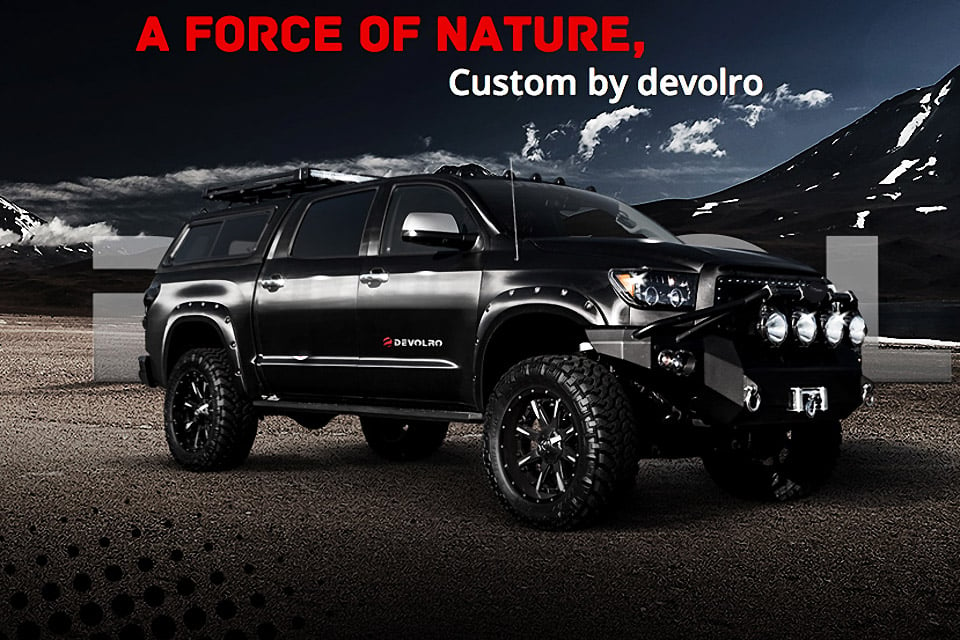 Devolro Performance Cars Studio attacks the Toyota Tundra and applies some awesome aftermarket customizations to make its Diablo 4×4 pickup. The list of changes to the standard Tundra are long, and you can customize it the way you like, but any way you go you're sure to get noticed on the roads and on the trails. The Diablo is ready to tackle extreme off-road terrain with a seven-inch suspension lift, all-terrain reinforced tires, front and rear air lockers, an array of HID lights, and a massive front brush guard and bumper with built-in tow hooks.
Inside, the vehicle can be custom tailored to suit your needs with one-of-a-kind leather upholstery, a high-end audio system, a new multi-function in-dash display, custom storage, and much more. And to get you there fast – and without stopping – Devolro can boost the engine with another supercharger, taking the 380 horsepower powerplant up to 520 hp and can even add an extended-range fuel tank.
Check out the full set of features and options at the Devolro site and begin designing your new custom Tundra.