Daihatsu Copen to Offer Interchangeable Body Panels
convertibles | daihatsu | japan | toyota | June 21, 2014
---
While Daihatsu never really took off as a brand here in the U.S., the company is still popular in Japan and other parts of Asia, and continues to produce vehicles there. In addition, the Japanese company has actually been the maker of some Scion models for years, as they both function as divisions of Toyota.
Of particular interest is Daihatsu's new Copen roadster, which has a pretty neat trick up its sleeves. While there are almost always numerous options you can choose from on cars these days, most of them have to do with the engine, wheels, interior or technology. Most factory exterior modifications come in the form of superficial changes like spoilers and grilles. But in the case of the Copen, buyers will be able to select from different body panels as part of their option package. The car will offer a chassis frame structure and sturdy monocoque body, but its bolt-on resin outer body panels will be interchangeable.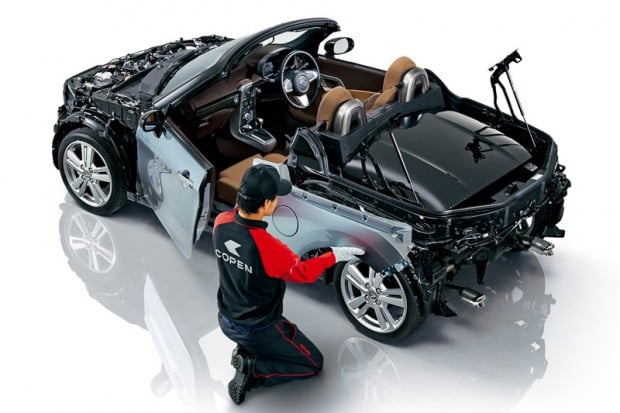 Daihatsu plans on offering the ability to mix and match 11 different body components, including the hood, luggage panel, front and rear bumpers, front and rear fenders, and even the fuel filler lid. Owners can even swap out body panels after purchase, allowing them to dramatically change the look of their car down the line. Daihatsu also plans on offering a similar degree of configurability to the interior of the Copen.
The little roadster also offers a fast-open electric convertible roof, which can open or close in 20 seconds, and stows inside the trunk.
It'll be interesting if the Copen ever finds its way to Europe or the U.S. under either the Toyota or Scion brands.