Jaguar F-Type Project 7 Going into Production
jaguar | June 24, 2014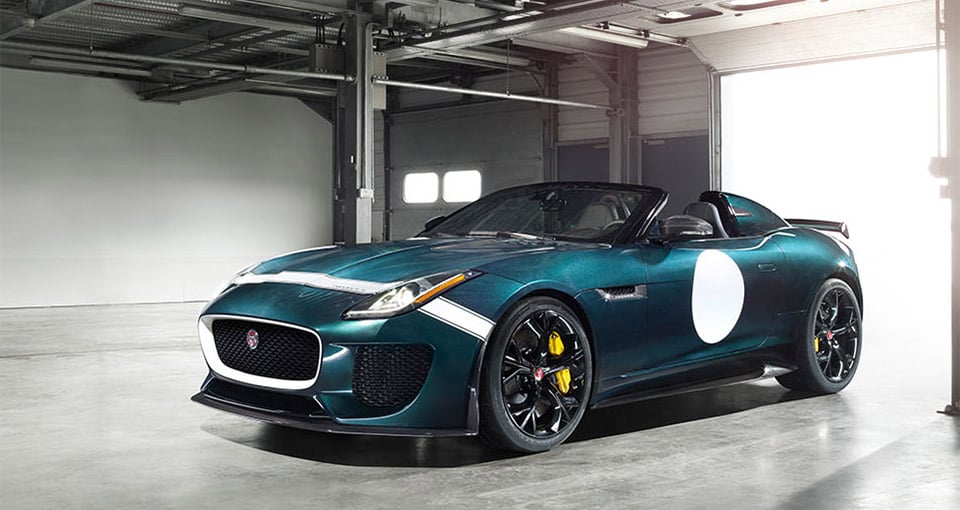 About a year ago, Jaguar showed off a special version of the F-Type dubbed the Project 7. This one-off prototype further embraced Jaguar's racing heritage, with a focus on performance and track capabilities. Now, Jaguar has revealed that the Project 7 will be going into production as the first vehicle from the new Special Vehicle Operations Division.
Refining the design of the original Project 7, the production model moves away from the single seat cabin to a more realistic two-passenger configuration with a roll bar behind each seat. However, it preserves the D-type-esque fairing behind the driver, and is still an open-top car – though Jaguar says the vehicle will include a removable cloth roof. Passengers will be seated in sport seats with racing harnesses.
The F-Type Project 7 will be officially the most powerful production car Jaguar has ever built, with an amped up 575 horsepower variant of the F-Type's 5.0-liter supercharged engine, pushing out 502 lb-ft. of torque, as well as the same excellent ZF 8-speed transmission. The Project 7 trims its weight down to 3,495 lbs – which by our math is almost 200 pounds lighter than the F-Type convertible or coupe. Jaguar hasn't said where the weight loss comes from, though, we'd imagine the lack of a roof contributes significantly, as we'll as the use of carbon fiber components. 0-to-60 time for the Project 7 is rated at just 3.8 seconds, with an electronically-limited top speed of 186mph. We wonder how fast it would go without the limiter in place, since that's the same top speed as other F-Types.
In addition, the vehicle's aerodynamics have been modified to improve downforce, by replacing the front bumper, adding a carbon fiber front air splitter, side skirts and rear diffuser. Also gone is the F-Type's retractable rear spoiler, replaced by a much larger – but still adjustable wing. The car also features massive carbon ceramic matrix brakes, which are sure to add to its price tag.
The F-Type Project 7 will make its public debut at the Goodwood Festival of Speed on June 26, 2014. Jaguar says the car will launch as a 2015 model, and will be limited to just 250 units globally. They also mention that the U.S. version will have a full-height windshield to meet with safety regulations.