Win a Year of Dr. Beasley's Leather Care Products!
car care | contests | leather | July 7, 2014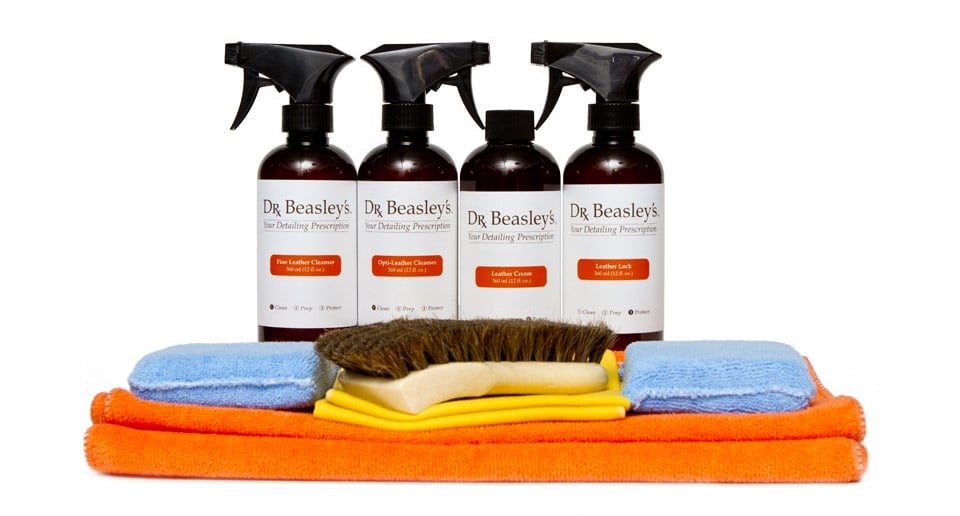 Do you want to get your car showroom clean? Then look no further than the awesome car care products of Dr. Beasley's. Their premium car care line includes a comprehensive lineup of specialized cleaning, protection and detailing products hand-created to keep your car looking amazing inside and out. Trust us, we use their products on our vehicles, and they're truly outstanding.
95Octane has teamed up with Dr. Beasley's and The Awesomer to give away a year's supply of Dr. Beasley's Fine Leather Prescription (valued at $359.80 USD) to one lucky reader. This kit of leather care products not only works great on car interiors, but on furniture, shoes, jackets and other leather goods.
The prize pack includes four sets of the Fine Leather Prescription – one for each season, as well as  2 microfiber towels, 2 microfiber applicators, 2 suede cloths and 1 horse hair interior brush.
Fine Leather Cleanser – for organic messes like body oils and food and drink stains
Opti-Leather Cleanser – for inorganic messes like grease or scuffs
Leather Cream – leather conditioner to improve health and prevent drying and cracking
Leather Lock – leather sealant to protect leather from stains and maintain health
To enter for a chance to win this awesome prize, follow the directions in the form below. (Contest ends at 11:59pm Central time, July 15 2014. Open to U.S. Residents age 13 or over only.)
Trouble viewing the entry form? Click here.