Concepts from Future Past: 1956 Pontiac Club de Mer
1950s | pontiac | July 18, 2014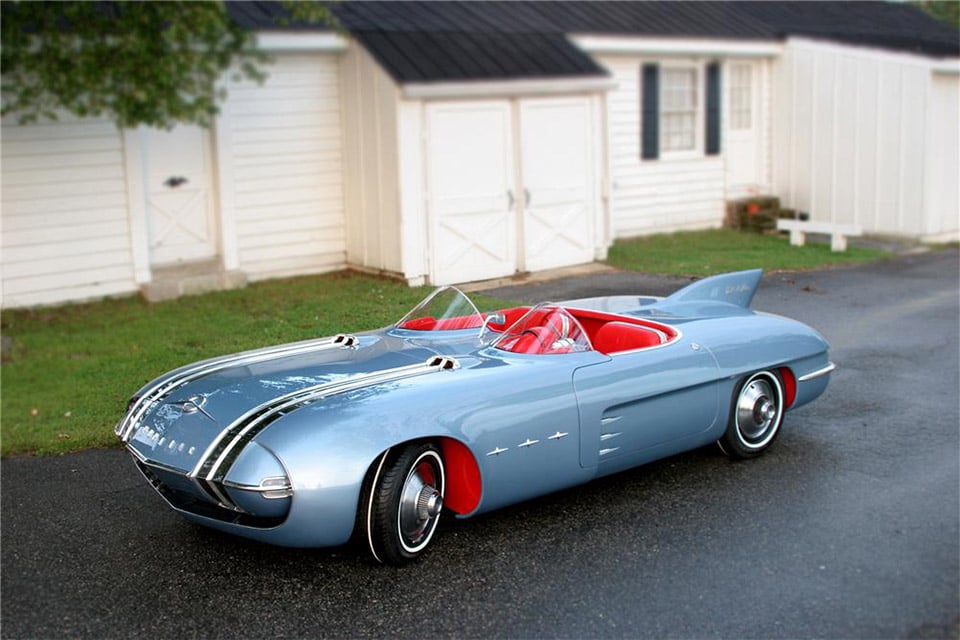 Pontiac followed along with many other carmakers in the 1950s with this jet age-inspired concept car: the Pontiac Club de Mer. The car was first unveiled at the 1956 General Motors Motorama (our current favorite name for a car show).
This aerodynamic two seat open-top coupe has a pair of bubble winds deflectors for the driver and passenger with a pair of bold chrome "silver streak" accent stripes beginning on the car's grille and continuing to the air scoops directly in front of the windscreens. At the back, the dual front details are offset with a single large rear tailfin, reminiscent of a jet plane's tail. Having no roof and small windscreens meant that the car stood just 39 inches high.
Inside, the car is finished in very bright red upholstery along with a red, three-spoke steering wheel. Under the hood the Club de Mer had a 4.7 liter "Strato Streak" V8 engine which produced 300 horsepower and 330 lb-ft. of torque. Only one of these vehicles was ever built and Pontiac destroyed it following its show days. The full color photos shown here are from Marty Martino's 2009 replica of the car, while the other images are of the original 1956 prototype.