Auctions America's Online Classic Car Auction
auctions | October 25, 2014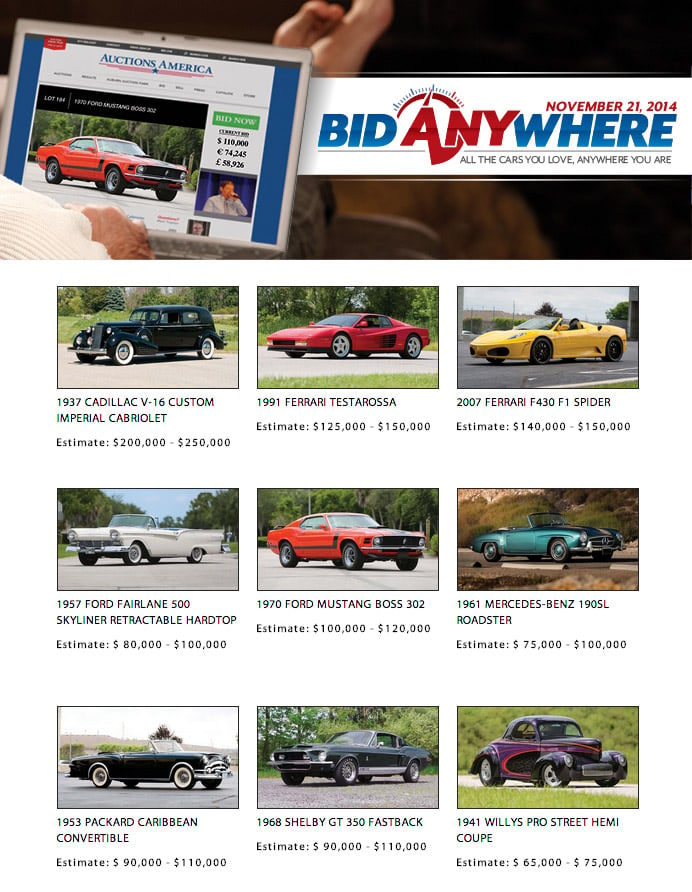 When it comes to collector car auctions, you typically need to go in person to check out the cars and place bids. And while sites like eBay certainly provide a plethora of cars to choose from, it's not often that you see the big automotive auction houses offering live online bidding. But if you sit by your computer this November 21, you'll get the opportunity to bid on some great classic cars from the comfort of your home.
Auctions America is launching their new BID ANYWHERE auction, which is offering a number of cool cars on its website during this real-time online auction. By purchasing a car via Auctions America, you'll be assured the cars have received a detailed in-person inspection, and that the cars will be transported safely to your destination once you've paid for your purchase.
Among the cars being offered for the upcoming auction are a 1970 Ford Mustang Boss 302, a 1991 Ferrari Testarossa, a 1961 Mercedes-Benz 190SL Roadster, and a 1948 Allard L-Type Drophead Coupe among others.
You can look at the lots being offered and review the detailed condition reports online now. Buyers can start bidding starting at 1pm Eastern time on November 21st, 2014.