Review: 2014-15 Toyota Highlander Hybrid Limited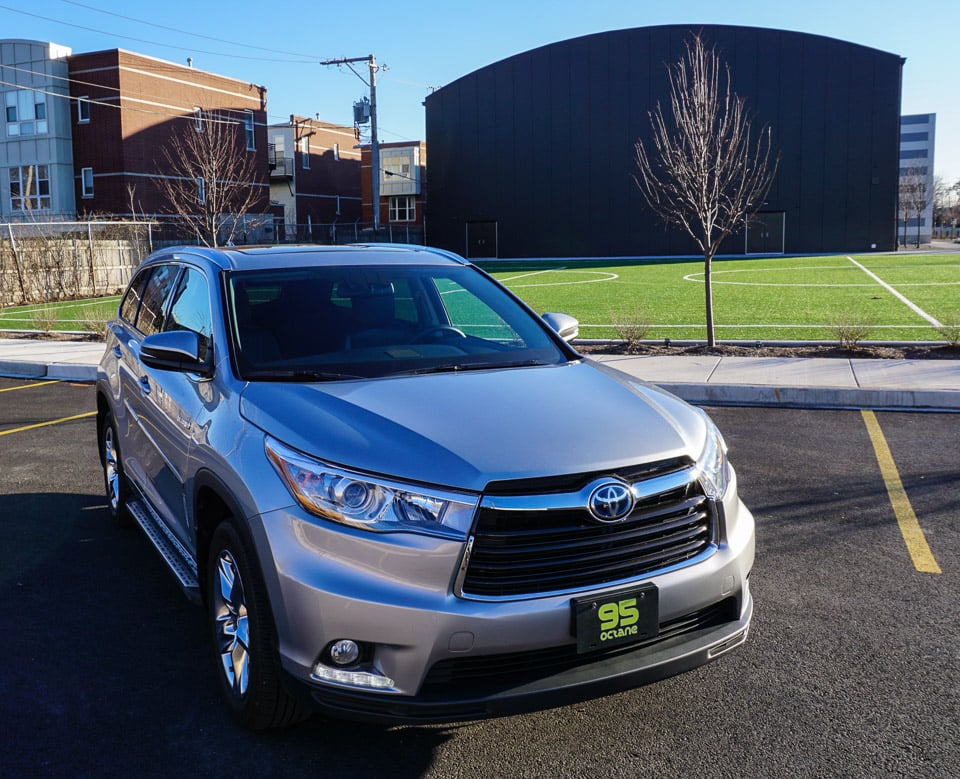 2014-15 Toyota Highlander Hybrid Limited Platinum

Powertrain: 280hp 3.5-L V6 Hybrid, electronic CVT
City/Hwy/Combined MPG: 27/28 (28 combined)
Curb Weight (lb): 4,861
Wheelbase (in): 109.8
Total Length (in): 191.1
Width (in): 75.8
Base Price (USD): $49,790
Price as Tested (USD): $51,761
The Toyota Highlander has long been one of the most popular mid-size SUVs on the market. Its most recent redesign was for the 2014 model year, and that's the version I managed to spend some time with. As far as I know, the 2015 model is virtually identical, so my observations should hold up for this model year as well. Standing at the pinnacle of the Highlander line is the Highlander Hybrid Limited Platinum, the most comfortable, feature-packed and fuel-efficient variant of the vehicle.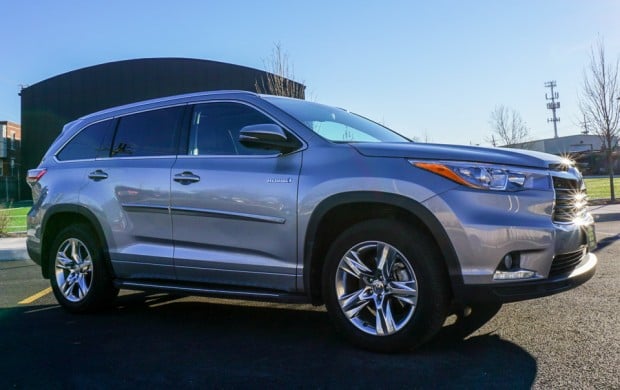 The first thing you'll notice about the Highlander is that its a much better looking vehicle than ever before. Toyota did a great job giving it more personality and substance than its boxier and more pragmatic looking predecessors. Wider and longer than previous generations, and sporting a more aggressive rear to front rake, its body has a great sense of atleticism. Its large flared grille is flanked by sculpted modern headlamps with LED daytime running lights. Wide fender flares surround its beautifully bright 19″ Chromtec alloy wheels.
The Highlander's AWD hybrid drivetrain is powered by a 3.5 liter V6 along with a front and rear wheel electric motors which produce a combined 280 horsepower. While it's not exactly sporty, the electronic CVT drivetrain gets the job done just fine, and helps the SUV gets an average 28mpg in most driving conditions. In fact, the EPA combined rating is exactly the same as what I experienced throughout the week I drove the Highlander Hybrid. In comparison, a similarly-equipped V6-only Highlander gets 19mpg in the city, and 25mpg highway.
In terms of handling, I found the Highlander Hybrid to be confident and composed for a vehicle of its size and weight. It's definitely a ride I'd describe as "soft" – but in a comfortable, controlled way. There's not the slightest bit of harshness to the ride, and the cabin is well insulated from noise and vibration.
There's ample seating for seven, with the middle row offering plentiful legroom and adjustable sliding seats. The third row is definitely best suited to kids or small adults. The middle row captain's chairs are trimmed with leather and offer heat, while the rear row is trimmed in SofTex – a simulated leather material. Both the middle and rear rows fold flat to provide a large cargo area. The middle seats have a folding tray with cupholders between them, and can fold individually, while the rear row folds as a 60/40 split. Overhead is a large panoramic roof with a front section that can be opened. With all seats folded, cargo capacity is an impressive 83.2 cu.ft. With the back row folded, you still get 42.3 cu. ft. though with all seats in use, capacity drops to just 13.8 cu.ft.
The interior offers a good blend of creature comforts and practical features. Both driver and front seat passenger get power leather seats with heat and ventilation integrated, and are comfortable enough for long road trips. Soft touch and metallic surfaces abound. The dashboard thoughtfully arranged, with an 8″ touchscreen infotainment system at its center, and a 4.2″ supplemental information display in the instrument cluster. Controls are intuitive and easy to use, and reachable for both driver and passenger without a problem. Sound is provided by a 12-speaker JBL stereo system, and there's the option to install a Blu-ray player with a 9-inch screen for rear seat passengers.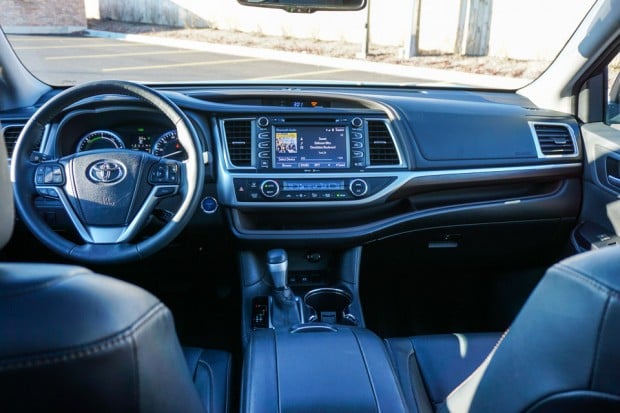 One of the most thoughtful design touches is the large shelf which runs along the bottom edge of the dash, providing a place for multiple mobile devices. It's even got a passthrough so you can run your USB cables through to the charging outlets below, and is wide enough to hold even my large iPhone 6 Plus with room to spare.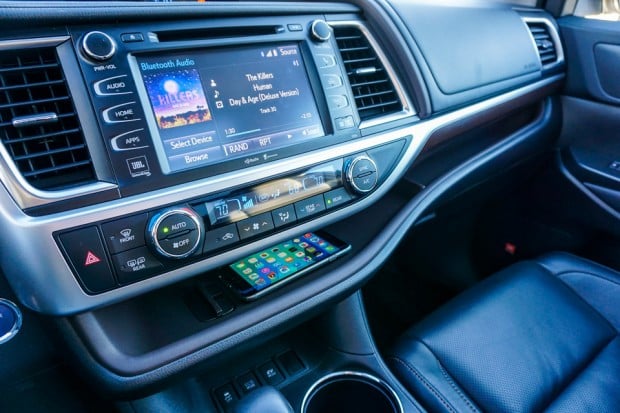 Storage is plentiful for front seat passengers, thanks to a cavernous armrest storage compartment.
Safety features include a standard backup camera with wheel-path guidelines, rear parking sensors, mirror blind-spot monitors, and rear cross-traffic alert. Also available is a pre-collision warning system, dynamic radar cruise control, lane departure alert, and automatic high beams. And for those of you with kids sitting in the back of the car, there's a feature called "Driver Easy Speak" which amplifies the driver's voice through the rear speakers, so you can keep the kids in check without shouting. Though I really wish it had pre-recorded tracks for common phrases like "If I have to pull this car over, I will!" and "Stop hitting your sister!"
The Highlander Hybrid Limited is a very solid and capable family vehicle, and definitely worth considering if you're looking for a stylish vehicle with plentiful space, safety features, comfort for long trips, and fuel economy. If the $50,000+ price tag for this tricked-out hybrid version is too rich for your blood, you can get into an entry level Highlander for as little as $29,000.