SRT Tomahawk Vision Gran Turismo Unveiled
gran turismo | srt | video games | June 2, 2015
The latest and greatest concept vehicle to break cover from the Vision Gran Turismo series comes to us from the SRT division of Fiat Chrysler. The futuristic SRT Tomahawk Vision is a serious beast on wheels, rocking a 7-liter V10 engine, along with a compressed-air based secondary power system, as well as active aerodynamics.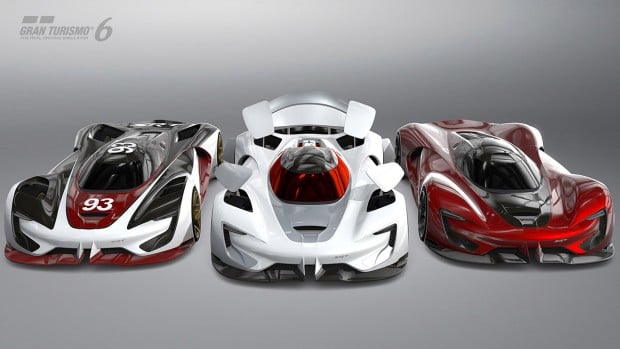 That pneumatic power unit also drives an active air suspension system, and even pressurizes the G-suit worn by its driver. Of the three versions of the virtual car, the Tomahawk X Vision Gran Turismo is the most impressive (and most unrealistic) – with over 2500hp and a top speed of over 400mph. Yep, welcome to the year 2035. You'll also notice four retractable aero panels built into the car's fenders, which can dynamically apply downforce, and even improve cornering.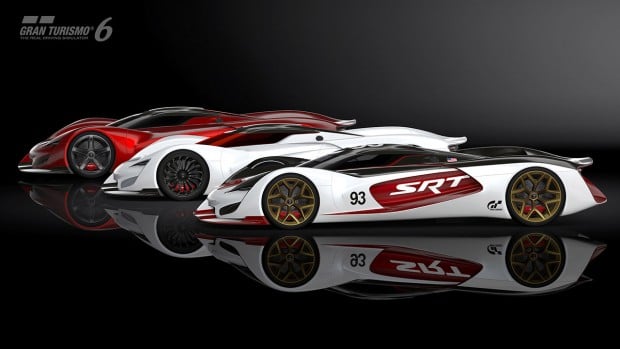 Check out the video to see this impressive, if non-existent car in action and hear about the inspiration for its design.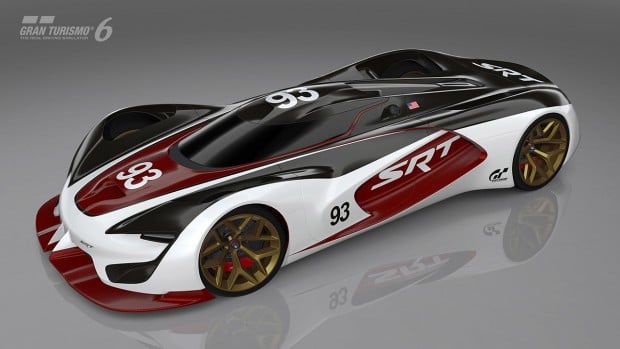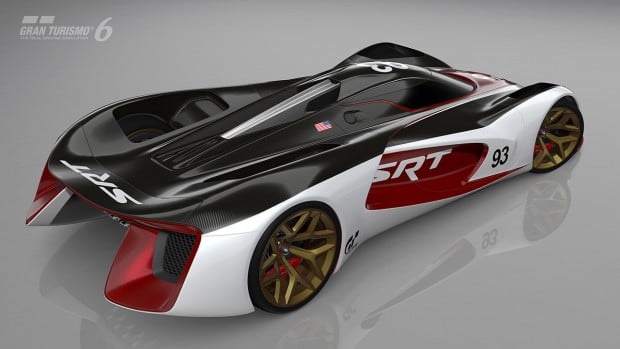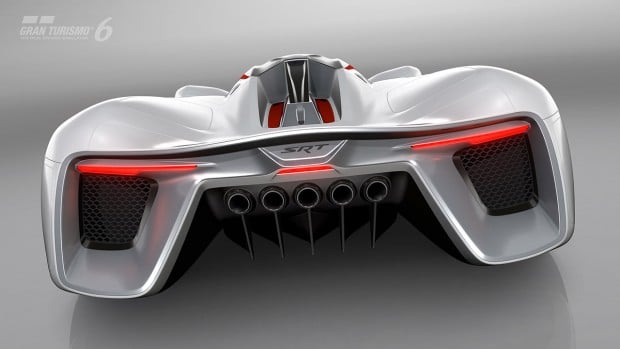 Gamers will be able to enjoy the SRT Tomahawk Vision in Gran Turismo 6 on the PlayStation 3 in one of three different variants this Summer:
RT Tomahawk S Vision Gran Turismo
The Tomahawk S is the entry level machine to prep players for the incredible performance of the Tomahawk series; but the specs of the "S" are already off the charts. The 7.0-liter wide-angle V-10 is tuned to deliver 792 hp (compared with 645 hp for the 8.4-liter V-10 in the 2015 Dodge Viper). The pneumatically driven front wheels add 215 hp, for total system output of 1,007 hp. With a curb weight of 2,026 pounds, this version of the SRT Tomahawk is the heaviest, yet it has a top speed in excess of 250 mph.
SRT Tomahawk GTS-R Vision Gran Turismo
Race tuning pushes output of the V-10 to 1,137 hp, while the air-driven front wheels add 313 hp for total system output of 1,450 hp. Aggressive weight-cutting techniques whittles the curb weight of the Tomahawk GTS-R to 1,459 pounds (the lightest of any version) and the top speed in excess of 300 mph.
SRT Tomahawk X Vision Gran Turismo
This is the ultimate Tomahawk that incorporates a variety of experimental technologies. With a redline set at 14,500 rpm, the V-10 engine pumps out 2,168 hp (nearly three times the output from the base Tomahawk S) The front wheel drivetrain contributes an additional 422 hp at peak, for total output of 2,590 hp. That gives the Tomahawk X a top speed of 404 mph. Due to the extreme performance of the X version, the driver is required to wear a G-suit to withstand the extreme cornering forces.