Review: 2015 Mercedes-Benz CLS400
mercedes-benz | July 30, 2015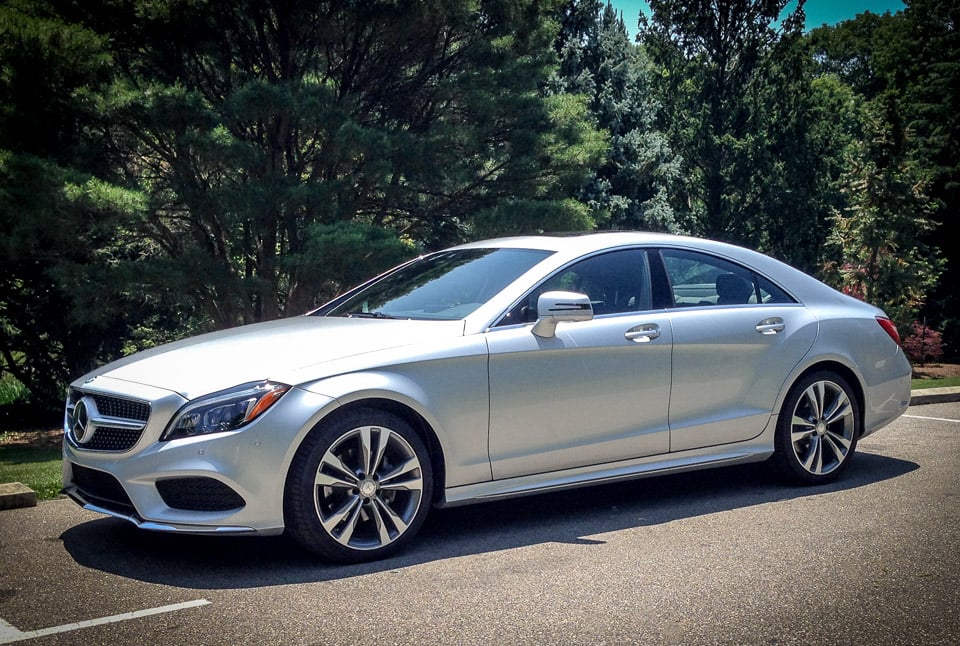 2015 Mercedes-Benz CLS400 4Matic

Engine: 3.0-liter V6 bi-turbo
Horsepower: 329
Torque (lb-ft.): 354
Transmission: 7-speed automatic
Top Speed (mph): 131
City/Hwy/Combined MPG: 20/28 (22 combined)
Curb Weight (lb): 4,034
Wheelbase (in): 113.2
Total Length (in): 194.5
Width (in): 81.7 (w/mirrors)
Base Price (USD): $66,900
Price as Tested (USD): $86,280
A coupe with four doors? Who ever heard of such a thing? Actually, it's not that rare and I got to drive one. Remember, there's a second definition of the word coupe, at least according to good Mr. Webster. Outside of the standard definition of a car with two doors, a coupe can also be defined as a four-wheeled enclosed carriage for two passengers and a driver. So there you have it, coupe doesn't always mean two doors. The tough-to-label 2015 Mercedes-Benz CLS400 is indeed a coupe as its two-person back seat attests, despite having four doors. Everything about this sporty little car is hard to label.
Mercedes considers the CLS400 as an "entry-level" car for the luxury line. The CLS400 is a nice addition to the broader CLS-class line of Mercedes. It fills a niche but does so with typical Mercedes flair and styling. New for this model year is a new grille with new headlights that give the CLS400 a sleek and sporty appearance. This coupe has a long hood and short back end. The European-looking back end is highlighted by a sloping C-pillar that falls off quickly and does give the CLS400 a coupe-like appearance (along with that elongated front end). For a car that is hard to define, but that is put into the defined CLS class, the CLS400 manages to hold onto typical Mercedes-Benz looks while also offering a distinctive flashy appearance. I dare not pigeonhole nor attempt to define this coupe too much.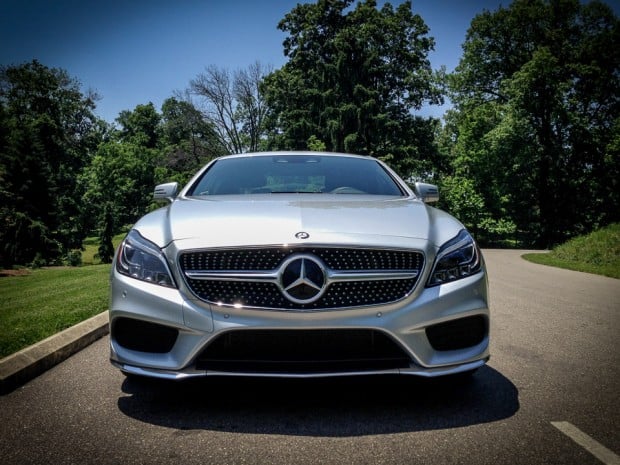 While other cars in the CLS line have V8 and AMG performance, the CLS400 is a little tamer, with a bit of a wild side. A 3.0-liter turbocharged V6 engine powers the coupe and makes 329 horsepower with 354 lb.-ft. of torque. Both a seven-speed automatic transmission and 4Matic all-wheel drive further add to the driving dynamics of this coupe.
I especially enjoyed the transmission which tossed around quick, smooth shifts and had no turbo lag. The all-wheel drive system added to the superb handling. The CLS400 drives like a sports car with a low profile, superior cornering and exhilarating acceleration. It's certainly not the most awe-inspiring member of the CLS-class but it certainly does its own thing with a lot of personality and offers fun-to-drive performance.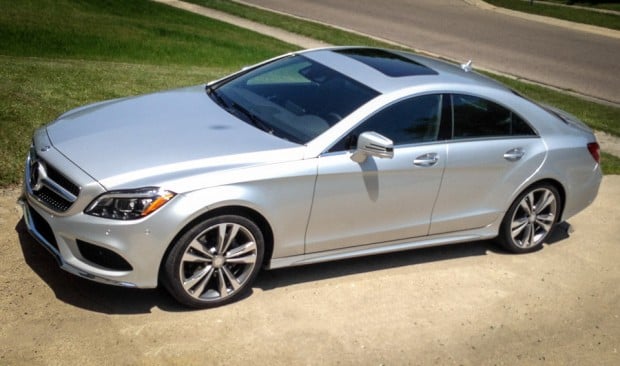 Mercedes adds start/stop technology to the engine to improve the fuel economy. It works as expected, but does take away a little from its off-the-line performance. When I think Mercedes, I think rapid acceleration, and the CLS400 is a little slower off the line in that regard, but the engine and transmission quickly keep the acceleration going. If a 329 horsepower and 354 lb.-ft. torque coupe can be subdued, then the CLS400 is. I'll call the overall performance "subdued excitement," best suited for the twists and turns of a country road than a straight away speed demon.
For an "entry-level" car, the CLS400 offers plenty of refinement. With the Mercedes-Benz badging you expect a certain level of luxury and while it doesn't quite deliver to the level of the CLS550, it is certainly better than the Japanese luxury sedans it may also compete against.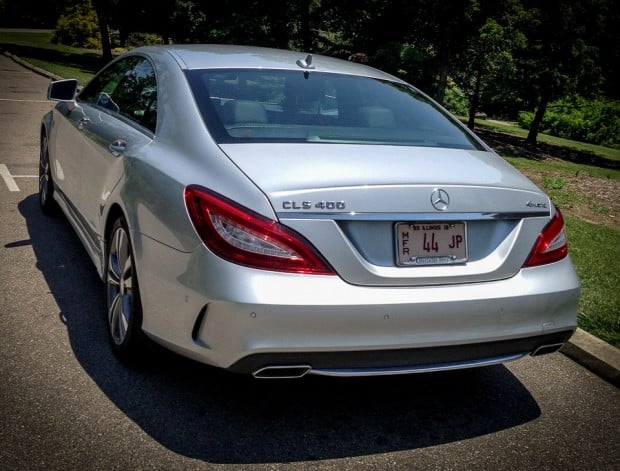 Of course the CLS400 has soft-touch points and high-quality materials, so forget the concern over the entry-level tag in that regard. The leather sport-style seats are comfortable. I generally have a disdain for racing seats, but found these to allow me to hit the comfort zone, giving me a good vantage point of the road, while also not squeezing in on my sides too much.
As mentioned, this is a coupe so there's only room for two passengers in the back seat. This is where the comfort level dips. Both headroom and shoulder room are inhibited for adult-sized passengers. The sloping C-pillar really takes away from headroom. Leg room is sufficient and the leather seats are reasonably comfortable, and any passengers under six feet tall should be satisfied, even for longer trips.With a luxury badge like Mercedes-Benz you expect a certain level of luxury. My tester didn't disappoint with a few features like massaging front seat (an added option), ambient lighting and heated rear seats. Why exactly is this considered an entry-level car?
Sometimes, let's be honest here, German cars can be over engineered, especially when it comes to infotainment systems and technology. While this is partially the case for the CLS400, there are some nice improvements to this car too. Of note is a new eight-inch touchscreen that resembles and acts like a tablet. It operates Mercedes' COMAND infotainment system. I found this system to be confusing and cumbersome. Once you do learn the nuances of this system you grow to appreciate the advantages it brings such as real-time traffic and weather updates and a real-time Garmin-based navigation system. Indeed, the CLS400 is wrought with technology. Even if it's not entirely intuitive, it's still something the driver and passenger can enjoy.
There is a lot of cool safety-oriented technology found within this car. Mercedes brings their officious, but equally neat, Attention Assist program to the CLS400. This feature notices patterns in your driving habits and suggests taking breaks or stopping for coffee if it senses you're not paying attention. Again, it's a nice safety feature, but can be annoying at times and at worse is presumptuous in making such suggestions. Other cool safety technology includes a collision prevention system, blind spot monitors and a very nice adaptive brake technology which prevents the vehicle from rolling forward or backward unintentionally from a stationary position. So, apparently, Mercedes uses a lot of technology to prevent us from being bad drivers. Kind of insulting, but also on point from a technology standpoint.
Let's be honest, you wouldn't buy the CLS400 for immense cargo space. But, you would hope you could fit a few groceries or your golf clubs in the trunk. With 15.3 cubic feet of trunk space, that's certainly the case for the CLS400. It does not have segment-leading cargo space, but it is adequate. And the rear seats can fold down to expand the useable space exponentially.
The 2015 Mercedes-Benz CLS400 coupe is a car that doesn't quite fit in. After all, it's a coupe with four doors. Even in the ultra-luxurious CLS line, this four-passenger car is a little out of place. With a smaller price tag than other CLS, the CLS400 is a car that doesn't like to be defined. Despite it's go-it-alone vibe, the CLS400 is still a Mercedes in its attitude and drive performance.