Review: 2016 Acura MDX
acura | August 20, 2015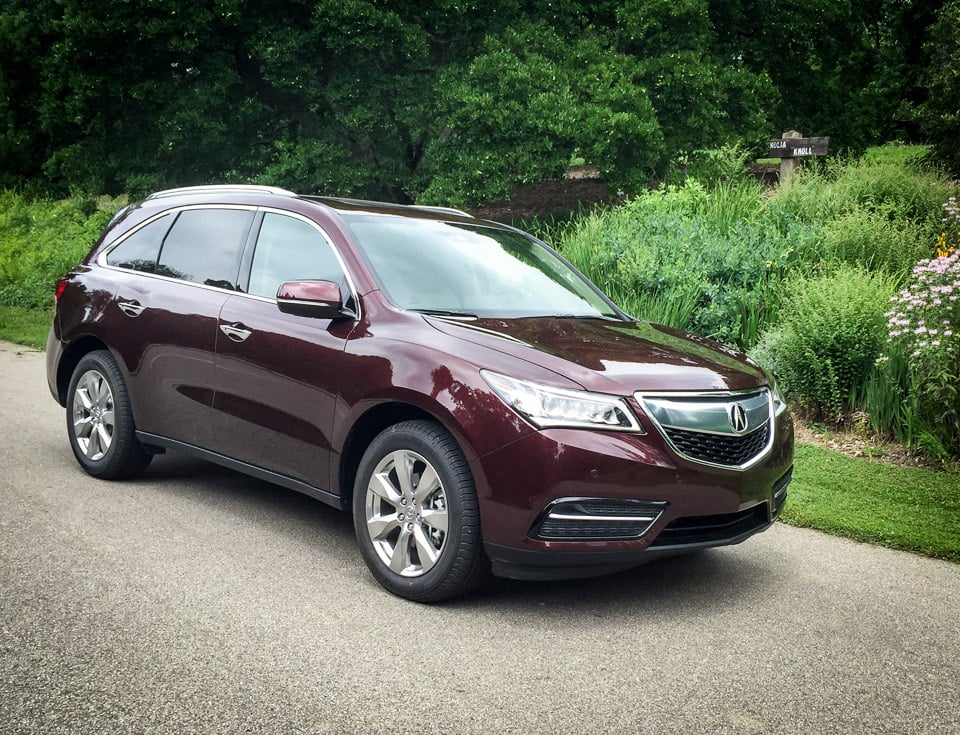 2016 Acura MDX SH-AWD

Engine: 3.5-liter V6
Horsepower: 290
Torque (lb-ft.): 267
Transmission: 9-speed automatic
Drive Configuration: AWD (base model FWD)
Top Speed (mph): 113
City/Hwy/Combined MPG: 18/21
Curb Weight (lb): 4,195
Wheelbase (in): 111
Total Length (in): 193.6
Width (in): 77.2
Base Price (USD): $44,865
Price as Tested (USD): $57,080
Most carmakers are in a battle of keeping up with the Joneses and constantly wage a battle of one-upmanship. Such is the case for my tester this week – the 2016 Acura MDX. Although, truth be told, in the third-row luxury SUV segment, the MDX is the Joneses and everyone else seems to be trying to keep up with them. And the Joneses went and upgraded again.
Acura completely redesigned the MDX for model year 2016. There are numerous and significant changes for the third-generation MDX. In addition to upgraded looks both inside and outside, there's a new transmission, new all-wheel drive system and tech-heavy safety features.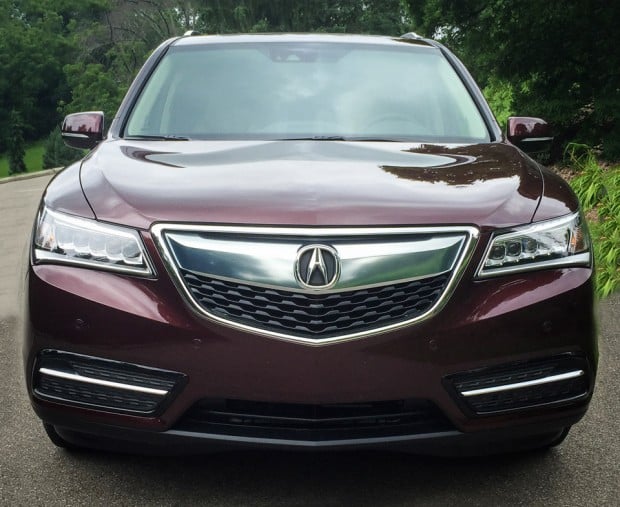 On first look, this MDX isn't significantly different from the previous generation. It's a stout, but sculpted SUV. It mostly follows Honda's overall conservative engineering philosophy. It's not flashy or overly stylized, but it still possesses a distinguishable and luxurious appearance. The 2016 MDX has the distinctive, pronounced Acura grille. A rear spoiler adds to the attractiveness of the back end. So many vehicles, especially SUVs lack much rear appeal, but that's not the case with the MDX.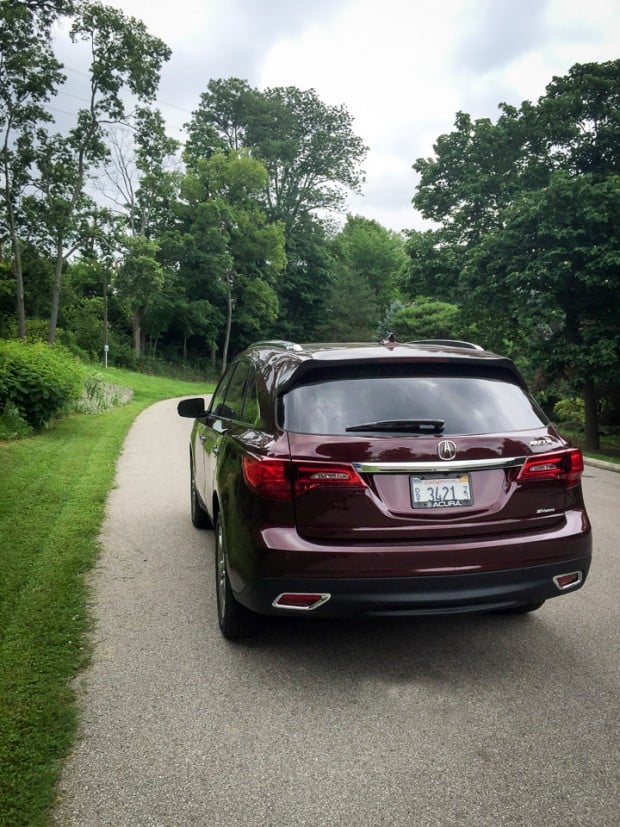 A big knock on the Acura brand has been that they aren't luxurious enough, and are just high-end Hondas. While there is probably some crossover between a base trim MDX and a high-end Honda Pilot, the MDX is generally a lot more luxurious in all regards than the Pilot. To say that the MDX, especially this model year, is not "special" enough to warrant a luxury tag is just false.
A lot of what powers the MDX is new this year. The same 3.5-liter V6 engine from last year is back for this model, but there are quite a few changes to the engine which makes 290 horsepower and 267 lb-ft. of torque. As mentioned, there's a brand new nine-speed automatic transmission that really changes the driving dynamics of the MDX. The shifts are quick and almost sporty. The push-button transmission takes a little getting used to, and may initially be off-putting for some consumers, but it actually simplifies the organization of the steering column and the center stack.
My tester came with start-stop technology, which is also a new feature this year. I have yet to find a start-stop system that I enjoy, and it's certainly no exception with this MDX. To employ the start-stop (where the engine shuts off at red lights to save fuel) you have to put full force on the brake and hold it. You can skip Leg Day at the gym after driving the MDX around town. This tech is the biggest negative I found with the MDX.
My tester had the optional all-wheel drive system (front-wheel drive is standard). However, I would not consider an MDX without this ability. It makes cornering and turning quite athleti,c and the modifications the engineers made to this system this year (Acura says the AWD system is significantly lighter) are noticeable. For a bigger SUV, agility is a rare thing and the MDX is definitely up for a fun jaunt.
Inside, the Acura proves why it deserves a luxury badge (barely). While not as nice as some Lexus SUVs, and certainly not as luxurious as the Infiniti QX60, the MDX offers nice materials, soft seating and a quiet, comfortable ride. There is certainly nothing in the Honda family that can match what my MDX had. Leather seats and soft touch points were much appreciated.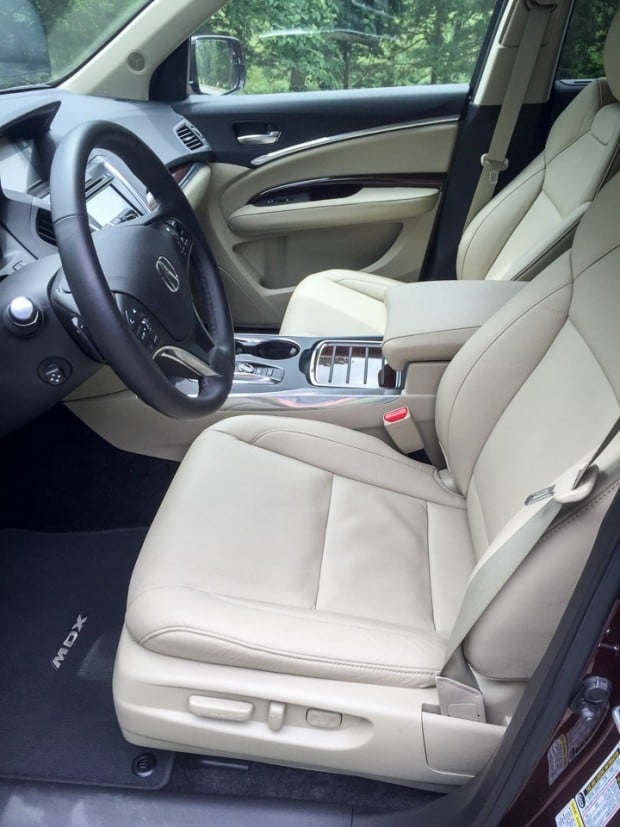 There are two stacked screens that drive the infotainment system. You almost feel with like one of those self-important co-workers who have two monitors because one just isn't enough for everything they have going on. Both screens are vibrant and big and fairly intuitive, but when some things are shown on the top screen and other things shown on the lower screen it can get a little bewildering.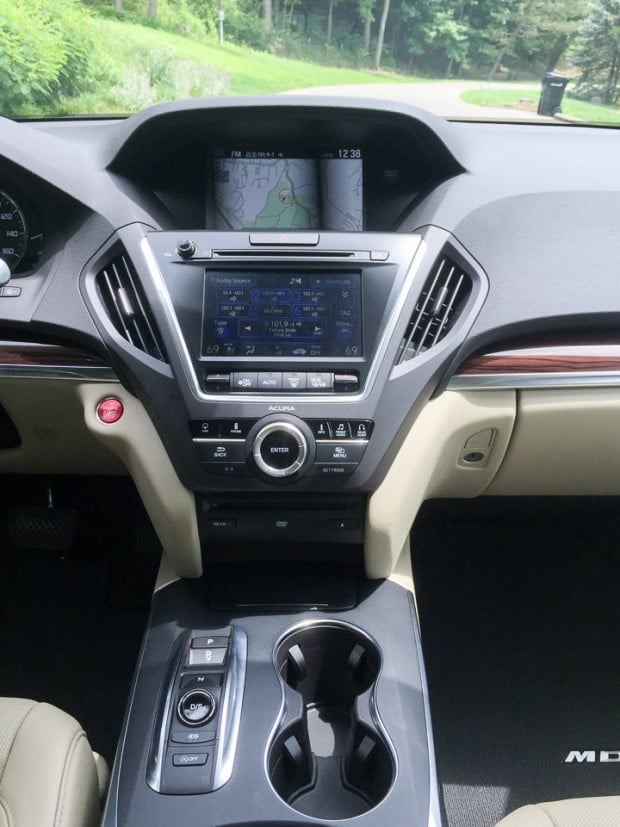 Other than that, the technology is modern and current inside. Smartphone integration is easy to use and there are several ways to plug in and recharge your devices.
Second row seating is amazing. My tester came with the entertainment package which also came with a rear-seat DVD system and 9-inch screen. Adults and kids will all be incredibly comfortable in the second row with their own speakers, their own ventilation, and plenty of shoulder, leg and headroom. Slide the second row back further to expand leg room exponentially.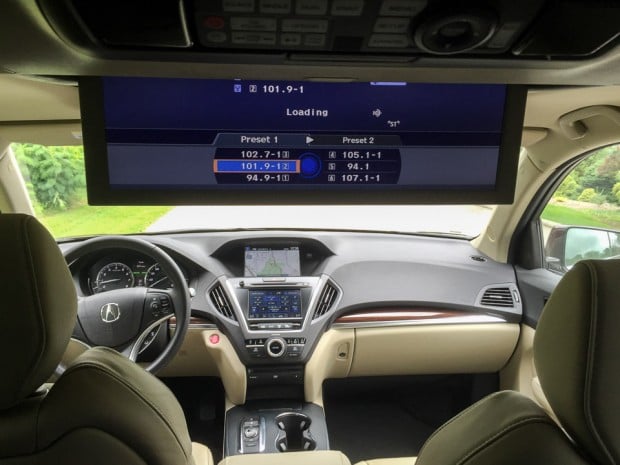 The third row seating, like so many other seven-passenger vehicles, should be limited to children as adults would be quite crammed trying to spend any time back there. With the third row seats upright, there is a car-like of amount of cargo space – 15.8 cubic feet. Fold the third row flat, and cargo room increases to 43.4 cubic feet. This versatile people mover functions well as a grocery getter or occasional weekend project vehicle. But, if you're buying the MDX for its overall storage capability you'll be disappointed. While few would ever use the MDX to tow, it has a sub-par towing capacity of 3,500 pounds.
However, the MDX is not intended to be some weekend warrior or rugged, versatile truck. Rather it's this generation's version of the minivan. Quiet, comfortable and capable of keeping the family happy is what the MDX does, and does so well.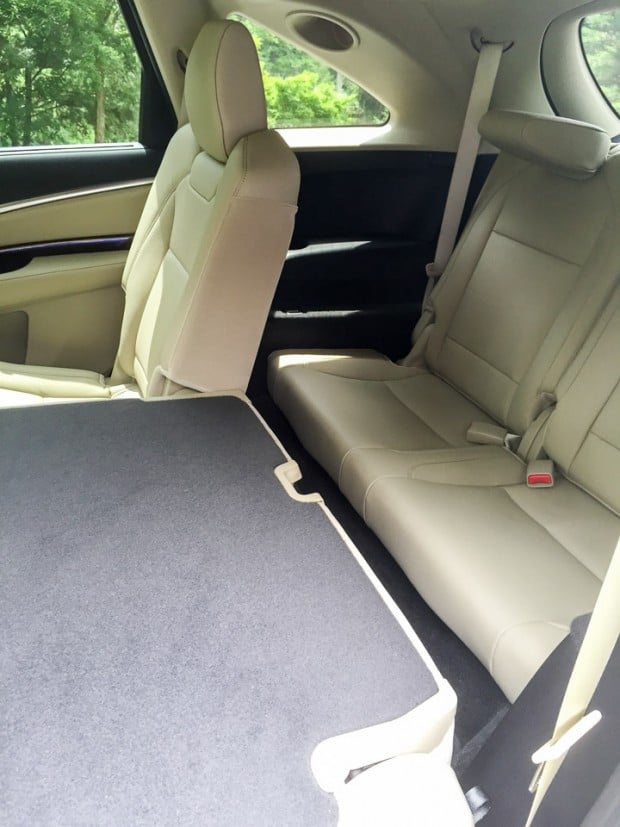 It's cool when a carmaker takes cutting edge technology and uses it for safety purposes. The Acura Watch safety system debuts in the MDX and with this comes a slew of safety-tech features like lane departure warning, collision mitigation, and adaptive cruise control. This system is available for all trims of the MDX, something I applaud Honda for incorporating, instead of in the past where these type of features were on only top-of-the-line trims.
Fuel economy is improved year over year for the 2016 MDX thanks to lighter weight materials and the 9-speed transmission. The base trim, FWD MDX has an EPA rating of 19 mpg/city and 22 mpg/hwy. My tester, with all-wheel drive, takes a slight hit with an EPA rating of 18 city/21 hwy.
The MDX has two trims, with a handful of options and packages to customize the vehicle. My tester was the MDX SH-AWD which also came with the Technology, Entertainment and AcuraWatch packages. The most basic MDX can be had for an MSRP of $42,865. My tester had a base price of $44,865. With all the packages and options, my final sticker price was $52,490.
I am of the opinion that the minimal difference in fuel economy is well worth having all-wheel drive. The road-hugging ability of this AWD system makes it a better ride and offers peace of mind during inclimate weather.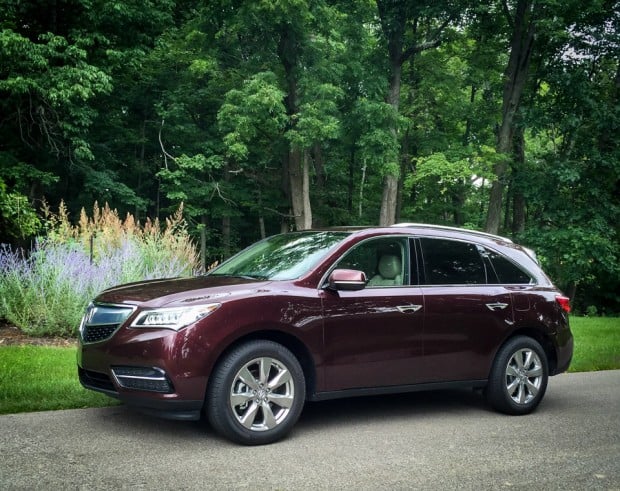 The 2016 Acura MDX shows why this seven-passenger luxury SUV is so formidable within its segment. Now in its third generation, the MDX is a steady, consistent performer with few flaws. It doesn't dazzle, but it doesn't have to either.