Venturi VBB-3 EV Sets Land Speed Record for Its Class
EV | racing | records | August 31, 2015
It's been a rough few years for land speed record seekers at the Bonneville Salt Flats. Heavy rains cancelled the annual Bonneville Speed Week for the second year in a row, as the salt was too wet and muddy for racing to take place. That meant the EV land speed record seeking Venturi team missed their shakedown runs.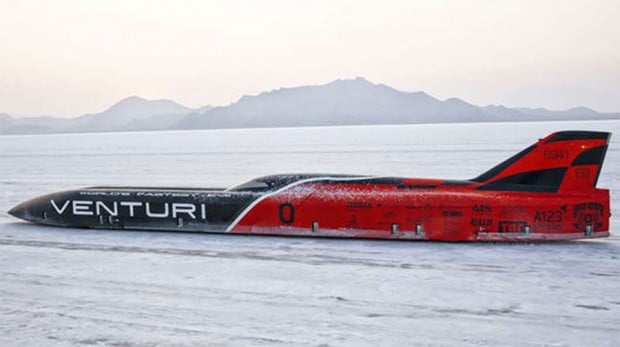 That didn't stop the team from showing up earlier this month for an attempt at a record. The track was shortened to 10 miles rather than 12 as they planned for, and the surface was still far from perfect, but it worked well enough. The 3000 hp VBB-3 electric racer was able to break the record for its class with a speed of 240.32 mph.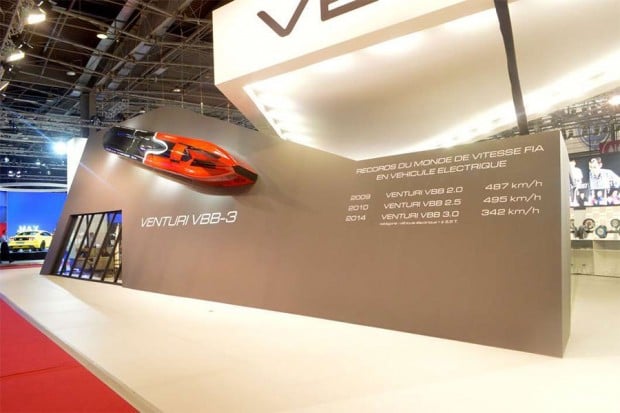 The poor track surface meant lots of vibration and electrical issues for the team. In fact, the vibrations were so bad that the coolant chamber inside the car ruptured, leaving a pool of red fluid that looked like they ran someone over.
In the end, the 240.320 mph was enough for a class record, assuming the FIA approves the run. However, the record setting speed was far less than the 308 mph they'd need to be the fastest overall EV, or the eye-popping 440 mph that the vehicle is designed to handle.