Review: 2016 Cadillac ATS-V Coupe
cadillac | cadillac ats | January 21, 2016
---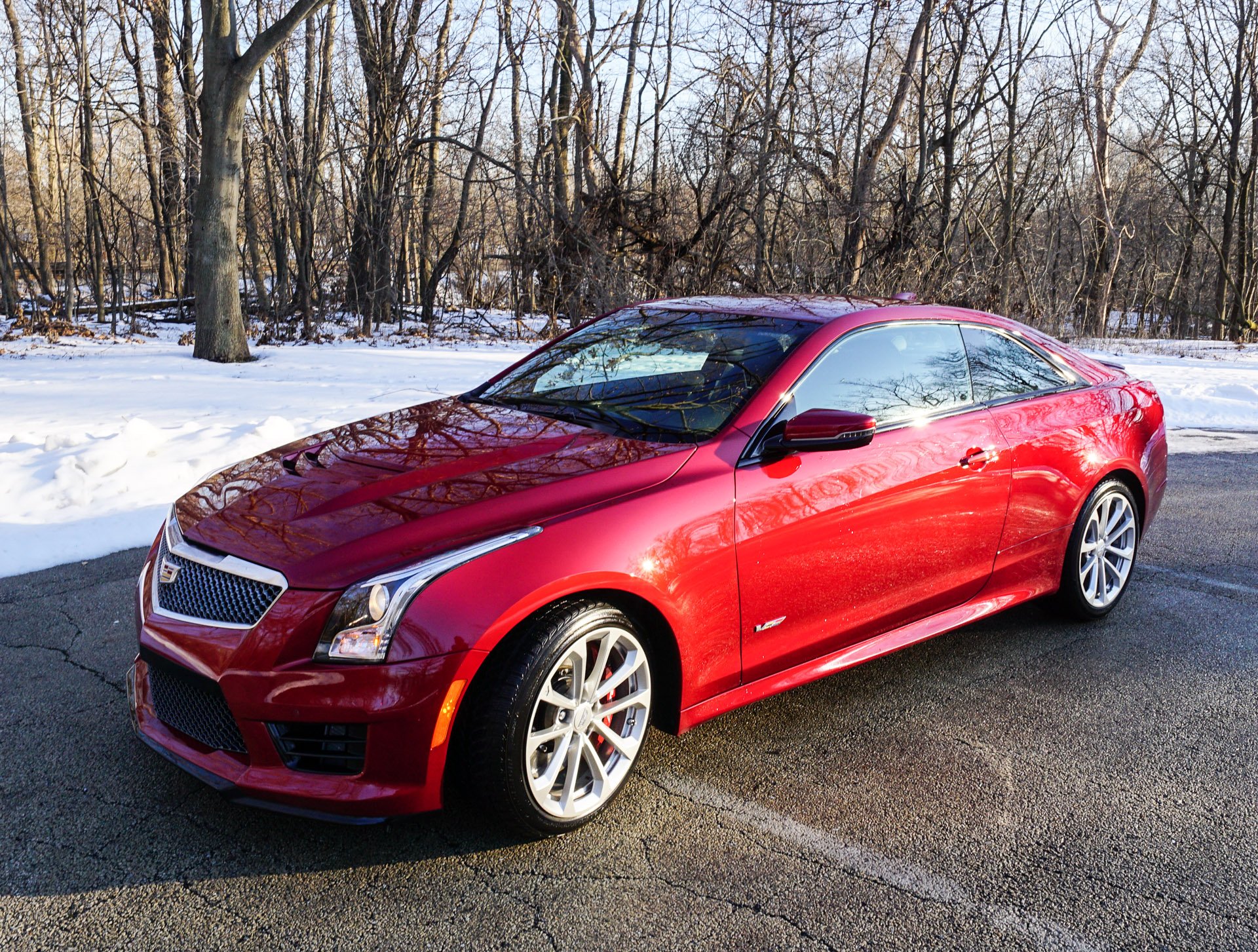 2016 Cadillac ATS-V Coupe

Powertrain: RWD
Engine: 3.6L twin-turbo V6
Horsepower: 464
Torque (lb-ft.): 445
Transmission: 6-speed manual or 8-speed automatic
0-to-60 Time (secs): 3.9
Top Speed (mph): 189
City/Hwy/Combined MPG: 17/19/23
Curb Weight (lb): ~3700
Wheelbase (in): 109.3
Total Length (in): 184.7
Width (in): 72.5
Base Price (USD): $62,665
Price as Tested (USD): $69,935
Last year, I had the opportunity to take the Cadillac ATS-V out on country roads and on the track at Road America. Naturally, I had an awesome time. But my time with the car was limited to just a few hours. This time out, I got to live with the ATS-V as my daily driver for a whole week. And what a treat it was.
I've now driven all of the different vehicles built on General Motors' Alpha platform, and all I can say is that their engineers really nailed it. The platform provides the underpinnings for the current generation Chevrolet Camaro, Cadillac CTS and ATS. All three of these cars offer incredible body rigidity, great handling and a truly engaging driving experience.
The performance oriented ATS-V is powered by an impressive 3.6-liter twin-turbo V6 that pushes out 464 horses, and 445 lb-ft. of torque. My car had a 6-speed manual gearbox, which offered fast and nimble shifts, made even better thanks to Active Rev Matching tech, which automatically juices the throttle to ensure that shift transitions are smooth when upshifting or downshifting.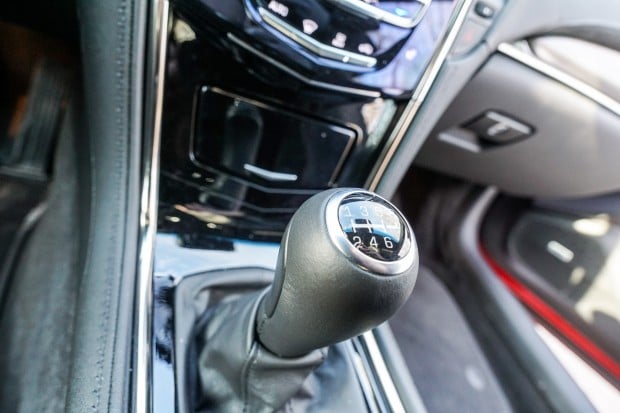 Turbo lag is nonexistent, and the power on demand is pretty epic. After all, this bad boy can go from 0 to 60 in just 3.9 seconds. Highway on-ramps and passing on the highway provided ample opportunity to enjoy the tremendous torque heading to the back wheels, all accompanied by a satisfying deep exhaust note. The ZF electric power steering is sublime, providing a great direct feel, with easy and light steering on the highway, and wonderful weight in the turns and on the track. Big red Brembo calipers and discs help bring all that power to a stop with ease.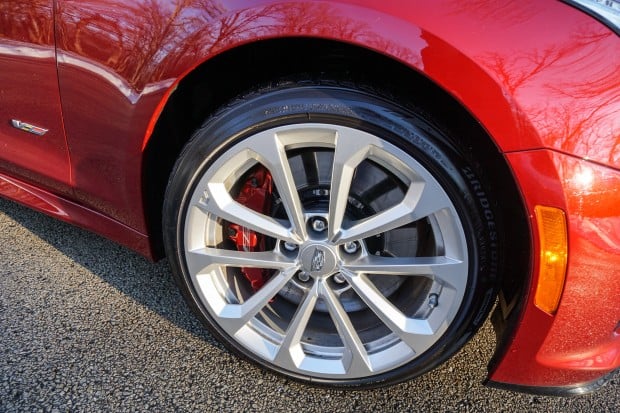 The car offers several drive modes, including Tour, for lighter steering and handling, Sport, which tightens up the steering, suspension and power curve, and Track, which reduces input by the nannies, and lets you have a little more direct control in tight corners. There's also a Snow mode for improved traction, which couldn't hurt here in the snowy Midwest. I spent the majority of my time in Sport mode, which offers the optimal balance of fun and driving assistance so you can't get yourself into too much trouble. There's also a somewhat hidden Competitive Driving Mode, which is activated when you deactivate the traction management switch. This offers five different modes, each of which provides varying degrees of traction control for different track conditions and driver skill levels. And you'd never know it was there if you don't read the owner's manual. Yes, guys, you should read the manual.
The ATS-V comes pretty loaded, so it includes GM's Magnetic Ride Control (MRC) system, which uses scientific wizardry to adjust the firmness of the suspension based on driving mode and road conditions. Every car I've driven that had this system in place handles like a dream – deftly switching between cushioning on bumpy roads, to firmness and sporty handling on smooth surfaces. If there's one checkbox you must tick on any GM vehicle that offers this option, it's this feature.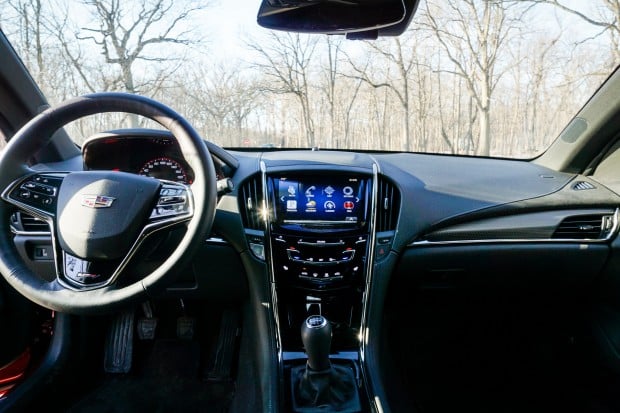 The interior of the ATS-V offers comfort, luxury and just a touch of sportiness. Dash surfaces are trimmed in cut and stitched textiles, sueded microfiber, and real carbon fiber. The upgraded "V"-embellished Recaro sport seats provide good support and padding for long trips, and great electrically-adjustable bolstering. That said, I'm not crazy about the chromed cutouts at the top of the seats. I think I'd rather see a bit of color trim – perhaps to tie back to the exterior color.
There's a good bit of tech in the ATS-V too, including an 8″ touchscreen infotainment system, Bose premium audio with active noise cancellation, a great driver information display in the instrument cluster, rear vision camera, and front and rear parking sensors too. The $1300 performance data recorder option lets drivers record video and telemetric data from their track drives – an option you really only need if you plan on tracking yours.
If you've been in the market for a mid-size sports car – say a BMW M3 or M4, or an E-Class AMG, you owe it to yourself to consider the Cadillac ATS-V. It's got power in spades, and handles as well or better than its closest competitors. What really thrills me about the ATS-V is that it's a bit of a wolf in sheep's clothing. Sure, it looks more sporty and aggressive than other Cadillacs, but you can drive this car to the grocery store or the office, and it's a perfectly comfortable luxury car. Then you switch into Sport mode, put your foot down a little further on the gas, and it'll launch you down the road like a rocketship. I love that.