Toyota Sets a World Record for Fastest SUV in a Land Cruiser
custom | sema 2016 | toyota | turbocharger | V8 | world record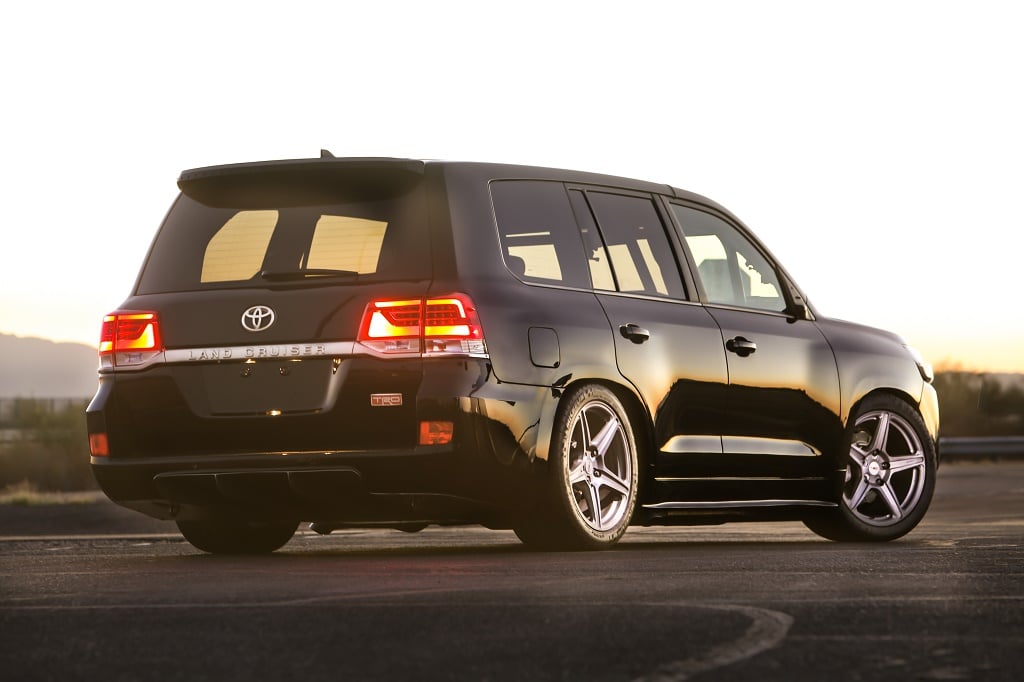 While you were busy taking tequila shots and pretending that wearing a sombrero somehow made you look attractive, Toyota was issuing the news that it had earned the title of "World's Fastest SUV" this Cinco de Mayo. The 2,000 horsepower "Land Speed Cruiser" hit a staggering 230.02 mph before running out of usable runway, and according to sources would likely have gone faster if it had not run out of tarmac.
Last year's One Lap of America Toyota Sienna race driver Craig Stanton was on hand to fine tune the Land Speed Cruiser at Toyota's Arizona Proving Ground (TAPG) and had this to say:
"I wanted the Land Speed Cruiser to provide the confidence you need, as a driver, to keep pushing even when the world around you becomes a high speed blur," Stanton said. "We made some setup adjustments, and it not only accelerates and shifts more smoothly, but it also has enhanced stability."
Re-calibrated and ready to rumble, the team met with recently retired Toyota NASCAR driver Carl Edwards at Mojave Air and Space Port in Mojave, California in order to see what man and machine would do once pushed to the limit. Designated as one of the few places in America where supersonic flight is permitted, this desolate strip of land also features a 2.5-mile runway that is ideal for straight-line speed.
Stanton's warm-up runs in the SUV returned 198 mph gains, which is considerable in something so monolithic. After handing over the keys to Edwards, a first run returned a record-tying 211 mph finish. But due to the amount of pavement required to slow the hulking Cruiser, more boost was necessary in order to provide adequate stopping time. Cooling issues, oil leaks, and a plethora of other race car related mishaps had plagued the team, but eventually Edwards was able to set a new world record.
Spearheaded by Toyota mastermind Chuck Wade, this slammed soccer mom machine will likely be back for more when a lengthier track and more high speed stability are sourced. In an interview with Wade last year at SEMA, the project's chief engineer told us that while this beast will happily run on regular E85 or premium pump juice for trips around town, VP C-85 fuel is required if you want to see extreme speeds.
Here are a few other specs on the car that we were able to gather from Wade when we met with him last fall:
LEAD BUILDER: Motorsports Technical Center
MECHANIC/FABRICATORS: Chuck Wade, Sam Puleri, Rich Garver, Marty Schwerter
BODYWORK: Motorsports Technical Center
PAINTER: Randy Prevatt
TUNER: James Lin
POWERTRAIN: 5.7-liter Toyota 3UR-FE overbored and stroked to 6.2-liters with twin Garrett mid-frame GTX47 turbos, TurboSmart Pro Gate 50 wastegate and Race Port blow-off valve, custom MTCI intercooler, JE Pistons forged pistons, custom heads by Port Flow Design's Tom Fujita and Bullett Fab, Oliver 4340E connecting rods, Web Racing cams, custom 96mm overbored Accufab drive-by-wire throttle body, custom MTCI/K&N air intake, Borla/MTCI exhaust manifolds, downpipes, and midpipes, custom Borla exhaust, Optima battery, MoTec ignition system, NGK spark plugs, twin AEM in-tank fuel pumps and single Waterman mechanical pump, ATI pulleys, Weismann eight-speed transmission, Weismann multi-disc centrifugal wet clutch, Weismann Locker front and rear differentials, Custom MTCI radiator, electronically controlled Air Shifter by Weismann, Weismann gears, and custom iced cooling tank for intercooler
BRAKES: The Brake Man (TBM) scalloped rotors and four-pot calipers all around
SUSPENSION: Fox Shox one-way adjustable dampers with custom wound Eibach Springs
WHEELS & TIRES: custom 20-inch Momo wheels, Michelin Pilot Super Sport tires
EXTERIOR: one-off airdam, custom turbo intake ducting, interchangeable rear wickers on spoiler, custom rear diffuser, custom gloss black paint with a splash of red ice
INTERIOR: gutted and caged, Momo racing seat, Simpson harnesses, boost controllers, GoPro cameras, fully functional dash, navi, and full interior for cruising down to the local coffee shop