Alfa Romeo Stelvio and Stelvio Ti Prices Announced
alfa romeo | alfa romeo stelvio | May 11, 2017
I am a big fan of cars and SUVs that have enough room to haul your family and have enough performance to make driving them fun. This is exactly what the new Stelvio SUV from Alfa Romeo aims to offer. Sharing platform elements with the Giulia, it has a near 50/50 weight distribution, and starts out with a 280 hp turbo-four backed up with standard AWD.
Paired with an 8-speed paddle shifted automatic transmission, even the base Stelvio can do 60mph in just 5.4 seconds. The Stelvio will start at $41,995, the Ti version starts at $43,995. Those prices include leather, multiple drive modes, remote start, bi-xenon headlamps, a carbon fiber driveshaft, and a F1 style steering wheel. The Ti version adds wood interior trim, 19-inch wheels, an 8.8″ infotainment screen, heated seats, heated steering wheel and more.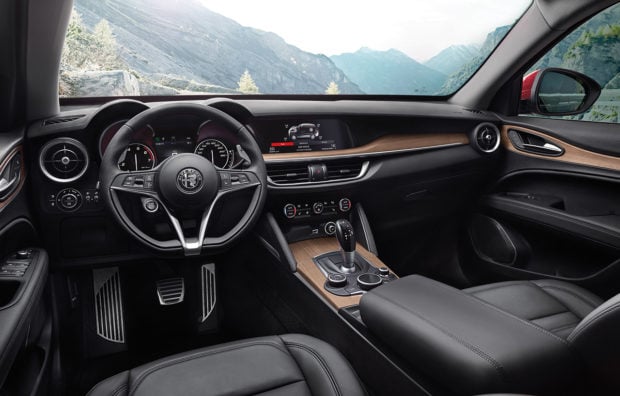 For another $2,500, you can get the Ti Sport or Ti Lusso packages, the Ti Sport trim getting 20″ wheels, sport leather seats, aluminum paddle shifters, colored brake calipers, aluminum pedals, and a sport-tuned suspension. The Ti Lusso has upgraded Italian leather seats an exclusive walnut trim, 12-way power seats, aluminum pedals, and more.
A high performance Quadrifoglio version will be announced later this summer, and if it's anything like the Giulia variant, it should be awesome.