A European Hot Hatch Drag Race
amg | amg a45 | audi | audi rs3 | drag races | ford | ford focus rs | hot hatch | mercedes-amg | volkswagen | volkswagen golf r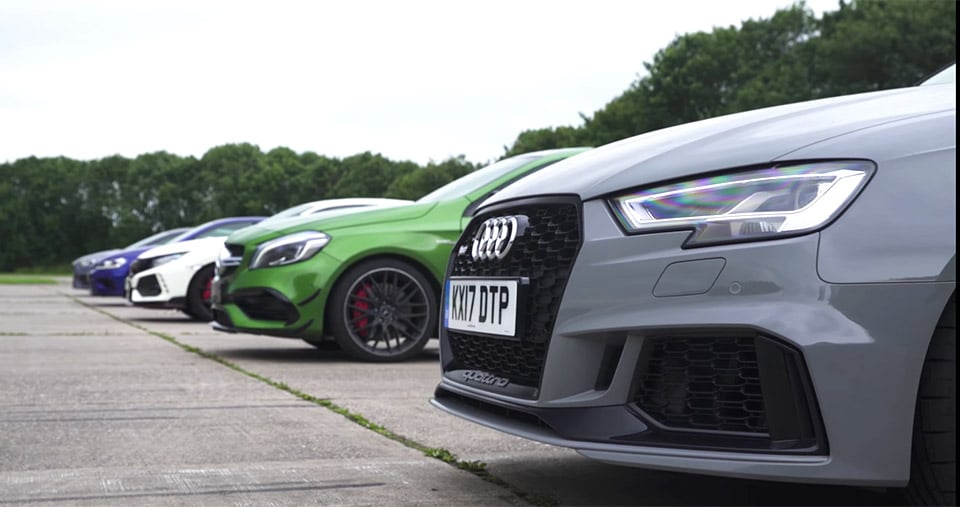 We don't get as many hot hatches here in the US as I think we deserve, so we often have to live vicariously through folks in Europe to get our fix. Recently, the guys at UK car buying site carwow got their hands on five hot hatches and decided to line them up for a little drag race.
Among the cars are the Audi RS3, the Mercedes-AMG A45, the Ford Focus RS, the Volkswagen Golf R, and the Honda Civic Type R. The drag race isn't exactly a fair race – the Audi has a rather significant horsepower advantage, while the Honda only has front-wheel drive. In addition, the Audi and Mercedes are automatics with launch control, while the Ford, VW, and Honda are manuals.
After the drag race, they also did a 30mph rolling-start race with the cars in 2nd gear to take any launch issues out of the equation. You'll need to watch the video to see exactly how the races turned out, but I'll just say the results weren't surprising at all.
Here's a 360º view of the drag race, for a different perspective:
The good news is that four out of five of these hot hatches are available for purchase here in the States, not something we can often say. All but the AMG A45 can be bought right now – though the Civic Type R is pretty hard to come by.