2018 Ford F-150 Power Stroke Diesel Review: Born to Tow
2018 | diesel | engines | f-150 | ford f-150 | May 3, 2018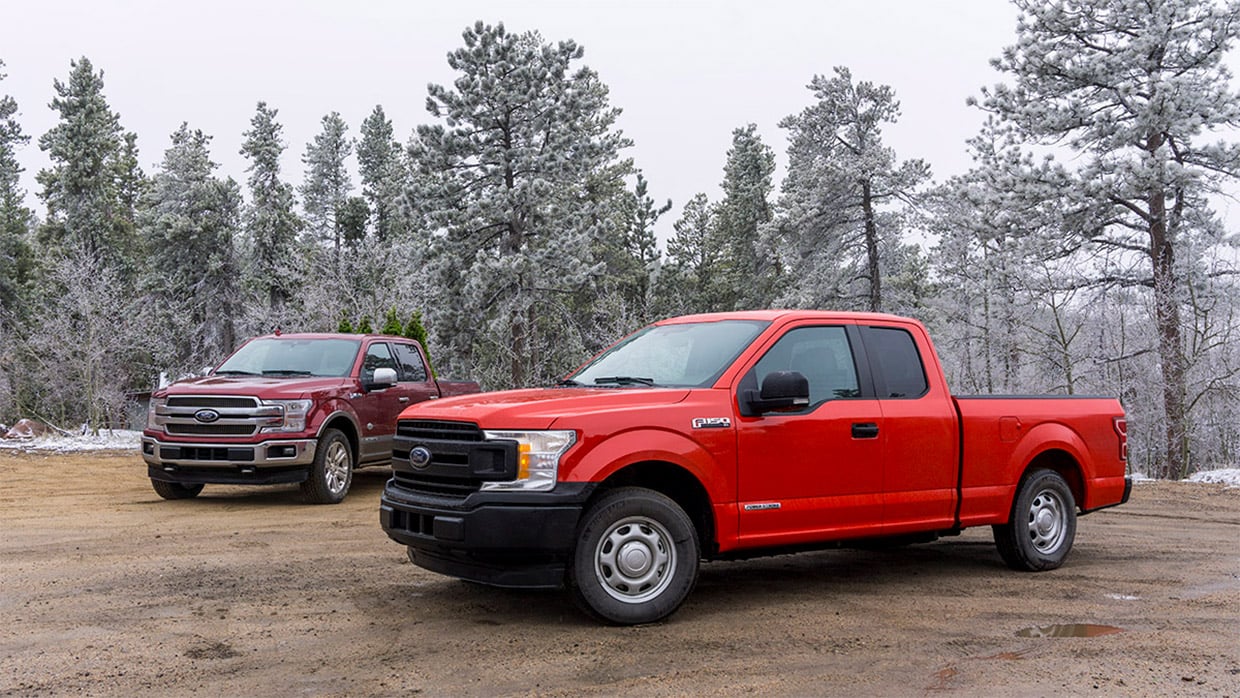 2018 Ford F-150 XL 4X2 SuperCab Diesel

Engine: 3.0L Power Stroke V6 Diesel
Horsepower: 250
Torque (lb-ft.): 440
Drive Configuration: RWD
City/Hwy/Combined MPG: 22/30/25
Curb Weight (lb): 5,077
Wheelbase (in): 156.8
Total Length (in): 243.7
Width (in): 96.8 (w/mirrors)
Base Price (USD): $31,790
Price as Tested (USD): $40,980
First let's get one thing cleared up right off the bat, this isn't a truck review. It's an engine review. Because nothing – not a single bolt, body panel, or switch – on the F-150 has changed except for the turbocharged 3.0L V6 oil burner that's under the hood.
The PowerStroke Diesel is the sixth engine to make it into the F-150 lineup, joining four gas V6 options and a 5.0L V8. Its power output put it on the low end of the line. It makes just 250 horses at 3,250 RPM. But it's near the head of the class in torque, delivering 440 pound-feet at 1,750 RPM. That means you can use it for just about any serious recreational towing job you can think of – boat, snowmobiles, camper, or car hauling. It's mated to the same 10-speed automatic transmission you'll find in the gas engined F-150s which means there are plenty of gears to keep this diesel in the power band.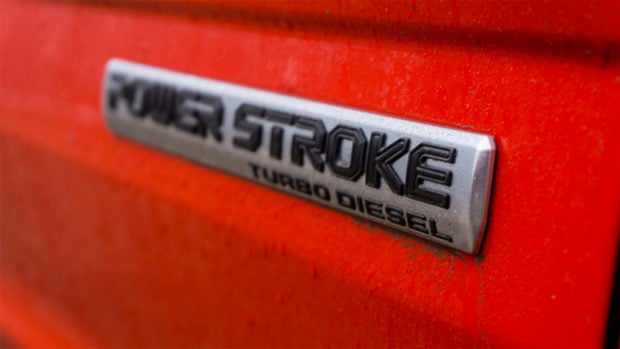 I was invited to the Denver, Colorado by Ford to test the F-150 diesel at altitude, making it an even tougher test on the powertrain. I put the truck through its paces on four different driving challenges: an off-road course, a dynamic drive route to the aptly named town of Wondervu, Colorado with 1,000 pounds of lumber in the bed, a 10-mile fuel economy run, and a trailering loop with a 6,000 pound box trailer in tow.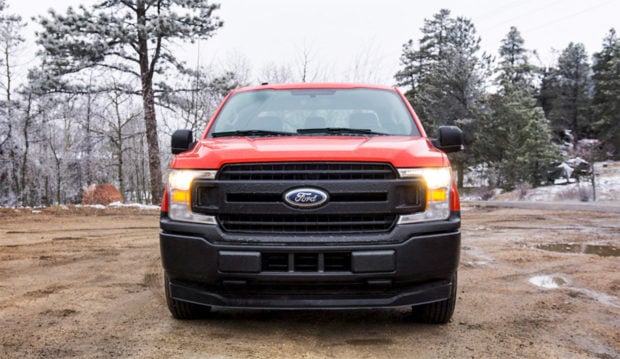 The new diesel engine in the F-150 is not an entirely new engine. Built in Ford's Dagenham Diesel Centre in the UK, it's a version of the LION diesel that is a popular option for Ford, Citroen, and Jaguar/Land Rover vehicles sold mainly in Europe and Asia. For this application Ford engineers made several updates both to deliver performance worthy of the F-150 badge and to ensure compliance with US emissions requirements. Some notable updates include a variable geometry turbocharger with vanes that adjust to deliver more or less pressure as needed, improving the balance between efficiency and performance. There are cleaners built into the EGR system to remove particulates. Engineers added an elastomeric damper at the crank and a die-cast structural oil pan to reduce noise and vibrations typically associated with diesel engines. All these efforts paid off.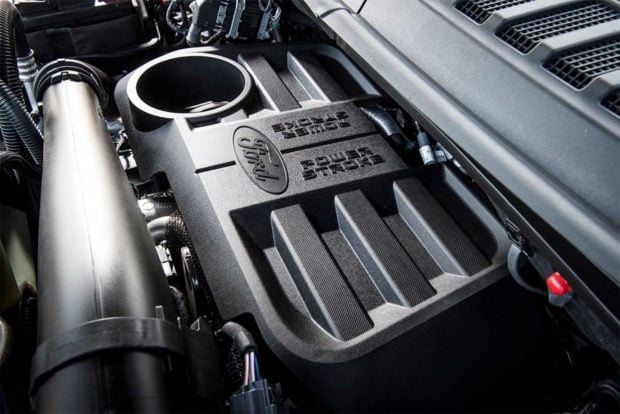 When I first climbed into the cabin of a Race Red F-150 4×2 and hit the start button, I was surprised by what I didn't hear, clatter. Ford has done such a good job reducing engine noise and vibration that once you're behind the wheel, there were no indications that this was a diesel engine. My mission in this truck was to haul 1,000 pounds of lumber 23 miles to the town of Wondervu at an elevation of 8,800 feet. If you're counting, that's an elevation change of nearly 3,400 feet from my starting point in Broomfield. Pulling away from the first stoplight with a bed full of 2x6s, the power was both immediate and smooth. Because efficiency is the name of this truck's game, Ford employs stop/start technology to boost their city mileage numbers. While the system is noticeable, it's not as bad as some I've encountered. The beefed-up starter fires up immediately when you lift off the brake, and if you don't want to deal with it at all, you can turn off the system by hitting a button prominently displayed on the center console.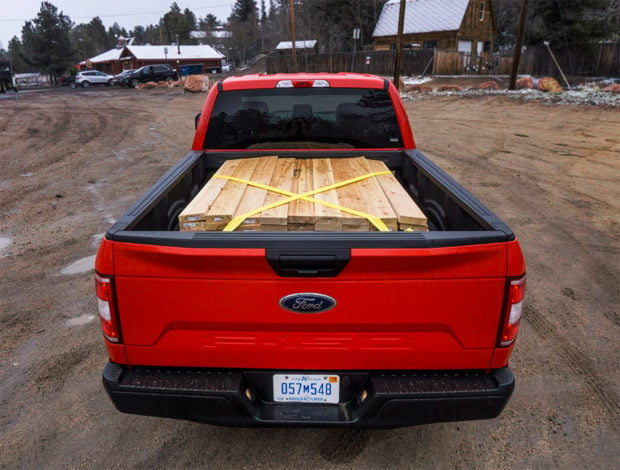 The torque comes on low with a curve that maintains its peak between 1,750 and 2,250 RPM and it doesn't really start to fall off until you get over 4,000 RPM. This gives you plenty of pulling power, especially since the 10-speed transmission offers all the gears you need to keep you in the power at just about any speed. The only time the truck felt less than lively was in high-speed passing situations where its fairly pedestrian 250 horsepower was most noticeable. It's not quick from 50 to 70 mph, and after a few attempts using different gears it became clear that the F-150 diesel is designed to haul just about everything but ass.
I reached the top of the mountain achieving a very respectable 19.8 miles per gallon considering the load and altitude, and I never felt like the truck was struggling to carry the load. Turning around and heading back down the hill yielded even better mileage than I expected, 45 mpg. I guess that's what they mean when they say. "your mileage may vary." This was my first extended experience with the new F-150, and a couple of things that struck me were both how comfortable and easy to drive this truck is. It's quiet, handles well for such a big tall vehicle, and when you doll it up in the Platinum and King Ranch trims has all the luxury features you'd expect to find in a Mercedes or Lexus including heated and cooled massaging leather seats, panoramic sunroof, and a really good B&O Play sound system.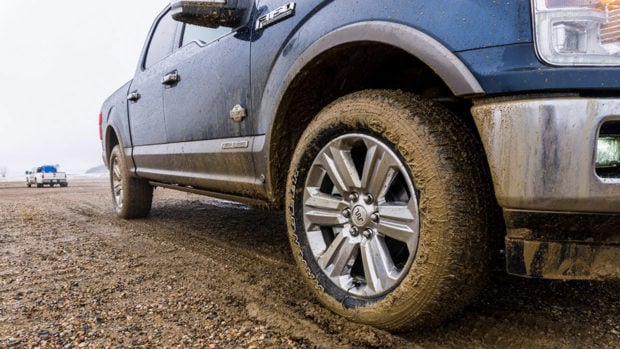 My other drives yielded no real surprises. On the mileage loop, driving an unladen 4X2 SuperCab truck, I was able to eclipse the EPA estimate – hitting 31.2 mpg over the ten miles of suburban streets, boulevards, and short freeway stint. Off-road, then engine handled a fairly gnarly course with ease. We drove 4X4 trucks equipped with Ford's FX-4 package and though the route was a muddy, rutted mess from all the snow and rain we'd received that morning, the diesel engine pulled us up steep grades, over large rocks and railroad ties, and through axle-deep puddles.
If anything the big aha for me was the trailering exercise where I drove a SuperCrew model with a 6,000 pound box trailer latched to the rear. The 23.5-mile drive loop included a few steep hills so between the altitude and the grades I was worried about the truck maintaining speed on the front range highway. I shouldn't have been. Rated at 10,100 pounds, the F-150 easily maintained highway speeds with trailer-tow mode engaged.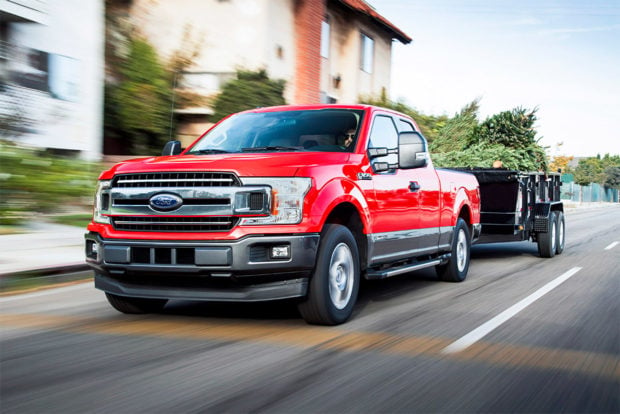 So who is the F-150 diesel for? After all you're going to pay anywhere from about a $2,500 to $4,000 premium for the Power Stroke Diesel engine over every other engine option except the high-output EcoBoost V6. It would seem those who would benefit most are people who tow middleweight trailers on a regular basis. That's where the mileage difference will be most pronounced, thus fuel savings the greatest. So if you're a contractor with a small trailer, or a weekend warrior with a cabin up North that you tow your boat and snow machines to 52 times a year, this will be a good option. For everyone else, stick with the gas engined truck or wait a couple of years for the hybrid F-150 to come online.