2018 Hyundai Sonata SEL Review: Master of the Mid-size
2018 | hyundai | hyundai sonata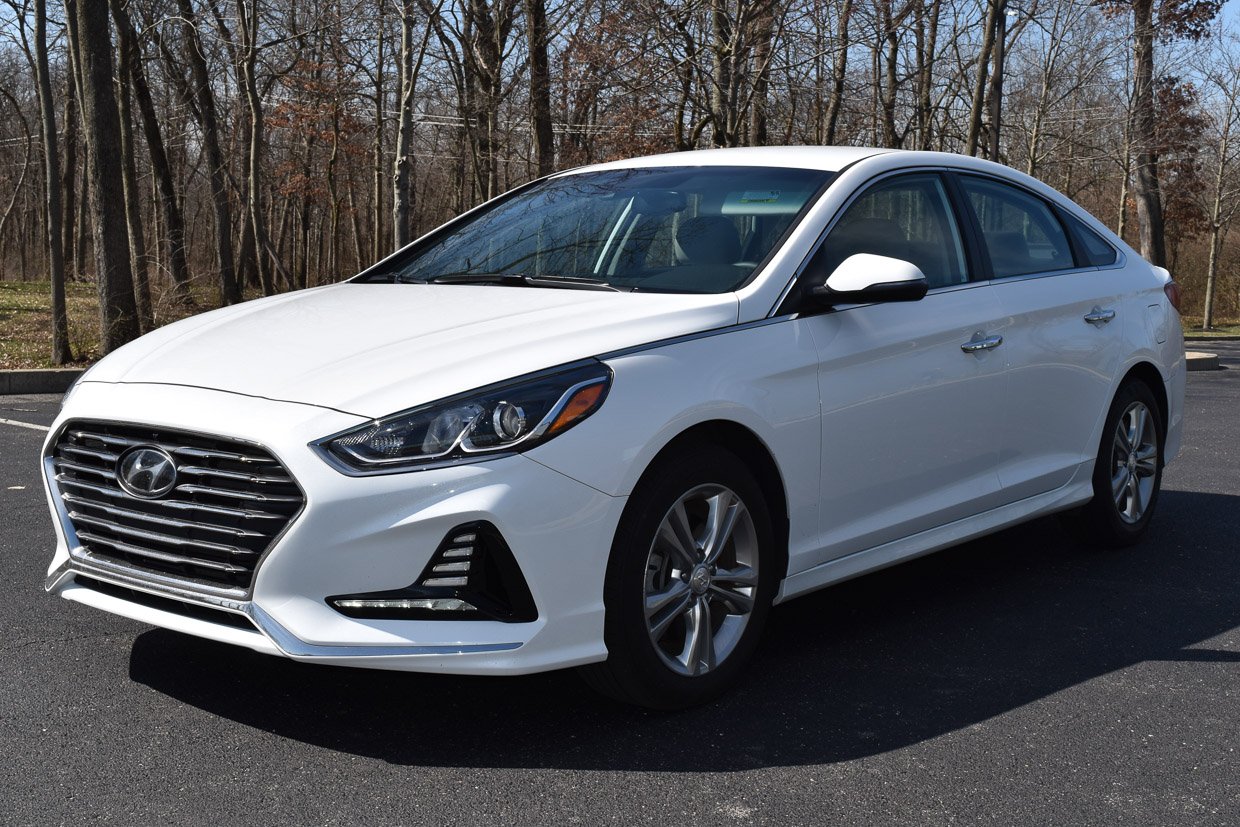 2018 Hyundai Sonata SEL

Engine: 2.4-liter 4-cylinder
Horsepower: 185
Torque (lb-ft.): 178
Transmission: 6-speed automatic
Drive Configuration: FWD
Top Speed (mph): 115
City/Hwy/Combined MPG: 25/35
Curb Weight (lb): 3250
Wheelbase (in): 110.4
Total Length (in): 191.1
Width (in): 73.4
Base Price (USD): $23,700
Price as Tested (USD): $25,710
It is not my job or responsibility to shill for one car brand over another. I see a wide variety of vehicles, and have driven almost every major brand on the road today. So, I consider myself "informed." So, with that said, I'm always amazed when I hear people say, "Oh I'd never buy a Hyundai." I don't know if this is a remnant from the early 1990s when Hyundai was starting out and definitely made "cheap" cars. But the times have changed, and Hyundai has caught up to and in some ways surpassed the more "established" brands. So, without sounding like their spokesperson, it's time to give another look to some of what Hyundai has to offer. Case in point, the midsize Sonata, which certainly can go toe-to-toe with the heavyweight names of this segment (I'm talking Camry, Accord, Fusion).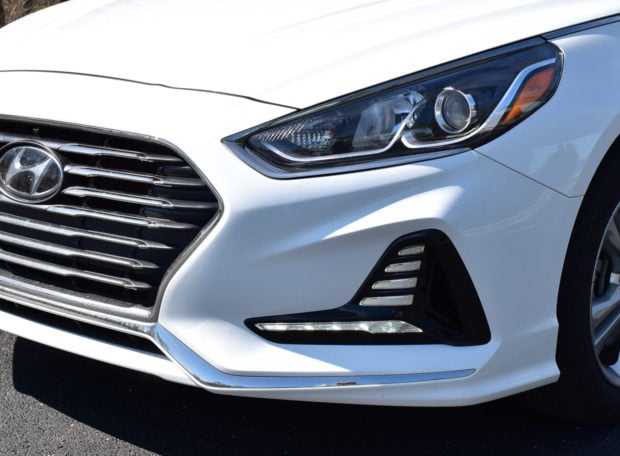 On looks, the Sonata has some restyled and refreshed features for the 2018 model year. It's a competitive market, so staying up on your styling is vital. The Sonata doesn't disappoint aesthetically. The front end is sharp and well designed. It has a current look but isn't overly dramatic either. The right-sized horizontal bar grille is flanked by LED running lights and headlamps that are narrow and run halfway up the hood and the front quarter panel. Chiseled lines run out from the grille over the top of the hood, adding more eye candy to the front end. Without a doubt, the front side of the Sonata is its best side.
The side retains some of those chiseled lines from the hood, but they're more subtle. Otherwise, the profile of the Sonata is fairly tame. The back of the Sonata, however, loses some of its flair and appeal. A small faux spoiler is a morsel of attractive styling to an otherwise bland back end. I do like the small vertical lights near the very bottom of the back side. Those add an attractive and modern touch.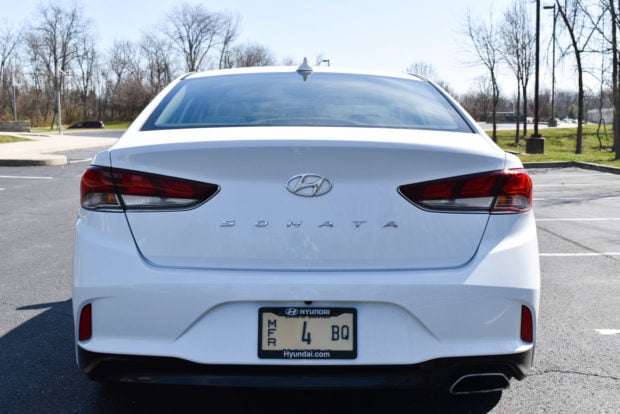 Gasoline-direct injection (GDI) is a hot technology in today's vehicles. GDI engines generally offer a little more punch, or at least they feel that way. And generally speaking, These engines outperform their output numbers. This is all the case for the Sonata's 2.4-liter GDI 4-cylinder naturally-aspirated engine. It's rated at 185 horsepower but drives more like a car in the mid 200s. The six-speed automatic transmission does feel a little dated and often struggles with some of the shifts. It could stand a more modern transmission like we are seeing in today's vehicles (8+ speed). With the 2.4-liter engine, the car has an EPA rating of 25 mpg/city and 35 mpg/highway making it quite fuel efficient. In a week, I averaged nearly 30 mpg (29.6). Hyundai also offers the Sonata with a 1.6-liter "eco" engine with a seven-speed transmission and also a turbocharged 2.0-liter that puts out 245 hp with an eight-speed transmission. I hope to drive this one in the near future. But, the 2.4-liter GDI does feel sporty and punchy anyway, so it'd be a nice comparison to that turbocharged one.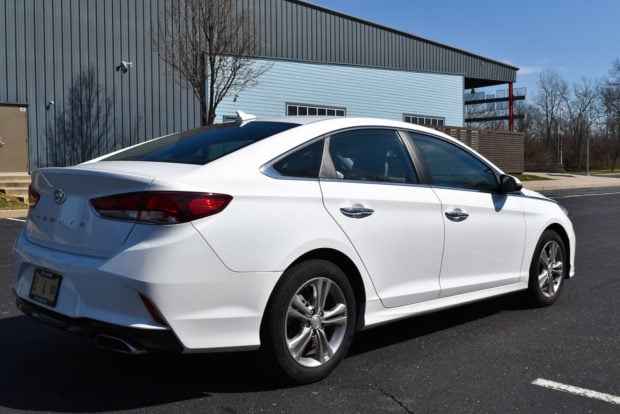 New for 2018 is a revised suspension, which makes the Sonata feel agile and comfortable. The front-wheel drivetrain performs well on twisty roads and actually adds a fun factor to the otherwise tame car. Combining athletic performance, with a soft, comfortable ride is a win for the midsize segment. Rarely do you get both of those qualities in a single car without a pricy adaptive suspension.
This mid-size sedan very nice interior for its price segment. It's impressive all the creature comforts you get. The back seat is big enough, and comfortable enough for two adults and one smaller passenger. Taller passengers over six feet tall may find the sloping roofline of the C-pillar eats into the headroom, but otherwise shoulder and leg room is outstanding.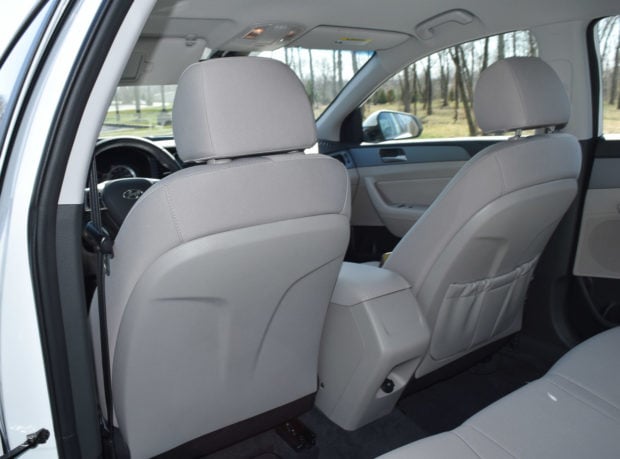 Up front, the seats are supportive and comfortable. The cloth material is so nice, you don't even care that it's not leather. Plus, the front seats are heated and there is a leather-wrapped steering wheel and gear knob. The dashboard is well organized, and padded with softer materials, and the door panels also have a cushiony feel. All of the higher quality materials give the feel of value and also help to cut down on road and engine noise.
A 7-inch color touchscreen runs the infotainment system. Hyundai doesn't have the most tech-heavy infotainment system, but it's all simple, clean, intuitive, and has great integration with devices through Apple CarPlay and Android Auto. So, any features it may lack, your phone will compensate for.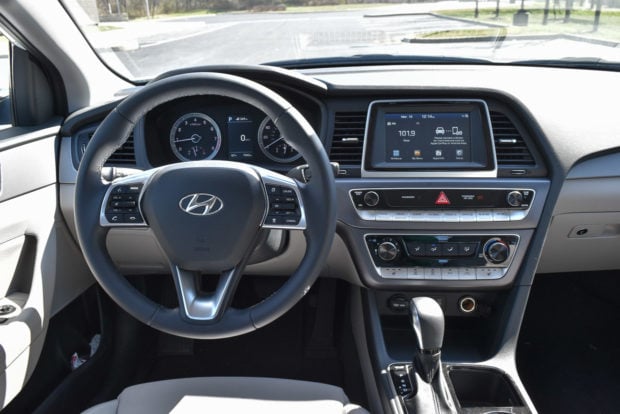 The car boasts a large trunk with 16.3 cubic feet of volume. There's a hands-free trunk open option for easy loading. The rear seats also fold down, to boost the cargo room further.
The Sonata comes in a whopping seven trims, with three different engine options, giving the consumer a wide array of choices and options. My tester was the middle-tier trim SEL, which is new for this model year. The SEL has 17-inch wheels, hands-free smart trunk access, heated front seats, leather-wrapped steering wheel, and a rear-seat USB port (don't underestimate the value of something so seemingly simple). It also has Hyundai's Tech Package which includes sensor-based features like emergency braking, lane assist, and adaptive cruise control. While the base trim SE starts under $22,000, my tester had an MSRP of $23,700. With the aforementioned Tech Package, my tester had a final price of $25,710, making this competitively priced against the likes of the top selling Camry and Accord.
Is it fair to call or consider the Hyundai brand "cheap?" Only in the best possible meaning of the word – where it means value-priced, and not when it comes to performance or quality. That's simply no longer the case, especially with the 2018 Sonata.