2019 Hyundai Veloster Turbo: Return of the Happy Snappy Hatchback
2019 | hatchback | hyundai | hyundai veloster turbo | Korean Cars | Turbocharged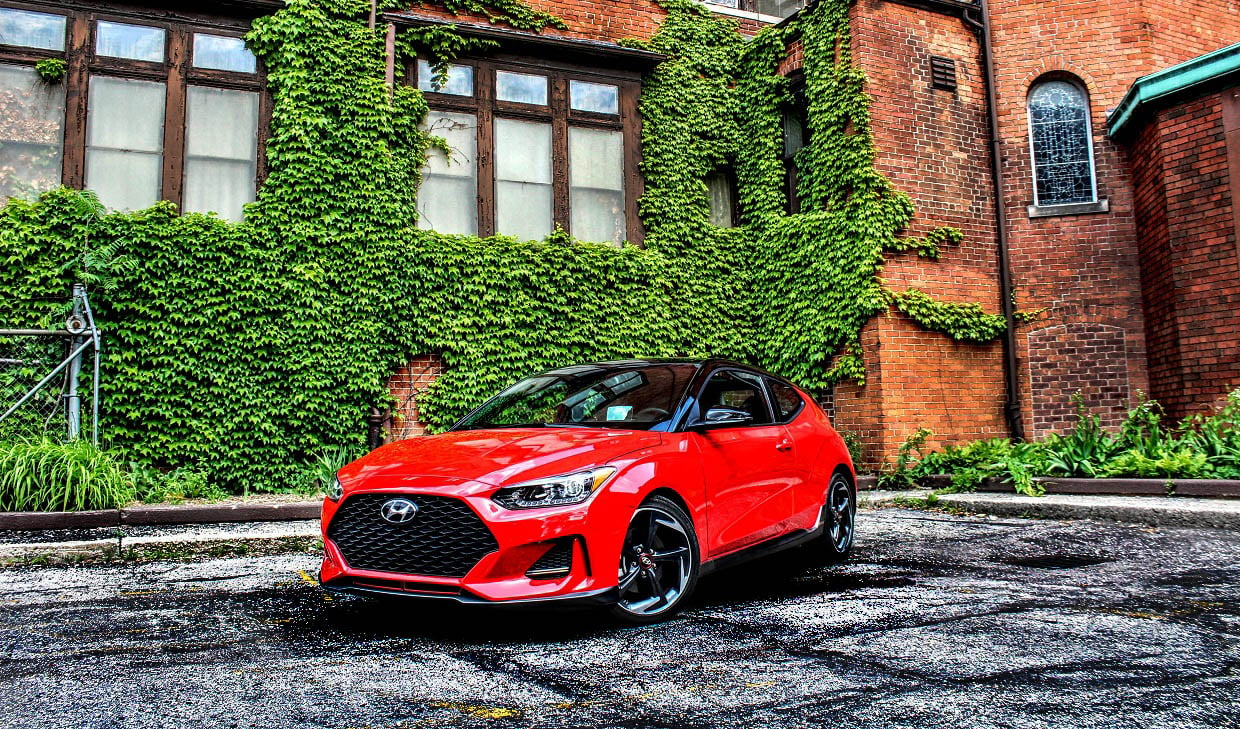 Specs at a Glance

Engine: 1.6-liter turbocharged GDI
Horsepower: 201
Torque (lb-ft.): 195 (202 in overboost mode)
Transmission: 6-speed manual or 7-speed DCT automatic
Drive Configuration: FWD
0-to-60 Time (secs): 6.4
1/4 Mile Time (secs): 14.8
Top Speed (mph): 135
City/Hwy/Combined MPG: 33/25/29
Curb Weight (lb): 2,750-2,900
Wheelbase (in): 104.3
Total Length (in): 166.9
Width (in): 70.9
Base Price (USD): $22,900
Price as Tested (USD): $22,900-$28,150
I'm not going to bang the gavel and proclaim that the Hyundai Veloster is the right option for everyone shopping the sub-compact sport hatch segment, but I will admit that I have long had a soft spot for the vehicle. Quirky, compact, and packed with fun performance, the Veloster reminds you of what Spaceman Spiff would drive if he were stranded on Earth. He would really dig the latest iteration too, for it first builds upon what worked well in the old model, and injects it with all manner of modern update along with some much-needed performance tweaks.
Hyundai says it has made the new Veloster stiffer than the Elantra Sport and more rev-happy than ever before, with recalibrated steering feedback and input controls making the torque-vectoring little hatchback less of a handful and more of a joy than the outgoing model. Skipping the 2.0-liter snoozer for the far more frisky 1.6-liter Turbo, and selecting both an automatic Ultimate model and a manual-equipped R-Spec version, I hit the highway, hoping to find a little adventure and maybe learn a bit more about the overhauled hatchback.
But before we dive too deep into what has made this vehicle so much more mechanically magnificent, let's all take a moment to celebrate the demise of those hideous round lights that once adorned the rump of the old model. In their stead we now get cleaner lines, a more menacing lower diffuser, a true dual-port exhaust, alien-like tail lamps, and contrasting colors in black and metallic gray. You'll also likely notice the all-black roof and matching spoiler, and that both from the side and the front the vehicle looks far less busy. With Hyundai's new "cascade grille" leading the nose, and superbly lined and split portions of the lower air dam and side ducts forming aggressive angles, this car is a major aesthetic improvement over the old model.
Driving thrills are also much better in this one, as the addition of a multi-link rear suspension makes a splash. Re-calibrated with lighter and stronger aluminum materials, stiffer suspension tuning, and a surprisingly pleasant ride, the road-gripping undercarriage of the new Veloster Turbo feels both solidly designed and satisfying. It may not have the trick adaptive dampers of the forthcoming N model, but on public roads it doesn't really feel like it needs them either. So cheers to Hyundai for fixing one of my least favorite things about the old model, and adding goodies like 18×7.5-inch alloy wheels and Michelin Pilot Sport 4 summer rubber to Turbo R-Spec models. Thanks to this update and others, cornering feels are far more tidy.
Although power may still hover in Civic Si territory on Turbo models, with an estimated 201 horsepower and 195 pound-feet of torque, low-end grunt kicks in far sooner within the revised 1.6-liter GDI motor. Starting at 1500 rpm and blasting northward toward 4500 rpm, the pull you get is far superior to the old model, which only truly made itself known when revving the crap out of the car. Turbo R-Spec models with a manual are also gifted with the same outstanding B&M short shifter found in the old version, a snappy little addition that provides tight throws and sure-handed shifts.
Looking toward the driver's seat shows that the Veloster is better than ever when it comes to interior packaging as well. Accommodating buyers with a cockpit feel that our spaceman would salivate over, the addition of key accent colors, mixed cloth and leather, and shiny race pedals all catch the eye. But it's not all polished plastic bits and glowing buttons in the Veloster either. With a surprising amount of cabin room, and 19.9 cubes – providing more rear stow space than both the MINI Clubman and the Volkswagen Beetle – you don't feel like you've just jumped into a Korean sleeping capsule. Oh, and let's not forget that there's still a third door back there, and although it may still puzzle some as to why another portal was never added to the other side, the ease at which one can buckle a child safety seat in and out with this single addition cannot be overlooked.
It also offers a nice 8-speaker Infinity audio upgrade now (something the old model needed desperately), and although the active engine noises in this vehicle are synthesized, they sound throaty without being overly aggressive. Hit the highway in one with the windows down and this feature disengaged completely (you can choose various level intensity within the touchscreen), and you are rewarded with a modest blow-off valve hiss and just a fuzz of exhaust burble in the back.
Accelerate as hard as possible, and an overboost function throws an extra 7-pounds of twist to the tires. Although I did favor the manual R-Spec model over the DCT-equipped 7-speed, the snappiness found within the automatic alternative was far sharper than Hyundai's earlier gearboxes. Interestingly enough, both transmissions are made exclusively in-house by Hyundai itself, a rarity in this outsourced modern world.
It may look squished flat due to the fresh roofline and raked rear glass, but it is also lower and wider, so gone are those overtly bubbly lines, and in their stead are heavy investments in packaging smarts and sharper styling. It also has Hyundai's segment-slamming warranty backing it all up, a Turbo price range that gives buyers a manual R-Spec for $22,900, with automatic Ultimate versions topping out at $28,150.
There also are sizable sums of tech goodies to be found within Hyundai's familiar infotainment system, as well as a head-up display on higher end models, the brand's latest tech safety smarts, as well as Blue Link voice command perks, where pushing a button and telling the computer to do things for you is all that is needed. Being that this is just a first spin review I won't go into great detail on the subject. Just note that Hyundai has gone to great lengths to improve its tech and safety in the Veloster, and that asking the salesperson to show every electronic perk present is highly advised.
Tracing back to Spaceman Spiff and his assumed interest in something like a Turbo R-Spec, I get the feeling that no, this actually isn't the right car for him. He would far more prefer the upcoming N version of the Veloster, because for as affordable, practical, and fun as this happy hatchback is, the styling, control, and performance being promised by Hyundai's new performance division is too impressive to ignore.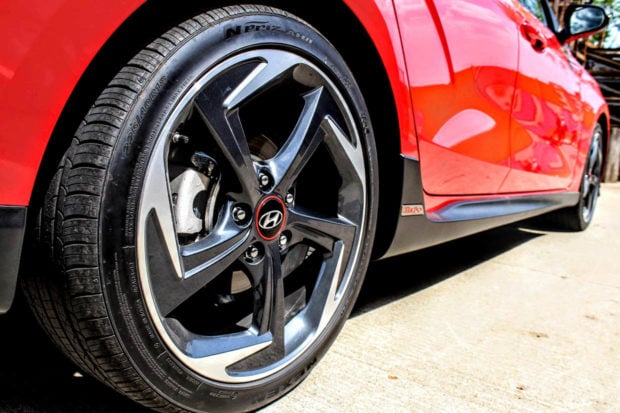 But for the money, it's also hard to ignore the value this vehicle offers – and the people who buy them typically are fairly price conscious. So long-live the 2% of people who shop this segment for new cars. You are a rare and riotous breed of hatchback hunters, and you should definitely take the new Veloster Turbo for a test drive because it truly has gotten that good.