2019 Hyundai Kona Review: A Lime Green Crossover with a Twist
2019 | awd | crossover | CUV | GDI | hyundai | Hyundai Kona | Turbocharged | June 23, 2018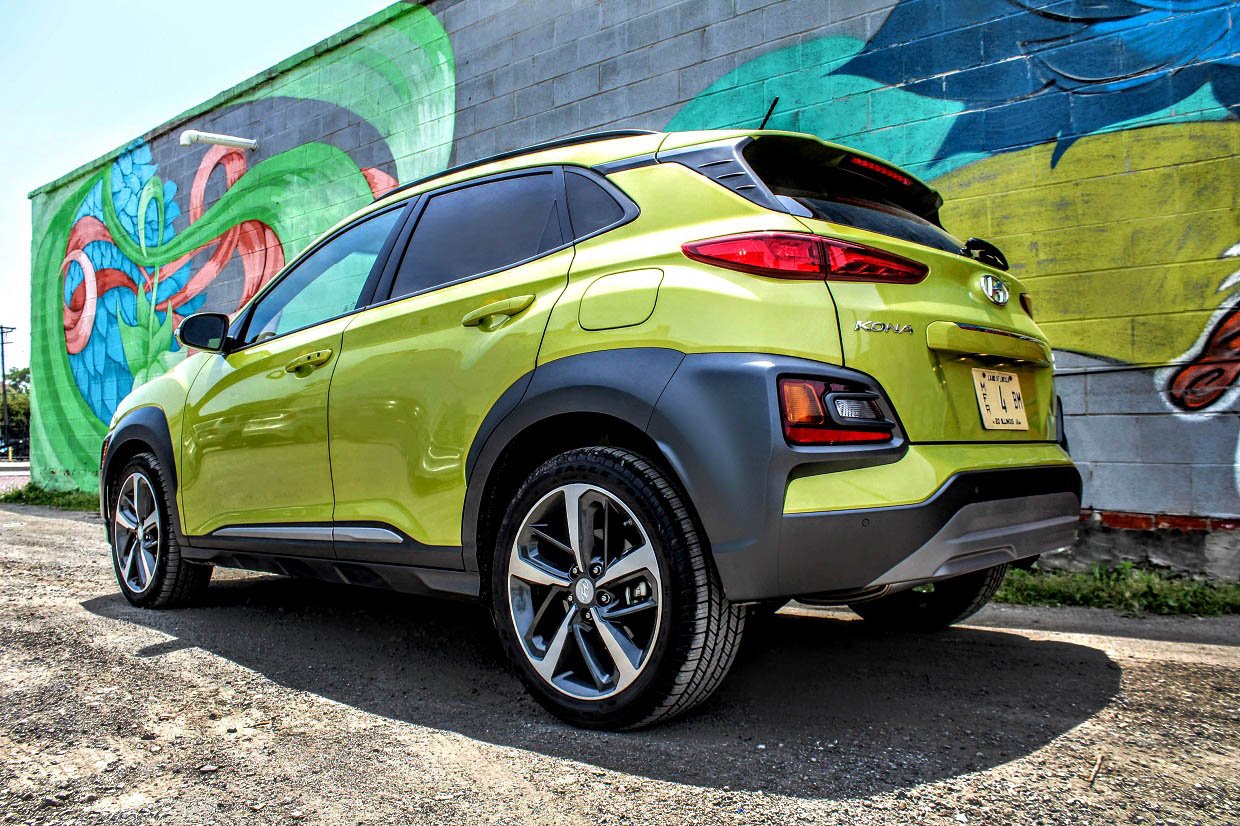 Specs at a Glance

Engine: 1.6-liter turbocharged GDI
Horsepower: 175
Torque (lb-ft.): 195
Transmission: 7-speed DCT automatic
Drive Configuration: AWD
0-to-60 Time (secs): 6.6
1/4 Mile Time (secs): 15.2
Top Speed (mph): 135
City/Hwy/Combined MPG: 26/29/27
Curb Weight (lb): 3,250
Wheelbase (in): 102.4
Total Length (in): 164.0
Width (in): 70.9
Base Price (USD): 20,480
Price as Tested (USD): 29,805
The first time we saw the Hyundai Kona, it was being revealed at the LA Auto Show, and while some applauded the automaker's investment, many people really didn't know what to think of it. America's small CUV segment is already riddled with options, and for whatever reason Hyundai has remained out of the race… until now. While at face value it may appear to be just another compact crossover with wild styling, loaded with the expected tech, safety, and storage smarts one finds within the segment, a playful underside sat waiting, something that makes the Kona quite appealing.
Externally, Hyundai's "Urban Armor" exoskeletal take on styling both attracts and repulses people, with the Kona's militaristic unpainted gray plastics and assertively styled, LED-emblazoned snout serving as Exhibit A. Built with rugged intentions, and made available with an impressive assortment of performance, appearance, and tech upgrades, the crossover competition as just gotten a lot more advanced, with the Kona demanding attention with bold looks and loads of useful features. The question however, is that at nearly $29,000, is a loaded Ultimate edition worth the extra money?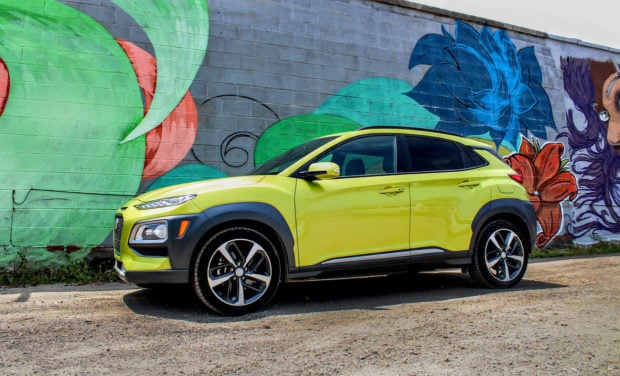 Taking the same approach to the Kona as I did in the heavily updated Hyundai Veloster Turbo, I skipped the base 2.0-liter version and went straight for the boosted 1.6-liter model and its DCT gearbox, a combo that may sacrifice 26 ponies to appease the fuel gods, but still preserves all 195 pound-feet of torque. Sport Mode engaged, with the right person behind the wheel and tires warmed up, the Kona can reach 60 in under 7 seconds, making it a strong option for anyone who values sharp acceleration in the segment. Whilst reaching for nonexistent paddle shifters definitely feels strange, very few buyers typically use such faux "manual" shifts on a regular basis, thus making the need for such fanciful additions unnecessary.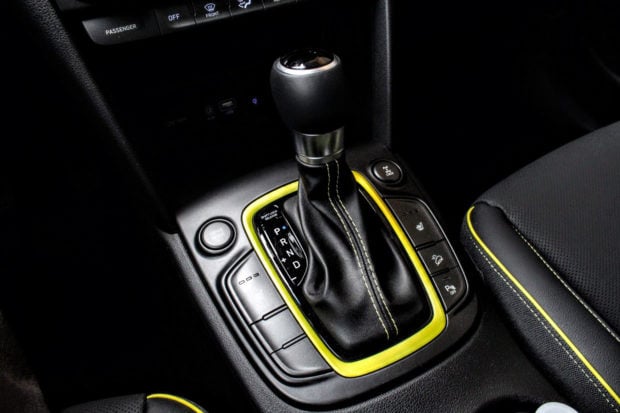 Much like the Veloster, the dual-clutch transmission in the Kona is a far sharper experience than what has been offered in the past, primarily due to a series of outstanding recalibrations. Buyers interested in paying the extra $1300 for an all-wheel drive model will discover that the Kona also can be had with downhill descent control, and that by locking the vehicle's AWD system, power gets sent to both the front and the rear in equal amounts. Although off-roading was not in the cards during my time with the vehicle, the investment made when adding these touches does inspire confidence in the Kona's capabilities when the tarmac disappears, something we plan to test here shortly.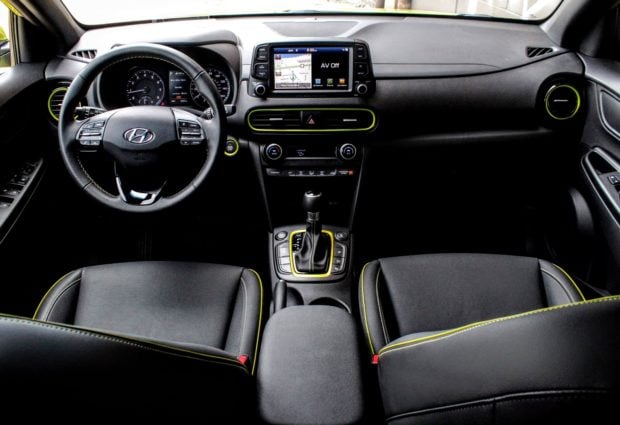 If driving one of these cars isn't attention-grabbing enough, buyers can get the Kona in Hyundai's vibrant Lime Twist paint scheme, a color that trickles inside as an accent along seats and plastic trim alike. As for the cabin itself, while rear passenger room may not be record-setting, it doesn't feel cramped either, with seat cushioning and nicely styled materials winning nods of approval. Mosey up front in the Ultimate version and you'll discover heated seats, contrasting material textures, and wireless smartphone charging, all alongside Hyundai's latest 7- or 8-inch touchscreen. Circling around to the rear, you will discover that while 19 cubes of space behind the back bench may not be class-leading, there is still enough room back there to make the average small CUV shopper happy.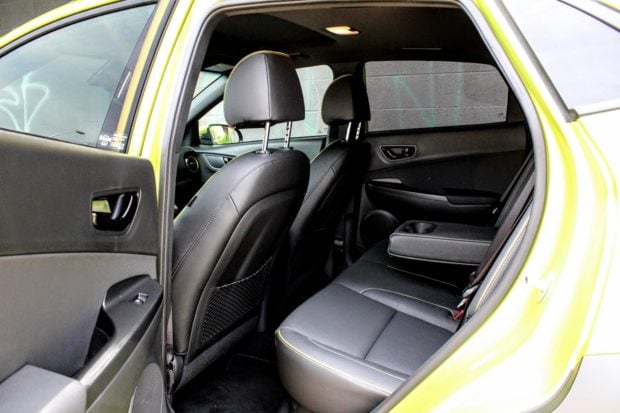 Loaded with active safety smarts, forward-collision avoidance, lane keep assistance, driver attention warnings, blind spot monitoring, rear cross-traffic notifications, and automatic high-beams, the Kona delivers plenty of protective tech for the typical compact crossover shopper. Although adaptive cruise is not part of the Ultimate package, you do get some nice infotainment perks in its stead. Colorful 8-inch head-up displays, Android Auto and Apple CarPlay, a detailed LCD digital driver gauge display, 8-speaker Infinity audio components, and all of the latest Blue Link connectivity perks can be found in the the top trim leval. This last part means that finding your misplaced or stolen Kona, starting it, monitoring its health, and much more can all be controlled via smartphone, Google Home, Amazon Alexa, or even certain Android Wear and Apple Watches.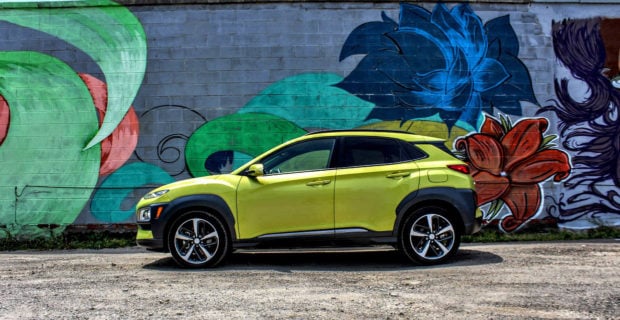 Various stand-outs that also warrant mention include the rigidity of the vehicle's chassis, which feels planted and perfectly paired with the multi-link suspension, and that torque vectoring via braking is standard on all models, which should provide plenty of cornering assistance for the average person shopping the segment. Sadly, feedback and firmness from the electronically assisted steering system is insubstantial, and even when in Sport Mode does little to up the performance ante. While brakes on the crossover felt firm while driving the streets of Detroit, independent reports from other publications show the Kona to be a bit slow to stop when pushed to the limit, a performance problem that can easily be remedied with a more aggressive set of brake pads.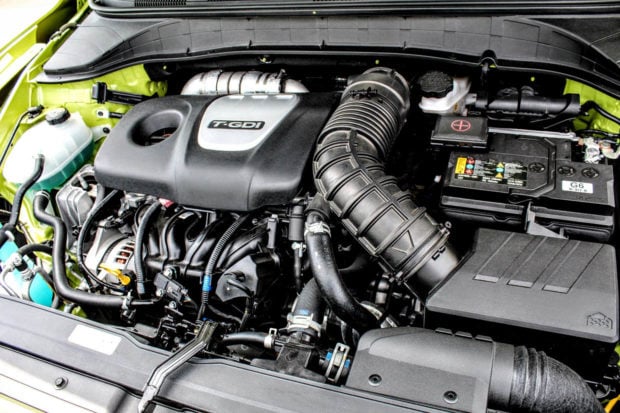 Perhaps the most interesting thing about the Kona isn't what it offers, it's how it is made. Korea's chief automaker has foregone outsourcing many of the parts found in this vehicle, opting instead to make them in-house from scratch. This translates to everything from the steel within the Kona's frame, to the transmissions under the hood being manufactured exclusively by Hyundai, for Hyundai. Over the years the brand has amassed the money and means to tackle stuff like this, making it one of the only automakers to do such a thing, something few Americans are made aware of when on the car lot.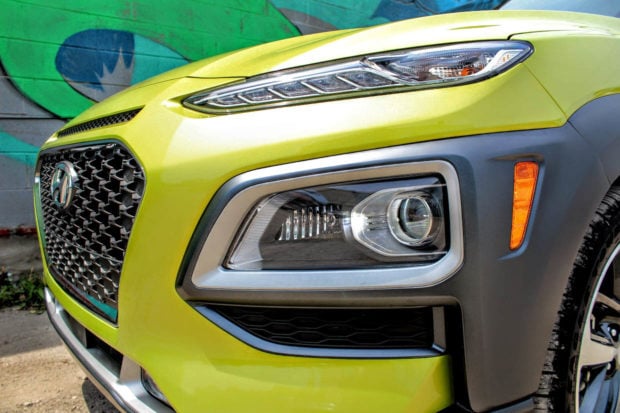 Cast against the likes of the Honda HR-V, Subaru Crosstrek, Mazda CX-3, Kia Soul, Nissan Kicks and more, with CUV sales up 41% year-over-year, the Kona kicks things up a notch in Ultimate trim purely out of necessity. Offering more performance, tech, and safety than one would expect to find in the segment, all capped-off with respectable off-road capabilities and interesting aesthetics, the Kona gives a strong showing to those that are interested. Futuristic, fun, and chock full of the latest and greatest from Korea, the Hyundai Kona offers a refreshing twist on what a smaller, compact crossover can offer, and if properly recalibrated for performance and then outfitted with a manual gearbox, would make for one hell of an interesting R-Spec entry.