2019 Dodge Challenger R/T Scat Pack 1320 is an Affordable Drag Racer
2019 | dodge | dodge challenger | dodge challenger r/t scat pack 1320 | July 20, 2018
The 2019 Challenger Hellcat Redeye looks impressive, but most normal guys interested in a muscle car that can tear up the drag strip aren't going to spend that kind of money. So Dodge has come in with a grassroots drag racer Challenger that is a bit more affordable. Named for the ubiquitous 1,320 foot, 1/4 mile drag strip, the 2019 Dodge Challenger R/T Scat Pack 1320 gets some of the cool tech that debuted on the Demon and trickled down to the Redeye, but with a bit less powerful engine.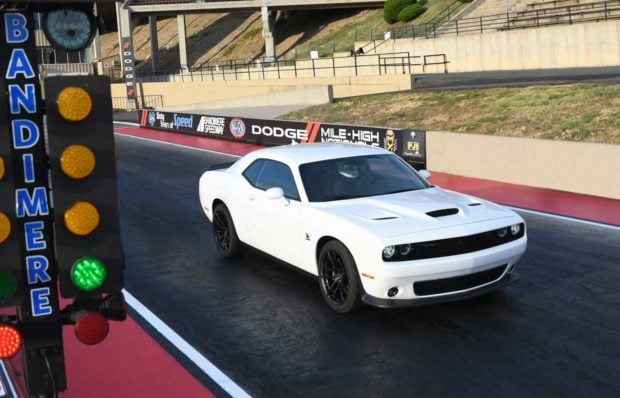 It's no slouch though – the 392 HEMI V8 under the hood of this car still makes 485 hp and 475 lb-ft. of torque. It also gets a special SRT tuned adaptive suspension with a drag mode, line lock, a transbrake, torque reserve, and extreme-duty 41-spline half shafts. To shave 114 pounds from the car, it comes with only a driver's seat. If you need the ability to haul people, the remaining seats can be added back in for $1 each.
Dodge also fits the car with factory Nexen SUR4G 275/40R20 drag radials helping the car to make an 11.7-second at 115 mph run down the ol' 1320. Dodge says that makes this the fastest naturally-aspirated street-legal muscle car out there. The 1320 pack adds $3,995 to the Scat Pack R/T price of $38,995, plus it also requires the $1,595 automatic transmission in order to enable some of its special launch control features.