2018 Audi TT RS Coupe Review: A Turbocharged Fist-Full of Exotic Fury
2018 | 5-cylinder | audi | audi tt | audi tt rs | awd | Quattro | sports coupe | Turbocharged | October 18, 2018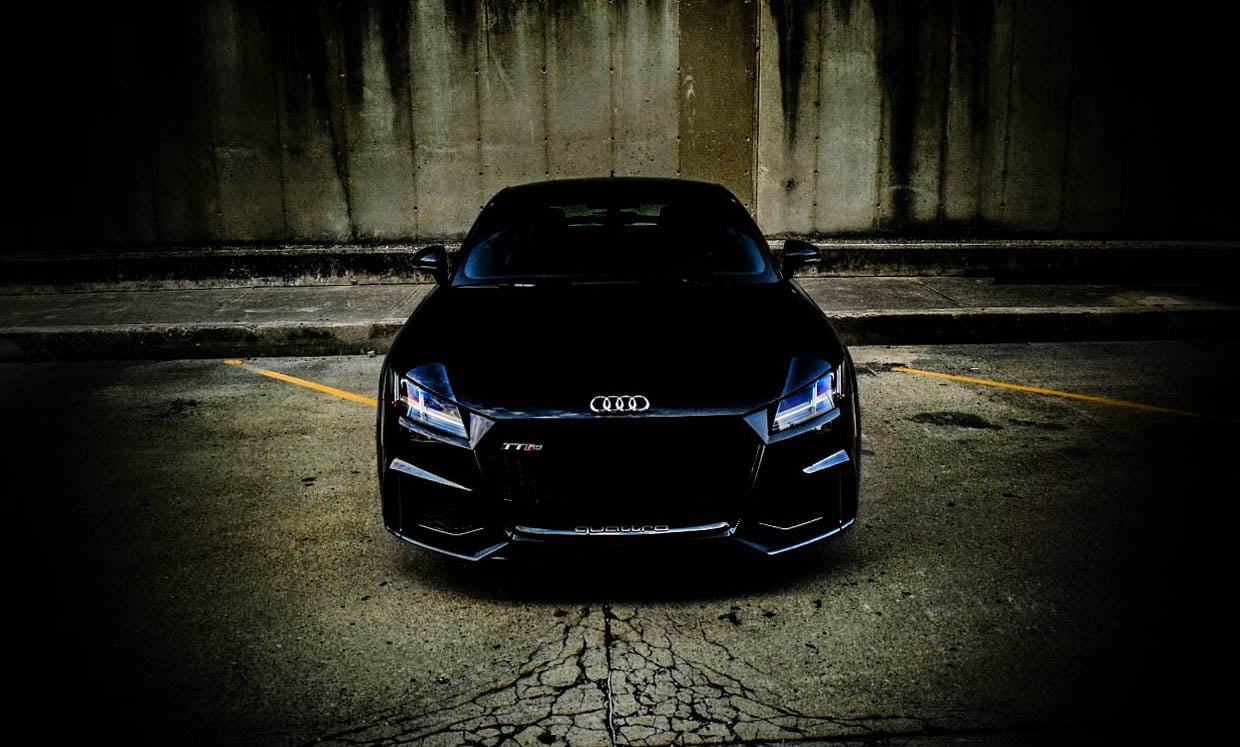 Specs at a Glance

Engine: 2.5L turbocharged inline-five cylinder
Horsepower: 400
Torque (lb-ft.): 354
Transmission: 7-speed dual-clutch automatic
Drive Configuration: AWD
0-to-60 Time (secs): 3.4
1/4 Mile Time (secs): 11.9
Top Speed (mph): 174
City/Hwy/Combined MPG: 19/29/22
Curb Weight (lb): 3,270
Wheelbase (in): 98.6
Total Length (in): 165
Width (in): 72.1
Base Price (USD): $64,900
Price as Tested (USD): $80,200
If the Audi TT were an exotic animal, it would probably be a flying squirrel. Small in stature, yet ferociously unafraid of swift flight, it rambunctiously leaps from place to place; an adorable little acrobat with loads of personality and a "never-say-die" look in its eye.
Now take this same exotic tree-dweller, instill five kinds of evildoer in it, and give it a cackling, somewhat rabid exhaust bark, and you'll have the RS version of the honorable little Audi TT. Some may have thought this German micro-machine would have folded years ago, and while the portly prior gen did struggle to keep up with the competition both on and off the track, Audi decided to give the TT RS another go, and hot damn are we glad that they did.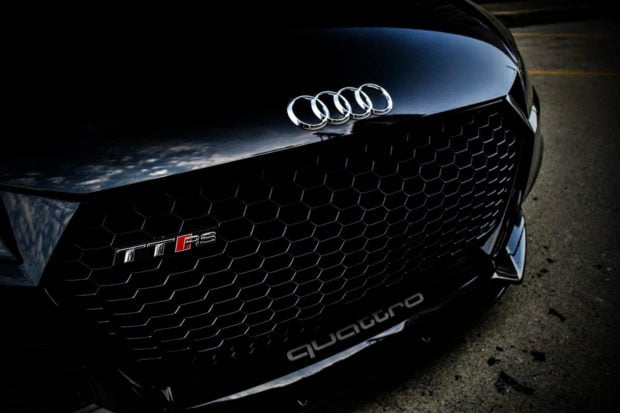 Larger-than-life on the open road, but still just as petite as can be, the inline-five German flying squirrel has ditched its manual gearbox for dual-clutch automatic exclusively, and bumped its performance numbers from 360 horsepower to 400. It has also cut back on the carbs, with weight reduction both within its frame and the engine bay to help propel the TT RS to 60 mph in just 3.4 seconds. Want more? 100 mph comes in just 8.6 seconds, and with enough runway stretched out in front, Audi claims that 174 mph top speeds are achievable. But dig beyond the numbers, the trigger-happy DCT, and all of those distinctively chiseled fascia lines, and you'll find that the Audi TT RS is still just as rowdy as ever for all the right reasons.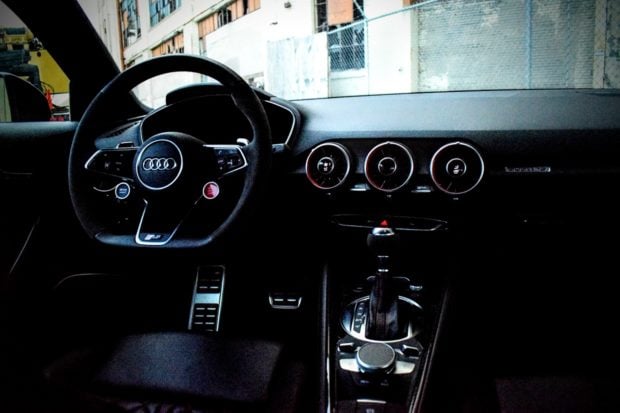 What's surprising to most people about the Audi TT, is that despite its tight packaging, it remains relatively easy to hop in and out of when compared to other, heavily bolstered sports coupes, earning the RS high marks in regard to daily livability. It also comes laden with an exterior matching, angular-modern Audi look that we have come to love, but deletes the raised center screen in favor of increased visibility and the brand's signature Virtual Cockpit driver display. Toss in some stylish cabin controls, crisply woven carbon fiber trim inlays, layers of stitched leather, and more minimalistic German touch-points than a brooding 1960s lounge in Berlin, and Audi has won us over in both the looks and materials department.
Sadly, German simplicity also breeds the usual run of sports coupe oversights, but with even less rear legroom. Rear cupholders for the kid's juice? Naw. Let's force them to hold onto it the entire ride. Storage pockets and cubbies in areas where it might make sense? Yeah, that's just uncalled for if you value clean lines. But let's not devote too much time to the size of the little guy, or problems with his packaging. This is the sort of all-wheel drive tree-jumper that makes the hair on your hands stand up and then clap for more – and it all begins with the push of a button.
In pure European performance form, the TT RS features an ignition button that comes affixed to the steering wheel; a fiery red little reminder that what you are driving is indeed quite special. But the button mashing doesn't stop there, as the little Audi can also be outfitted with a sport exhaust, which with its gaping dual ports and distinctive roar, is more akin to a rally car upon start-up than anything else. And roar it does, with optional RS fixed sport suspension, ceramic brakes, and that 174 mile-per hour top speed all being backed by Audi Quattro reassurance.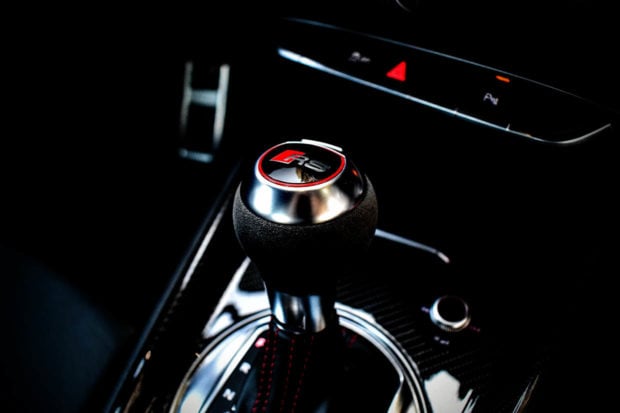 In most cases we would find ourselves plopping the vehicle into Dynamic Mode, engaging manual control of the DCT, and having our way with the duo of shiny paddle shifters affixed to the steering wheel. Not so on the TT RS. Instead, we found ourselves having far more fun with the shifter in the center of the cabin, as it clicked forward and aft between gears with a resounding snap followed by a pop from the exhaust. It's rally car road-ripping enthusiasm for the social elite, an immensely enjoyable turbocharged inline-five cylinder drive that beckons from the moment your foot first hits the throttle.
But scouring for spent exhaust fumes under heavy boost and scraping the dust from red hot ceramic brakes isn't just what this car is about. Despite all of its performance enhancements and microscopic sizing, the TT RS could very well make for an outstanding year-round daily driver for some. Sure, the back seat is barely large enough for a five-year old, and it certainly has some wasted storage space opportunities here and there, but with its refined road mannerisms in normal driving mode, and stellar all-wheel drive setup, the TT RS is far more of a sound all-season buying option for sports car fans than the rear-wheel drive competition.
Fully-loaded with specialty paint, a Dynamic package (carbon engine cover, ceramic brakes, fixed sport suspension, and more…), Audi's sensational Tech package, a "Black Optic" package (20-inch forged rollers with summer tires, extra black aero, and matching mirrors), carbon cabin inlays, an "RS Design" package for the cabin, and that snappy exhaust, and the TT RS jumps from $64,900 to a whopping $80,200. That's a lot of dough for something so small and straightforward, and while it certainly looks, handles, accelerates, and sounds like it is worth every penny, we have to wonder how many people are going to opt for such an animal. Who knows, maybe it's geared toward single, corporate types who've always wished for pet flying squirrels, and now in their adulthood have realized that owning this sort of sports car is perhaps the next best thing.
Holding true to its age-old mantra of "Advancement Through Technology," the revised version of Audi's insatiable little TT RS is both high-soaring acrobat, and expensive exotic pet with four-pawed purpose. We'd definitely consider owning one if those additional package price points didn't send the little guy into $80,000 territory, making a low mileage 2018 Audi TT RS one of our top used cars to consider in a few years.