VW Tarok Concept Creatively Crams in a Huge Truck Bed
As hot as the truck market is in the US – and with sales of trucks booming – you would think all the automakers would want their trucks to be offered here. Many buyers would gladly take a truck rather than an SUV for the extra utility. Now Volkswagen is showing off the Turok Concept, a unique vehicle which combines the styling of an SUV with the bed of a truck.
The coolest part about it is that its rear cab bulkhead and back seat fold flat, opening up the bed with the tailgate down to haul things up to 9-feet long, and longer if you don't mind them sticking out a little. This makes it perfect for carrying 2x4s, pipe, and other long construction items. Its load capacity isn't bad either, clocking in at about 2200 pounds, which puts it on par with an F-150.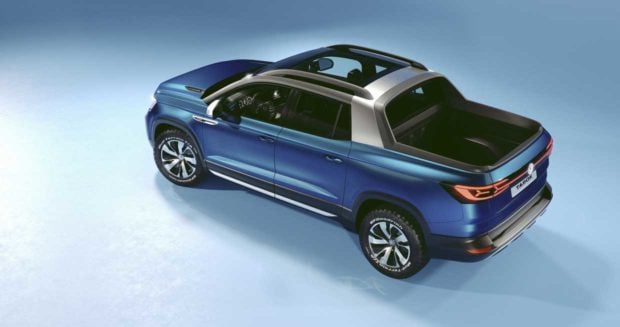 The concept is powered by a 1.4-liter TSI turbo flex fuel gas engine making 150 PS. The production version will use VW's 2.0-liter turbo diesel engine making the same power. Permanent 4Motion all-wheel drive and a 6-speed automatic put the power to the ground. The truck has a glass-covered infotainment system with all digital controls for AC and other electronics and a Digital Cockpit.
If you like what you see, VW says says the Tarok will launch as a production vehicle with "barely any changes." We know it will come to Brazil, and that it will land in other global markets, but we don't know if it will come to the US. The chances of us getting the truck are slim.