Lexus LC Convertible Concept Drops the Top on the LC 500
lexus | lexus lc convertible concept | naias 2019 | January 11, 2019
The Lexus LC 500 is already one of my favorite cars. It's got showstopping good looks, a luxurious cabin, razor-sharp handling, and a powerful naturally-aspirated V8 with a sublime exhaust note. But I've always had a thing for convertibles. In fact, the last couple of sports cars I've owned have been drop-tops. There's nothing quite like zipping through the mountains and around twisty bends with the top down.
Now, Lexus is showing off a concept for a convertible version of the LC, and it really looks awesome. Set to make its in-person debut at NAIAS in Detroit next week, the LC Convertible Concept retains all of the beautiful, sculptural styling of the LC 500 – and presumably its performance chops – just with the roof torn off.
Being a concept, it's just a tad more dramatic than the production LC, but just barely – the biggest difference being the 22″ wheels, and minimal changes to the front left and right air intakes. Lexus hasn't provided any performance specs for the LC Convertible Concept, but it's pretty clear from the video below that it's got a growly V8, just like the 471 horsepower coupe version.
Convertibles often lose a little visual appeal when compared to their coupe counterparts, but this one looks pretty spectacular – at least with the roof down. We've yet to see what the top looks like – but I'm assuming it'll be a ragtop, rather than a hardtop. The latter would probably look better, but likely would be hard to fit without losing a bunch of trunk space. One also has to wonder if chopping off the top of the LC has had any negative impact on body rigidity. The LC 500 is so stellar in this department, I'd hate to see it lose any of its handling goodness.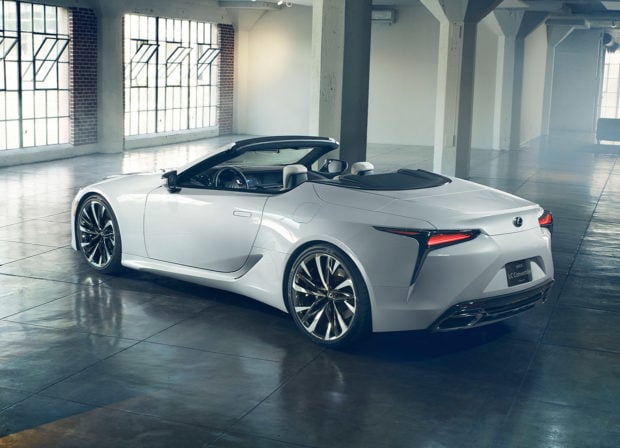 There's no word as to whether on not the LC Convertible will go into production, and I'm sure that is reveal now is to gauge public interest in just that. I'm hopeful that it will – and just like the LC before it, I'll bet it looks almost identical to the concept.