2019 BMW M5 Competition Review: Too Much Is Never Enough
2019 | bmw | BMW 5-series | bmw m5 | bmw m5 competition | May 6, 2019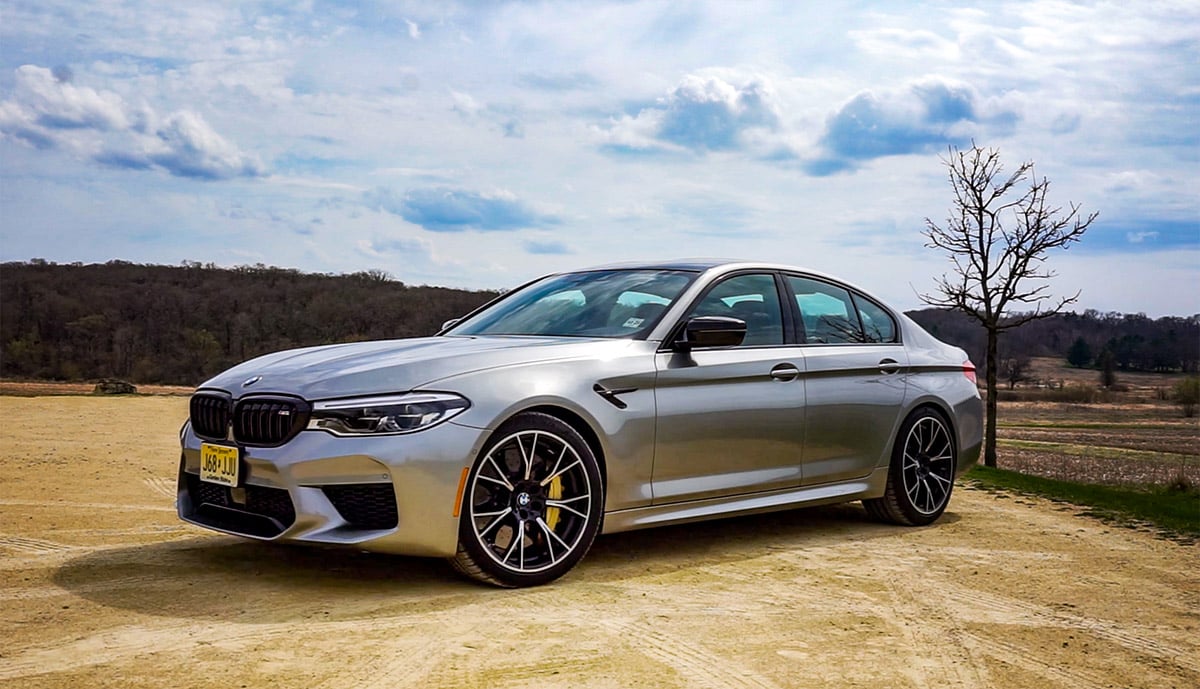 2019 BMW M5 Competition

Engine: 4.4-liter twin-turbo V8
Horsepower: 617
Torque (lb-ft.): 553
Transmission: 8-speed automatic with paddle shifters
0-to-60 Time (secs): 2.8
Top Speed (mph): 155 (limited) 189 w/M Driver's Package
City/Hwy/Combined MPG: 14/21/17
Curb Weight (lb): 4370
Wheelbase (in): 117.4
Total Length (in): 195.5
Width (in): 74.9
Base Price (USD): $110,995
Price as Tested (USD): $132,095
If you look up the word overkill in the dictionary, it should have a picture of the BMW M5 Competition as an illustration of the term. Everything about BMW's fastest and most powerful sedan is absolutely ridiculous… in the best way possible. It's not as if the "standard" M5 is a slouch, but adding 17 horsepower, putting more torque at the top end, and reworking the suspension so it rides lower and corners flatter is just unnecessary, unless you're one of the fortunate few who has regular access to a race track.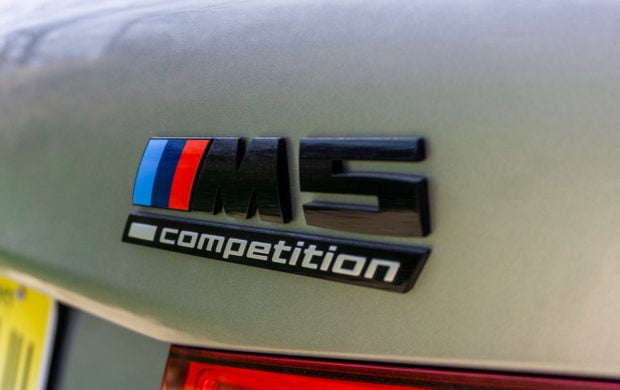 If you want a high-performance daily driver, stick to the regular M5. If you have a membership at Monticello Motor Club, Autobahn Country Club, Thermal, M1 Concourse, or one of the other private tracks that are popping up around the country, then the M5 Competition makes all kinds of sense. It's not that you can't use the it as a daily driver, you just won't enjoy it very much if the roads around you are rough at all.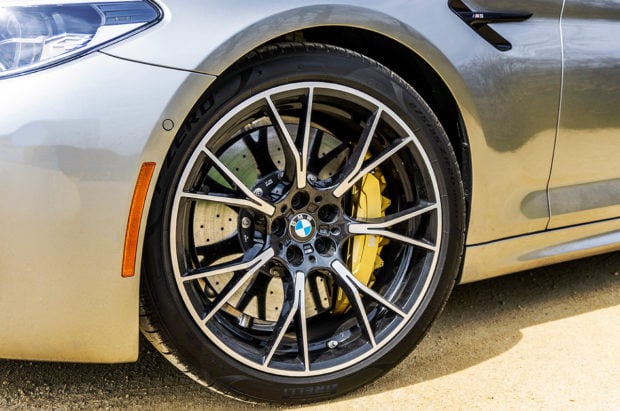 The M5 Competition's springs are 10% stiffer, sway bars are thicker, and shocks – even in Comfort mode – provide as much comfort as Nurse Ratched. You feel every crack, pothole, and pebble the massive 20-inch Pirelli P Zero PZ4 performance summer tires encounter. On a track and for short distances on decently maintained roads, the M5 Competition is awesome. On the post-apocalyptic pavement around here, the M5 Competition could do double duty as a lithotripsy device.
The engine, however, oh the engine.
Stomp on the throttle and the 4.4-liter, twin turbocharged V8 unleashes its 617 horsepower and 553 pound-feet of torque almost instantaneously to all four wheels, threatening to turn the pavement into gravel. Thanks to a well-matched 8-speed automatic transmission with paddle shifters, sixty miles per hour comes up in just 2.8 seconds from a dead stop. That's McLaren 720S territory. It runs the quarter mile three-tenths of a second quicker than the standard M5 at 10.8 seconds with a trap speed of 124 miles per hour.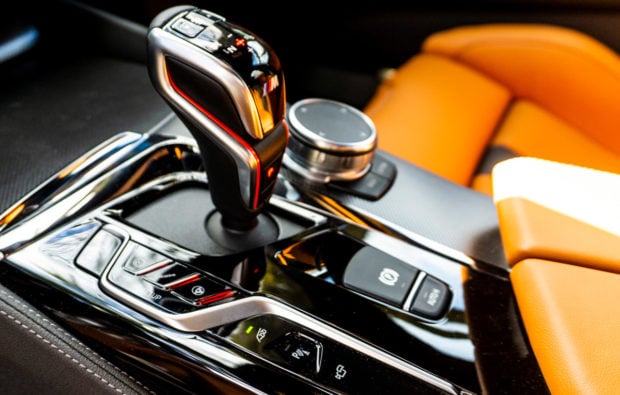 All the performance settings on the M5 competition have individually selectable modes – Comfort, Sport, and SportPlus – that means you can set the steering, suspension, throttle mapping, and transmission shift logic, to suit your tastes and the environment your in which driving. Around town, comfort is the way to go. Sport mode works well on your favorite back road. When you're out on the track, Sport Plus is the way to go. You can also save two of your favorite custom settings and recall them quickly via the red M1 and M2 toggles 9 and 3 o'clock on the steering wheel.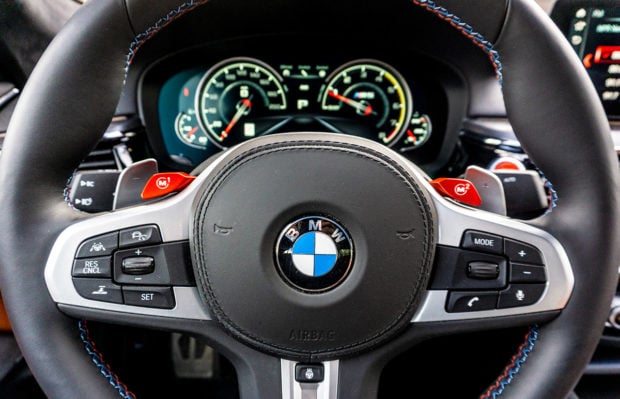 The M5 Competition continues in the stealth tradition of every M5 since the 1985 E28 M5 burst onto the scene with its 256 horsepower, 3.5-L inline six cylinder engine. External differences are subtle, limited to wheels and tires (275/35 ZR20 up front and 285/35 ZR20 in back), trim, badging, a deck lid lip spoiler, and in our tester competition carbon ceramic brakes with gold-painted calipers (an $8,500 option). But with it's dual-mode exhaust enabled, there's no way to confuse the M5 Competition with a garden variety 5-Series. It snaps, crackles, snorts, and growls as a car with this capability should. Unfortunately, because of the effectiveness of the M5's sound insulation, BMW has to pipe recorded engine noise through the cabin to share the aural delights with the driver. It's just not as good as the real thing, so to enjoy the full effect, you'll have to drive with the windows open.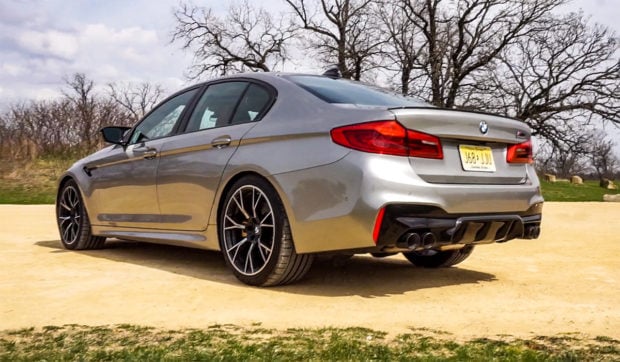 The cabin is almost identical to the standard M5. Heated, ventilated, and massaging leather seats up front, Alcantara headliner, carbon fiber inserts, and metallic knobs and buttons make this the most luxurious track car you'll ever drive. There's room aplenty up front, but rear seat passengers may lack a little legroom with six footers occupying the driver and passenger seats. Of course both infotainment and safety technology abound.
The Bowers & Wilkins audio system delivers crisp, clean, balanced sound at any volume. Of course blind spot warning, lane keep assist, forward collision warning, and adaptive cruise control are a part of the package. The latter is most useful as a speeding ticket prevention device. The M5 Competition is so quick and so stable that triple-digit speeds sneak up on you, which could be a problem if the state patrol sneaks up on you as well.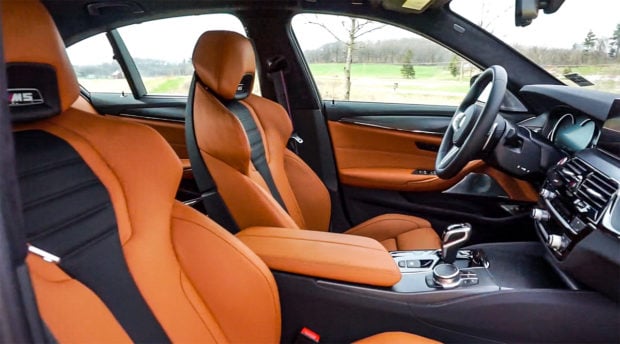 The M5 Competition is the ultimate, ultimate driving machine. It's quick, comfortable, beautiful, and luxurious. It'll get you to work on time even if you leave 15 minutes late and embarrass two-seat supercars that cost two or three times as much on track days. Just be warned all that pleasure comes with a little pain, which isn't a problem if you're into that sort of thing.