2020 Ford Mustang Shelby GT500 First Drive: This Snake is Super
2020 | ford | ford mustang | shelby | shelby gt500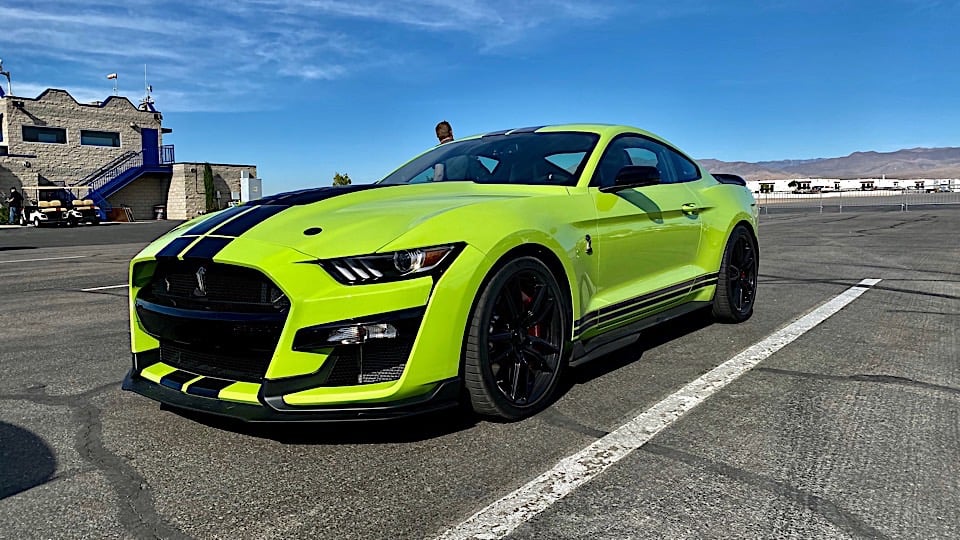 2020 Ford Mustang Shelby GT500

Engine: 5.2L supercharged V-8
Horsepower: 760
Torque (lb-ft.): 625
Transmission: 7-speed dual-clutch automated manual
Drive Configuration: rear-wheel-drive
0-to-60 Time (secs): 3.3
1/4 Mile Time (secs): 10.7
Top Speed (mph): 180
City/Hwy/Combined MPG: 12/18/14
Wheelbase (in): 107.1
Total Length (in): 188.9
Width (in): 75.9 (w/o mirrors)
Base Price (USD): $71,395
Price as Tested (USD): $81,860
If Sean Spicer, former United States Press Secretary and Dancing with the Stars contestant drove the 2020 Shelby GT500 Mustang, he'd declare it the "best Mustang ever produced. Period." He'd be right. The latest Mustang to carry the late Carroll Shelby's name on it is the best Mustang Ford has ever produced, pulling off the daily driving duties while still being able to rip your face off on the track.
For a quick refresher, the 2020 Ford Mustang Shelby GT500 is powered by a 5.2-liter, cross-plane crank supercharged V-8, making 760 horsepower and 625 lb-ft of torque. Power is sent exclusively to the rear wheels a Tremec-sourced 7-speed dual clutch automatic. Yes, you're saying that a proper sports car needs to have a manual. If that's the case, Ford thankfully still makes the Shelby GT350 as a manual-only car. But what I can tell you is this dual-clutch automatic is Porsche PDK good in most situations, and a faithful companion to the fun and not a hindrance.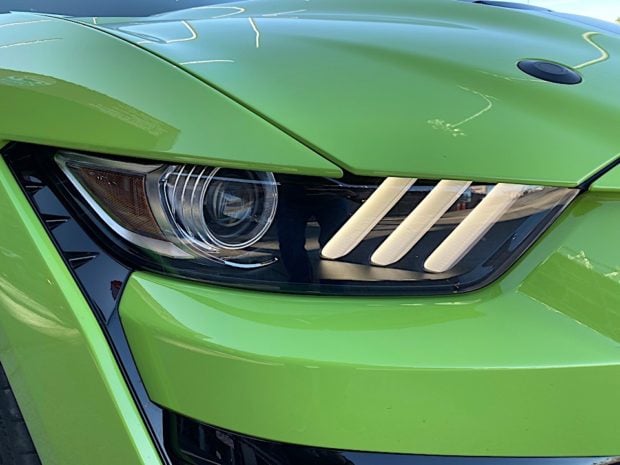 To prove their point, Ford invited us to Las Vegas Motor Speedway where we spent the day on the outside road course, the drag strip, and blasting up and down the mountains surrounding Sin City.
For the street we opted for a standard GT500 with the technology upgrade pack. That means you get the low-wing and Michelin PS4S tires. You also get a 1,000 watt B&O stereo and navigation that supports Apple CarPlay and Android Auto. We even had the optional manual Recaro seats, though we'd probably skip them on a daily driver.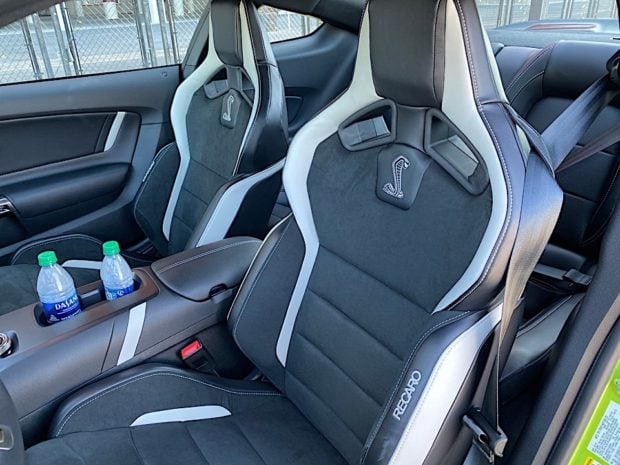 Climbing in the GT500 feels a lot like any other Mustang. The center console area is different because there is a rotary dial from the Ford GT for selecting gear instead of a stick, but everything else feels like standard Mustang fare. The materials are a bit nicer, but you're not paying for a plush interior. You paying for the thermonuclear warhead under the hood.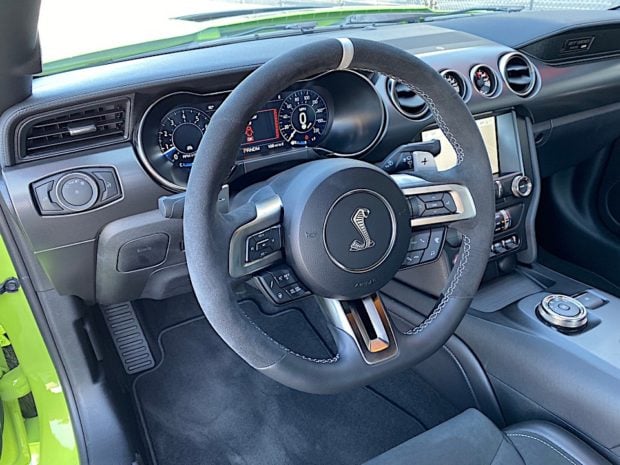 Ford claims the car will do 0-60 mph in 3.3 seconds, and run the standing quarter in 10.7 seconds. During my time on the drag strip, the best I could do was an 11.5 second quarter-mile, but that was at nearly 4,000 feet of altitude on not a great surface with an idiot behind the wheel. I have no doubt this is a 10-second car, and others have proven that.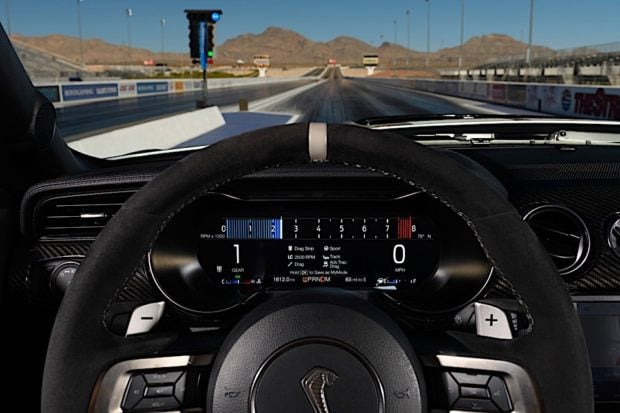 On a road course the Shelby is deceptively quick. In track mode, the transmission is nearly telepathic in knowing what gear you're going to want and makes sure you're in it. The brakes, while not carbon ceramic, have fantastic stopping power and the braking is repeatable. The car helps you build confidence in yourself, and before long you're pushing it harder and harder.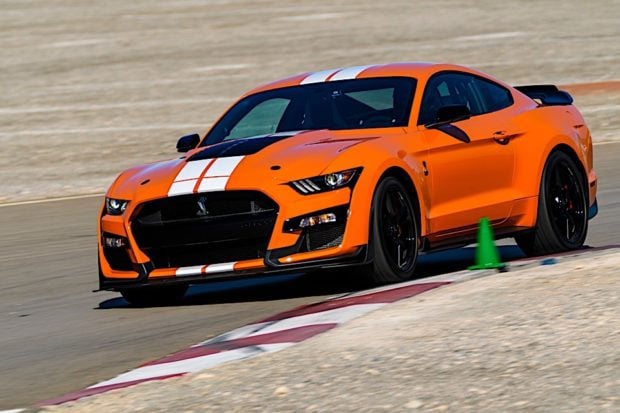 Steering is accurate, if a bit devoid of feel. Journalists often talk about oversteer and understeer like they're professional racing drivers. I am not. But when I turned the wheel the car turned, and if it didn't turn tight enough, a dab of throttle helped without being scary.
The biggest takeaway is how tame the new GT500 can be. It's approachable power. In a lot of ways, it doesn't feel like there's 760 horsepower under the hood because the last-generation GT500, with its 662 horsepower, felt like an unhinged animal. It was intimidating to drive. It felt like we were at the limits of what's possible. While that wasn't the case, it was the limits of what that platform was capable of.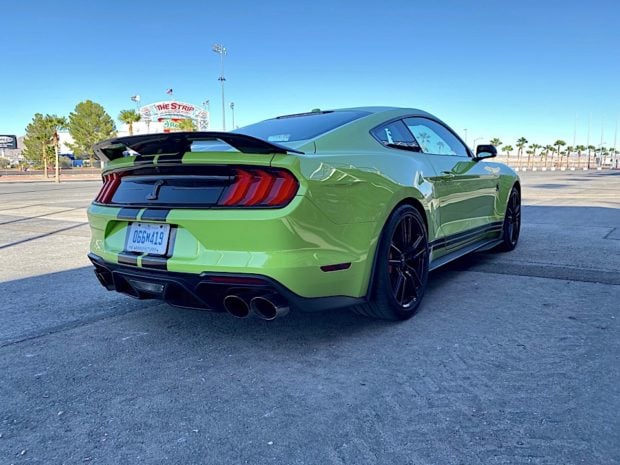 This newer Mustang platform, even with 760 horsepower, feels like it has more to give. That means tuners will have a heyday. It also means that when you're tooling around town, it feels like a normal car. Cars and Coffee events will likely never be safe, but this really is a high performance car that can be driven by nearly anyone who has the maturity to not drive like an idiot.
The 2020 Ford Mustang Shelby GT500 is the most sophisticated yet capable Mustang the Blue Oval has ever produced. If that sounds appealing to you, you better go drive one.