2021 GMC Yukon Breaks Cover in Colorado
2021 | gmc | gmc yukon | January 14, 2020
---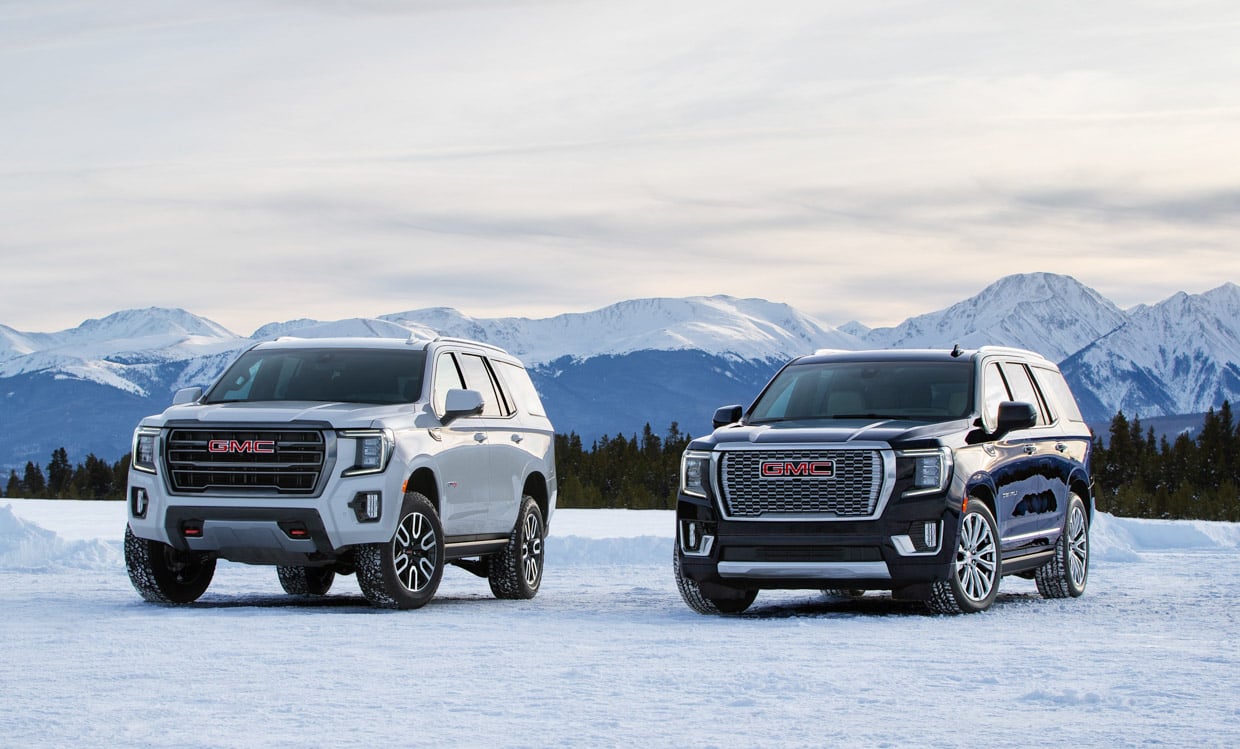 While the idea of revealing the new 2021 Yukon somewhere in Canada's Yukon territory might have been more appropriate, GMC thought it might be better to do it somewhere a little easier to get to, so they brought a bunch of us out to Vail, Colorado to raise the curtain instead.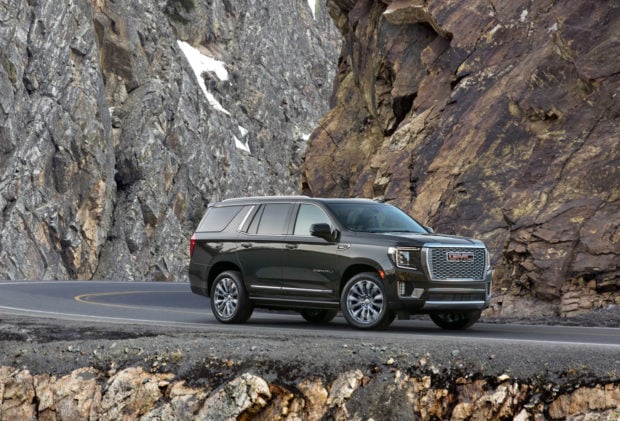 The snowy backdrop of Vail and its mountains is the perfect environment for showing off GMC's flagship full-size SUV, which, like the brands other vehicles deftly balances between luxury and adventurousness. Though in the case of the Yukon, that's all been super-sized.
The new Yukon now measures 210″ long – that's 6.1″ longer than the outgoing model, and its wheelbase gains 4.9″. The upgrade results in an increase of 10.2″ in 3rd row legroom, for a total of 34.9″. That means there's finally enough room back there for adults to sit without being cramped.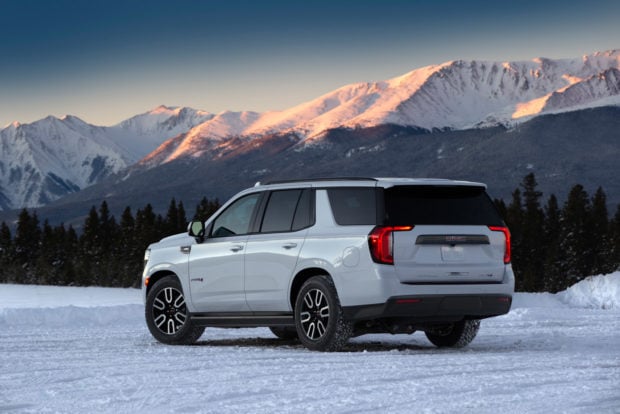 Under the hood, the Yukon comes with one of three different engines – a 6.2-liter V8 that makes 420 horsepower and 460 lb-ft. of torque, a 5.3-liter V8 (with as yet unspecified power output), and a new 3.0-liter inline-6 Duramax turbo-diesel that produces 277 horsepower and 460 lb-ft. of torque. All three engines come paired with a 10-speed automatic transmission.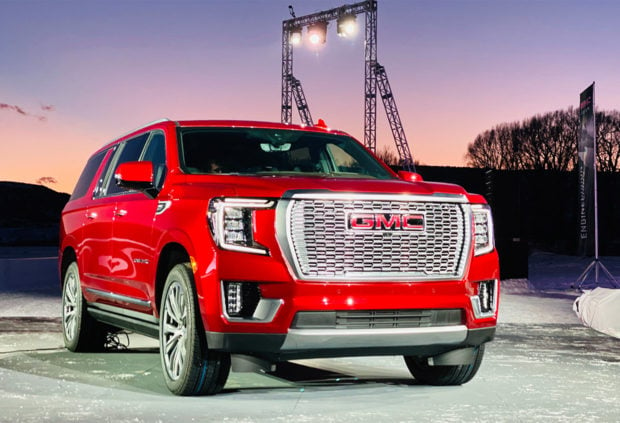 The reveal event was all about the Yukon's premium trim levels, the Denali and the AT4. The Denali touts luxury and sophistication, while the AT4 shows off with rugged good looks and off-road capability. This duality is gradually making its way throughout the GMC line. The easiest way to tell them apart is that Denali models feature bright and shiny exterior trim, while AT4 models are trimmed in black.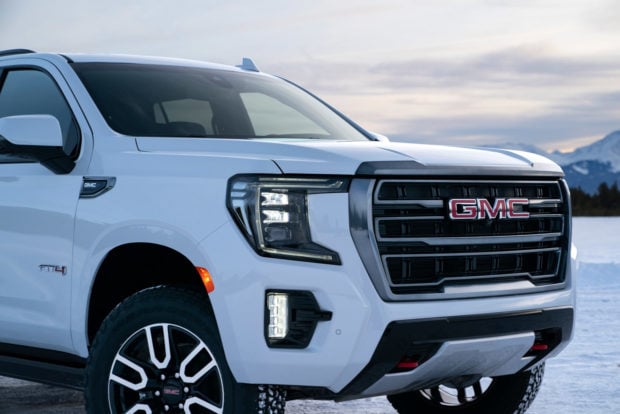 If you opt for the Denali trim, you'll get beautiful, hand-stitched leather throughout the cabin, along with elegant real wood trim, and a unique dashboard that's very upscale indeed. Denali models also get a 15″ color heads-up display, a high-def surround vision camera, Magnetic Ride Control, and more.
The Yukon Denali also gets a power-sliding center console, which can move backwards to give second row passengers easier access to their cupholders and climate controls, and can be pulled forward to improve access. Those second row seats also slide up to 10 inches now, making it easier than ever to get into the third row.
AT4 buyers will get a different set of goodies, including a 2-speed transfer case for driving across rough terrain and steep grades, Goodyear off-road tires, and strategically-placed skid plates to protect the SUV's most sensitive bits.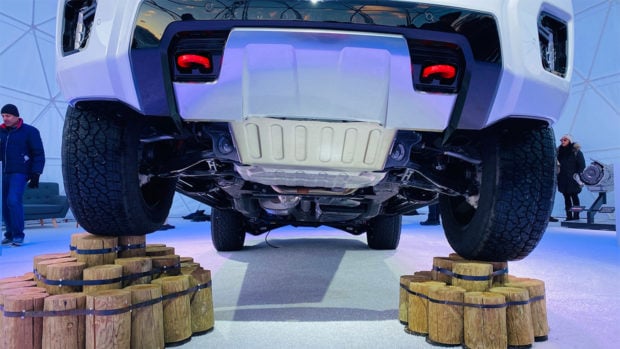 Both models can be equipped with a new Active Response 4WD system, which adapts dynamically to driving conditions and terrain to optimize traction. That system also has an electronic limited-slip differential, which helps handling and cornering response.
There are some pretty big suspension upgrades too, starting with the shift to an independent rear suspension, which both improves ride quality and wastes less cabin space. The excellent Magnetic Ride Control returns, which smartly adapts damping based on road conditions. There's also an optional adaptive air suspension, which further improves ride comfort, and is self-leveling based on vehicle load. This system can raise the big SUV by 2″ to increase ground clearance, or lower it by 2″ to make it easier to get in and out.
Also on display was the new Yukon XL – the even bigger version of an already big SUV. The 2021 XL doesn't change in size as dramatically as the regular Yukon, gaining less than an inch in overall length, but adding 4.1″ between the front and rear wheels. This, combined with the rear suspension changes results in added cargo space, as well as a gain of 2.2″ of legroom for third row passengers.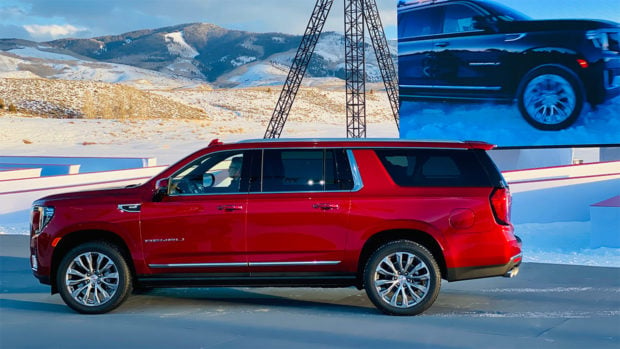 Cargo capacity is improved significantly across both the Yukon and Yukon XL, with the Yukon gaining 28.2 cubic feet with both rows folded, and the Yukon XL adding 23 cubic feet, for a total of 122.9 and 144.7 cubic feet, respectively.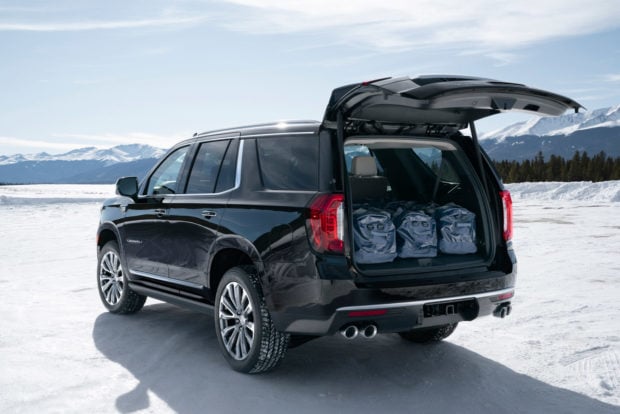 There's an upgraded trailer management system available as well, which supports up to 9 different camera views, can store profiles for multiple trailers, and relays tire pressure and temperature information to the information screen.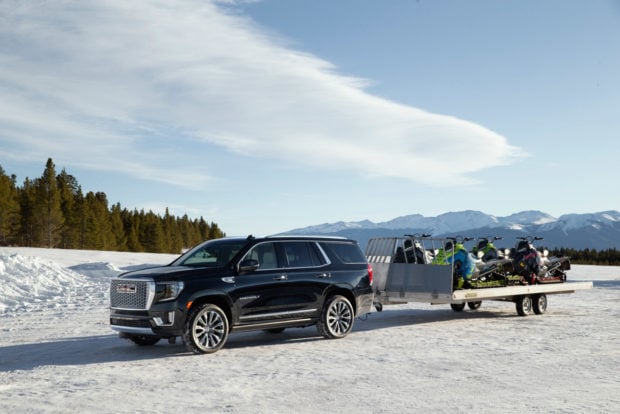 GMC has yet to reveal pricing for the 2021 Yukon lineup, but we know that they'll go on sale starting in summer 2020.