2020 Chevrolet Corvette Stingray Review: A Mid-Engine Marvel
2020 | chevrolet corvette | chevy | corvette | February 22, 2020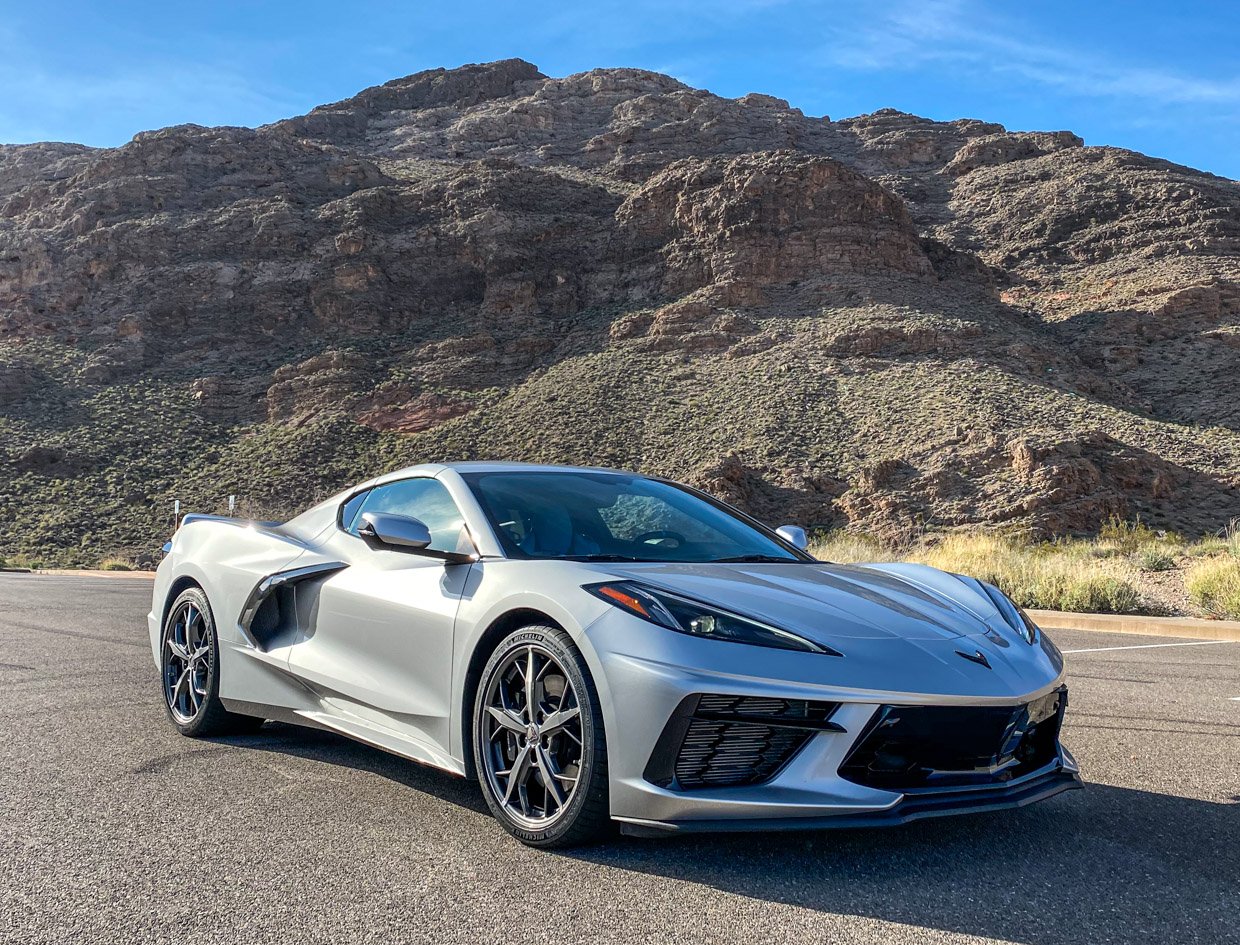 2020 Chevrolet Corvette Stingray Coupe 3LT Z51

Engine: 6.2L V8
Horsepower: 495 (w/Z51 package)
Torque (lb-ft.): 470 (w/Z51 package)
Transmission: 8-speed Dual-clutch Automatic
Drive Configuration: RWD
0-to-60 Time (secs): 2.9 (w/Z51 package)
Top Speed (mph): 194
City/Hwy/Combined MPG: 15/27/19
Curb Weight (lb): 3366 (dry)
Wheelbase (in): 107.2
Total Length (in): 182.3
Width (in): 76.1
Base Price (USD): $59,995 (incl. destination)
Price as Tested (USD): $83,330
Corvette lovers have been dreaming of a mid-engined version of the great American sports car for decades. Now, for 2020, that wish has been fulfilled. After spending two fun-packed days in the Nevada desert putting the new Vette through its paces, I'm thrilled to report that it's one of the best performance cars you can buy – for any amount of money.
Thanks to some incredible engineering, and a little help from physics, the new C8 Stingray offers muscle car launch speeds, the handling prowess of a Porsche, a luxurious interior, reasonable cargo space, and the latest in technology.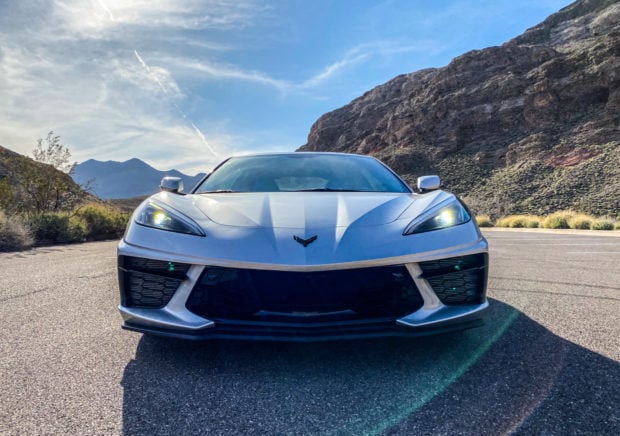 The mid-engined configuration changes the Corvette's center of gravity dramatically, shifting roughly 60% of the weight to the rear of the car, improving cornering and traction. That change also means a shorter, lower hood, which increases forward visibility, keeping your eyes on the road ahead instead of on the hoodline.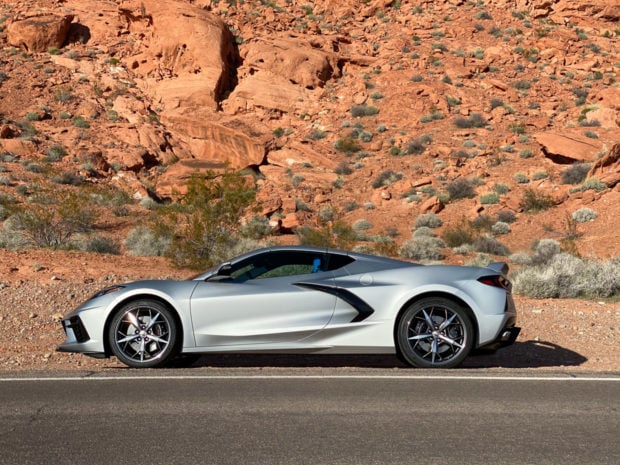 The C8 packs a new 6.2-liter, small block V8 that sits just behind the passenger compartment. The LT2 power plant makes 495 horsepower and a up to 470 lb-ft. of torque with the Z51 package (490 hp/465 lb-ft without.) This engine has a built in dry sump oil system, which means it stays lubricated even during hard cornering. It's also more efficient at power delivery than the outgoing model thanks not only to its position, but to its new 8-speed Tremec dual-clutch transmission. This gearbox is always at the ready with the next gear, so there's no loss of torque it upshifts and downshifts. Some may gripe about the lack of a manual, but once you realize just how fast and smooth the DCT is, it's a sacrifice worth making.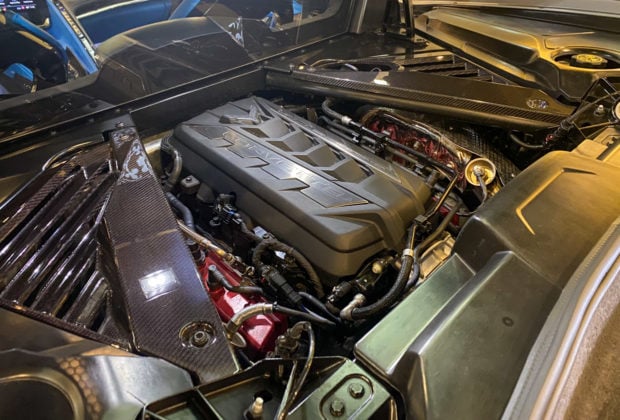 Whether on the street or on the track, the transmission always seemed to know just the right gear to be in. It's especially impressive in Track mode, where it holds right up to the redline before shifting under hard throttle application. As I made my way around the 2.2-mile North-South circuit at Spring Mountain Motorsports Ranch, I started out using the paddle shifters as my pro driving instructor recommended. But after a few laps, I switched into full-automatic, and let the DCT work its magic all on its own. It was pretty amazing to hear the lead car calling out manual shift points, and to see how the gearbox was nearly lock-step with his recommendations.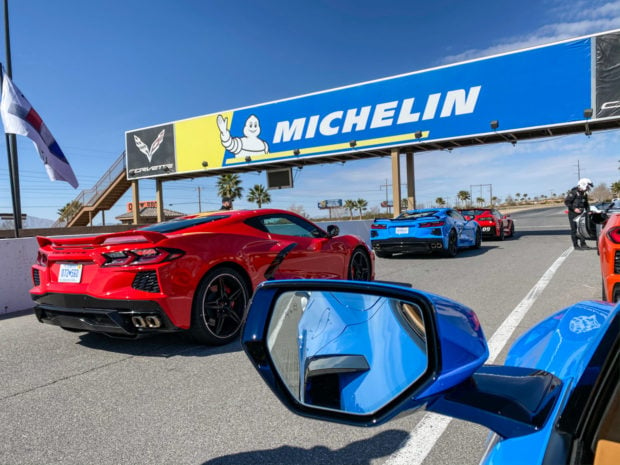 The C8 corners like no Corvette ever before it. It's precise and balanced, and in some ways one of the easiest sports cars to drive – certainly with this kind of power. Sure, you can get yourself into trouble if you disable enough nannies and try hard enough, but I haven't felt this confident going this fast on a track since the first time I drove a Nissan GT-R. While it has supercar looks, the Corvette is in some ways a better car to drive than much pricier models from Ferrari or Lamborghini. It's more predictable than other exotics I've driven, and that means you feel more in control at higher speeds. Keep in mind that I only drove in vehicles with adaptive damping aka "Magnetic Selective Ride Control" (an $1895 option), so its possible that the base suspension isn't quite as agile.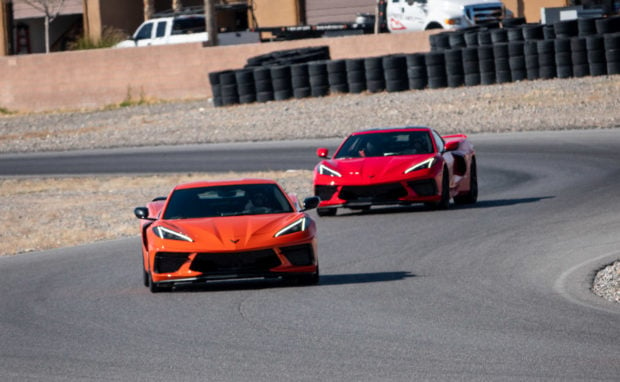 Push your foot down, and the C8 goes. With launch control engaged, you'll get pushed back into your seat like a rocketship, with 60 mph approaching in just 2.9 seconds (assuming you go with the Z51 package). Even without using launch control, it's damned quick off the line. The passing power in this car is truly impressive.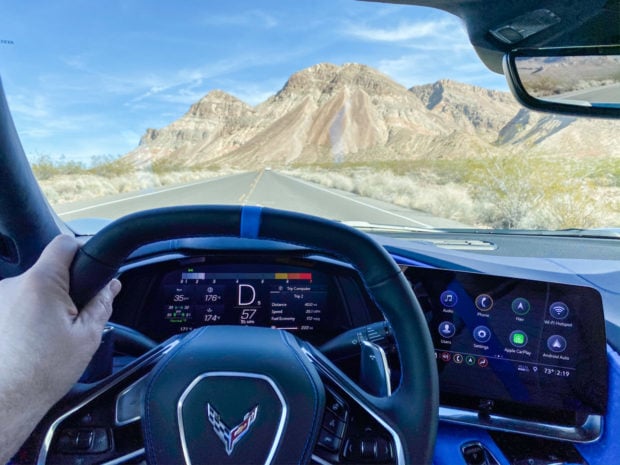 One place I wouldn't expect high marks from with any previous-gen Corvette is an autocross course. That all changes with the C8. As you can see from my GoPro footage below, this car is crazy quick around the bends, and is impressively flat as it corners. I barely applied my brakes throughout the entire course, in part thanks to the super sticky Michelin Pilot Sport 4S summer tires that come with the Z51 package.
Chevy really wants drivers to enjoy their Corvettes no matter how or where they drive them, so they offer lots of configurability. There are drive modes for touring, sporty everyday driving, aggressive track driving, and inclimate weather, along with customizable modes which let you store your preferences for throttle, steering, transmission, and suspension (assuming you have the adaptive damping option).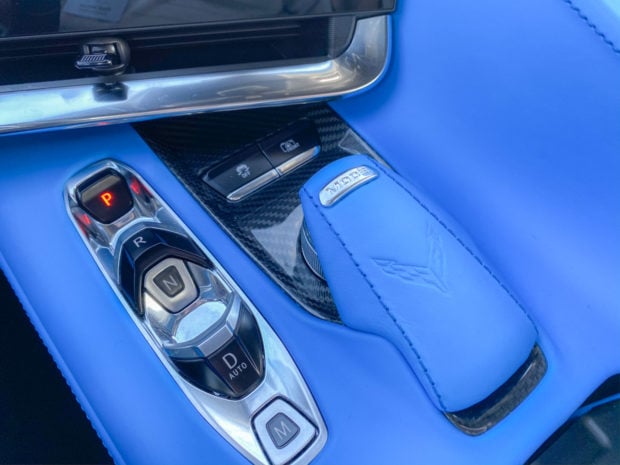 The digital 12″ instrument cluster automatically changes based on drive mode, and is also highly configurable so you can show just the information you find important. There's even a stealth mode for night, which dims pretty much everything on screen except the speedometer. Chevy also recognizes that rear and side visibility can be a challenge with a car like this and includes an HD digital rearview mirror and rear park assist as standard equipment.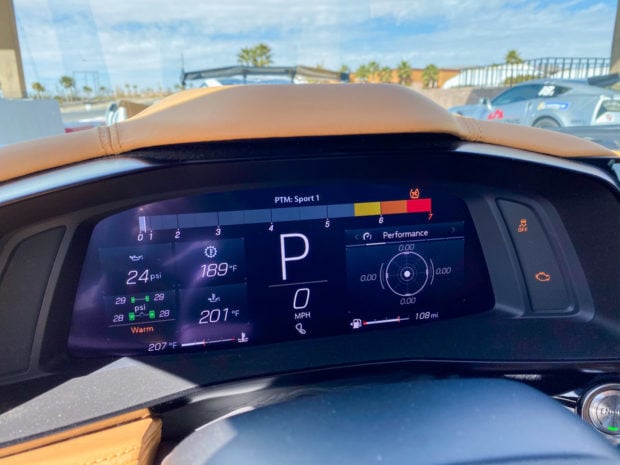 Blind spot monitors, rear cross-traffic alert, and a front curb-view camera are worthwhile options for protecting this special ride from parking lot dings and dents. There's also a nifty option which lets you raise the front end of the car up by an inch, which should reduce front splitter scrapes on speed bumps and parking lot ramps. It can even store GPS coordinates of up to 1000 locations where you want it to automatically lift its front.
As Corvette interiors go, the C7 was leaps and bounds above the C6, and the C8 goes even further. It's a dramatic cockpit, with bold angular lines, and makes no bones about the fact that the driver is the most important person inside. All of the controls are angled towards the driver, and the left side of the cabin just feels more spacious than the right. That's not to say that it's cramped for either seat, though the right seat position does have fairly limited elbow room due to the design of the center console.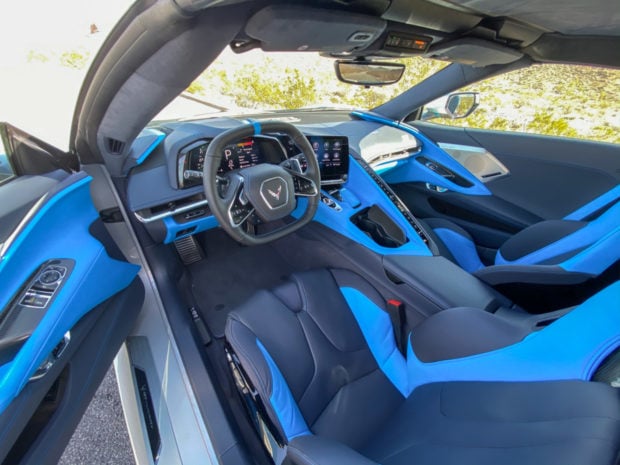 There are three different seats available – with progressively higher levels of bolstering, the base GT1, the mid-range GT2, and the track-oriented Competition Sport seats, shown here. I found the adjustable side bolstering to be quite good on these seats, though the hip and butt area is a little narrow for anyone with a wider frame. Headroom isn't too bad for something this sleek, and I was able to comfortably fit inside with an XXL racing helmet on without being a contortionist.
The materials in use are top notch – especially in the top-end 3LT trim I experienced. Fully tricked out, there's real aluminum, carbon fiber, elegant hand-stitched leather, and not the slightest bit of plastic to be seen. My vehicle was decked out in a bold and beautiful two-tone blue leather called "Tension/Twilight."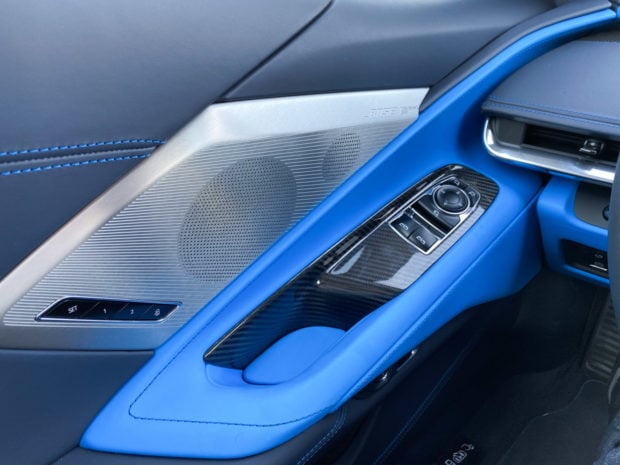 Thanks to some clever packaging, the C8 also has an impressive amount of storage – at least as exotic sports cars go. Since the engine has moved to the middle, there's a front trunk ("frunk") that's great for groceries or other small bags. But there's also a storage area behind the engine that's actually big enough to hold a two full sets of golf clubs if stacked properly. Keep in mind that's the same space where the removable roof section would be stored, so you can't pack both at the same time.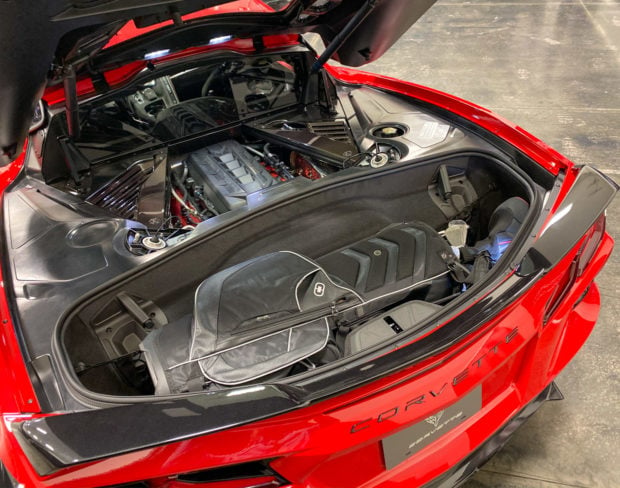 While the Corvette has been around for more than 65 years, moving to a mid-engined platform represents both a major risk and a major revolution for Chevrolet's prized performance nameplate. Given the fact that this is basically the first generation of a whole new car, Chevy's engineers and designers got almost everything right. What they've achieved is something very special indeed – a true supercar that starts at just under $60,000, and tops out under $90,000 with every single bell and whistle.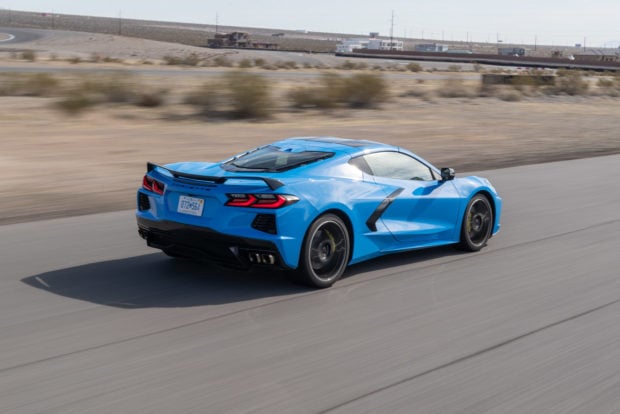 There's really no other car out there that comes close to its price/performance ratio. For a vehicle to start out with this strong of an initial showing, I can only imagine what Chevy can achieve in future years as they refine and upgrade the C8. It's almost a sure bet we'll eventually see a Z06 variant, and I wouldn't doubt some kind of hybrid-electric enhancements down the road too. But if you're one of the lucky ones to be getting your hands on a 2020 Corvette Stingray, you will be very, very happy with your purchase decision.