2020 Ram Rebel 1500 EcoDiesel Review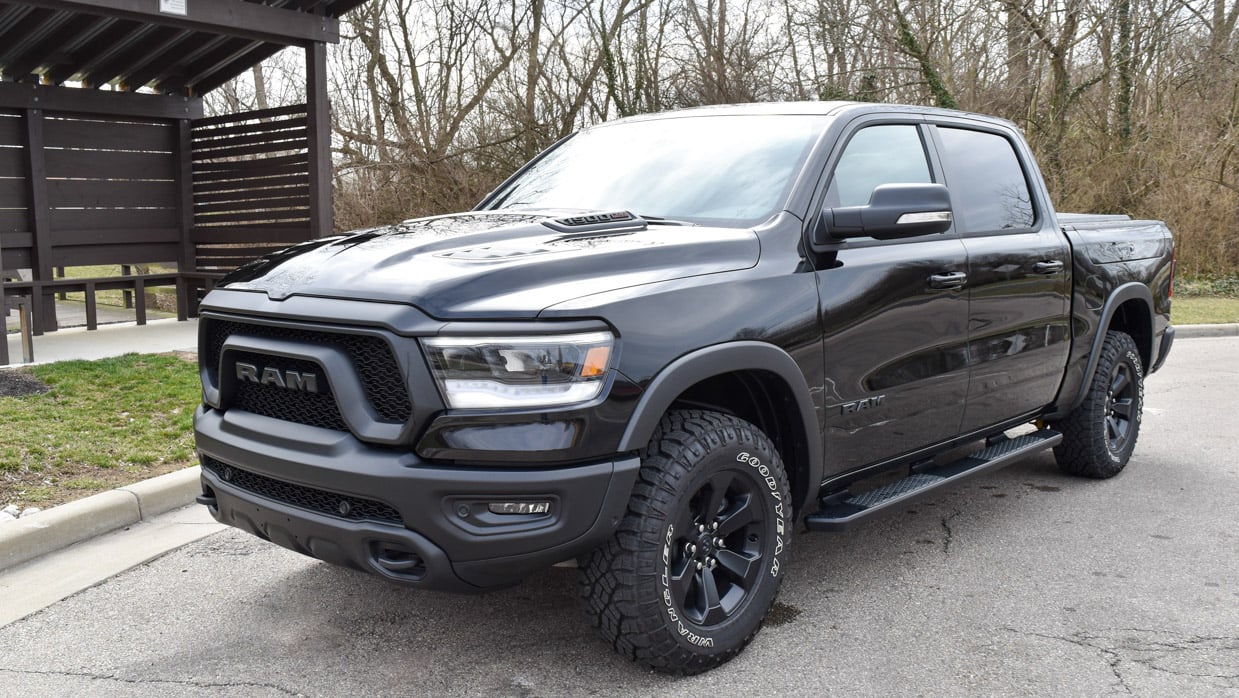 2020 Ram 1500 Rebel Crew Cab 4x4

Engine: 3.0-liter V6 turbocharged diesel
Horsepower: 260
Torque (lb-ft.): 480
Transmission: 8-speed automatic
Drive Configuration: AWD
City/Hwy/Combined MPG: 21/29
Curb Weight (lb): 5748
Wheelbase (in): 144.5
Total Length (in): 232.9
Width (in): 82.1
Base Price (USD): $47,990
Price as Tested (USD): $71,305
The word "rebel" has some deep-rooted placements in automotive history as well as film (RIP James Dean). And, if I do say so, it's an awesome name for a trim of a vehicle that does its own thing and really sticks out with personality and excitement.
The 2020 Ram 1500 Rebel is much more than just a trim of the spectacular Ram half-ton pickup truck. It's an in-your-face, stand-out-from-the-crowd truck that has plenty to get you excited about. Plus, even more exciting, this Rebel has a special EcoDiesel engine that has cache and torque! For all the reasons, the Ram 1500 Rebel is the Johnny Yuma of modern pickups.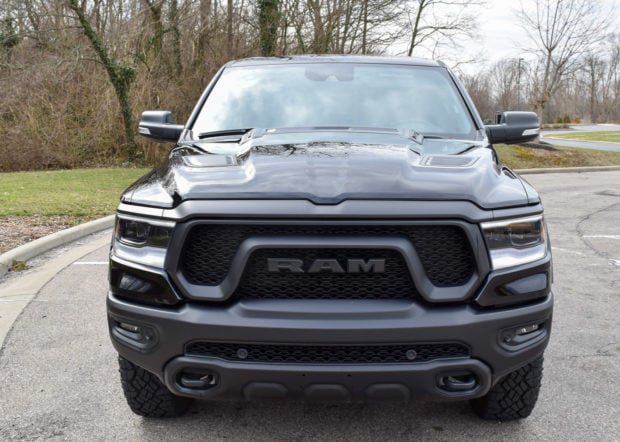 The Rebel is not just another trim, it emphasizes off-road ability. It has a factory lift and a performance suspension system. Additionally, tow hooks, a locking differential, and rugged Goodyear Wrangler all-terrain tires show that it means business when it comes to off-roading.
Another impressive aspect to the Ram Rebel is its overall look. It's stout, rivaling the Ford Raptor in appearance. The Ram 1500 is incredibly popular, so the Rebel should really draw a great amount of interest from pickup truck enthusiasts who want a truck with aggressive looks but equally aggressive ability. Certainly, the Ram Rebel is ready, willing and able to get mud on its tires.
Ram has had a diesel engine in their 1500 since 2014, the first half-ton truck to offer a V6 diesel engine. Now their EcoDiesel engine enters its third generation. For 2020, the 3.0-liter turbocharged diesel features some improvements and even better fuel economy. The engine only puts out 260 horsepower, but then blows everyone away with 480 lb-ft. of torque. For a diesel, it's also incredibly quiet. Some purists like hearing the vocals of a diesel engine, but for me, I enjoyed the more muted sounds of this engine.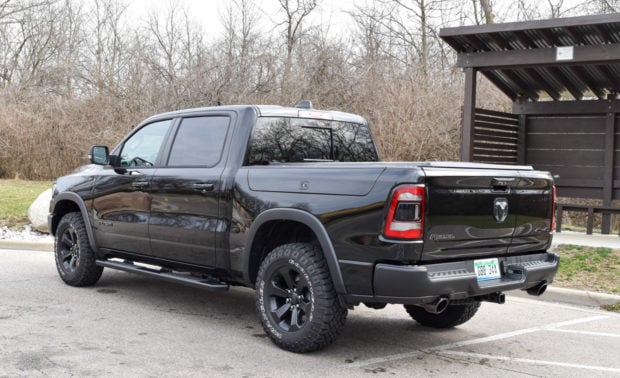 Off the line it was athletic and once it got into the turbo (which was almost immediate) it really took off and felt way more powerful than 260 horses. This isn't a direct rival to the Raptor in a performance regard, but it's still fun to drive. I'll go so far as to say, excluding the Raptor, this Ram Rebel has been the most enjoyable pickup truck I've driven.
The eight-speed transmission is good, and shifting is quick and almost unnoticeable. It does have a 5,800 rpm redline, that got in the way at times, but that's typical of a diesel. Where the Rebel establishes itself impressively is in towing ability. The Ram 1500 Rebel with the EcoDiesel has a maximum towing capacity of 12,560 pounds.
Compared to the Hemi V8, the EcoDiesel saves 6 to 7 mpg, with the all-wheel drive version hitting EPA rating of 21 mpg/city and 29 mpg/highway. The two-wheel drive version even exceeds the elusive 30 mpg level. It's ideal for those who have a lot of towing miles to drive.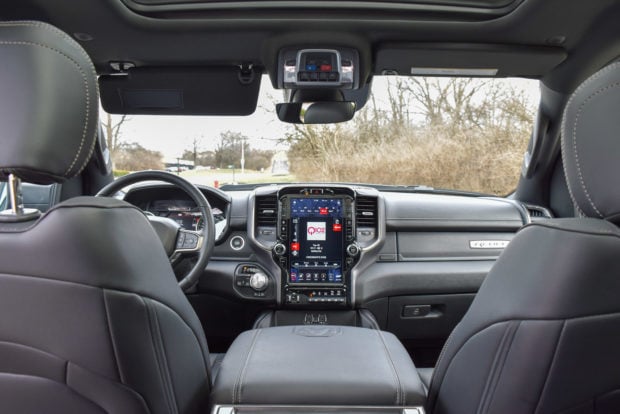 The ride quality is comfortable for such a rugged truck. It seemed to feel smaller than a Tundra TRD that I had recently. Without a diesel engine the Rebel is set apart, and as far as ride quality and appearance, I much preferred the Rebel to the TRD.
The Rebel's interior is high-quality. Oftentimes car manufacturers think that if a vehicle is considered "off-road" that it must also be sparsely appointed inside. The Ram's family member Jeep is often guilty of that. But this Rebel has plenty of niceties including heated seats and steering wheel plus rain-sensing wipers. Plus the back seat of the crew cab is cavernous.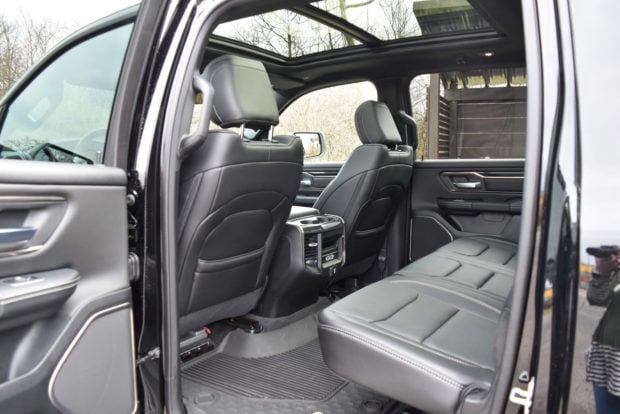 The truck also has plenty of tech with its available 12.0-inch portrait touchscreen, along with Apple CarPlay and Android Auto. The Uconnect infotainment system is one of my favorite systems today. It's simple to use, responsive and has all the technology you could want.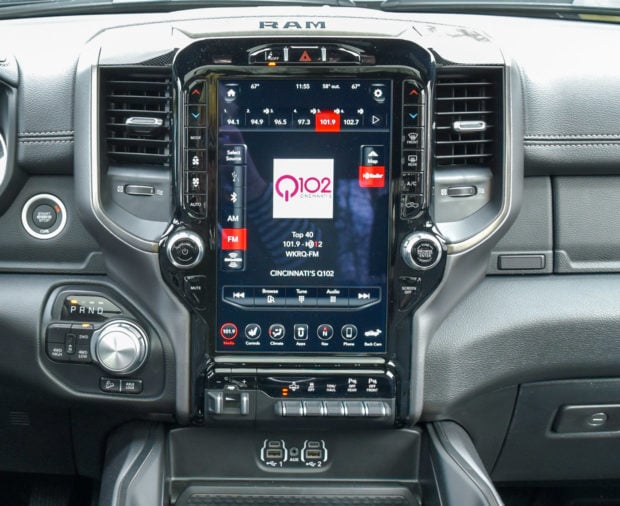 One of the areas where the Ram excels is in cargo carrying. A truck, afterall, is supposed to be useful. RamBox is a resourceful storage bin on the side of the truck bed. It's lockable and is really well designed. The truck can also be equipped with a 60/40 split tailgate that can open down or can swing out like a gate. Again, that's a lot of careful, well-thought planning for this design. More storage can be found under the rear seats in RamBins that offer extra hideaway compartments. The center console is gigantic too. I could almost fit my six-pound dog in it. You won't want for cargo or storage space in the Ram 1500.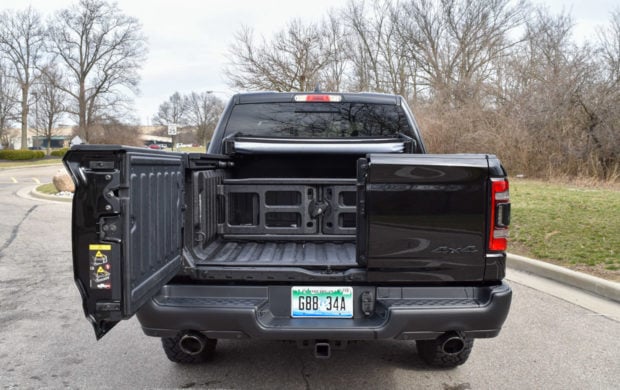 My tester had a base price of $47,990 which is pretty competitive compared to the outrageous price tags on other trucks. Note: The EcoDiesel does add nearly $5000 to the price, so you'd have to figure out if the fuel savings would be financially advantageous. The final MSRP with other options included was $71,305, which takes it into the stratosphere but honestly isn't outrageous when compared to other similarly appointed pickups these days.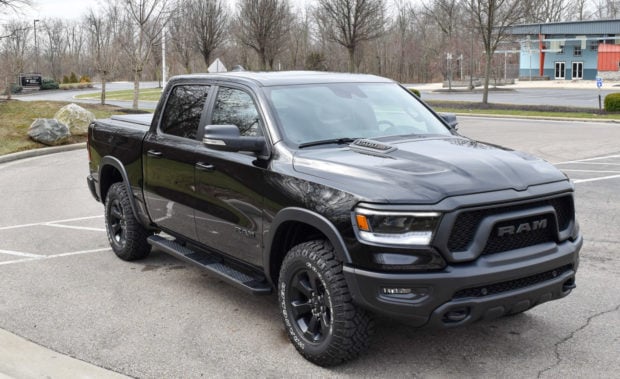 Honestly, all truck enthusiasts would get a kick out of Ram 1500 Rebel. Though not flawless, it was absolutely a blast to drive. It was the total package for pickup trucks with handsome, rugged looks, a fun and torque-y engine, off-road playfulness, and tons of storage and comfort. Ram has raised the bar in this competitive segment, and I will definitely remember my time with this fun, rebellious truck.