2020 Jeep Gladiator Mojave Review: Plenty of Fun, Even without a Desert
2020 | jeep | jeep gladiator | jeep gladiator mojave | off-road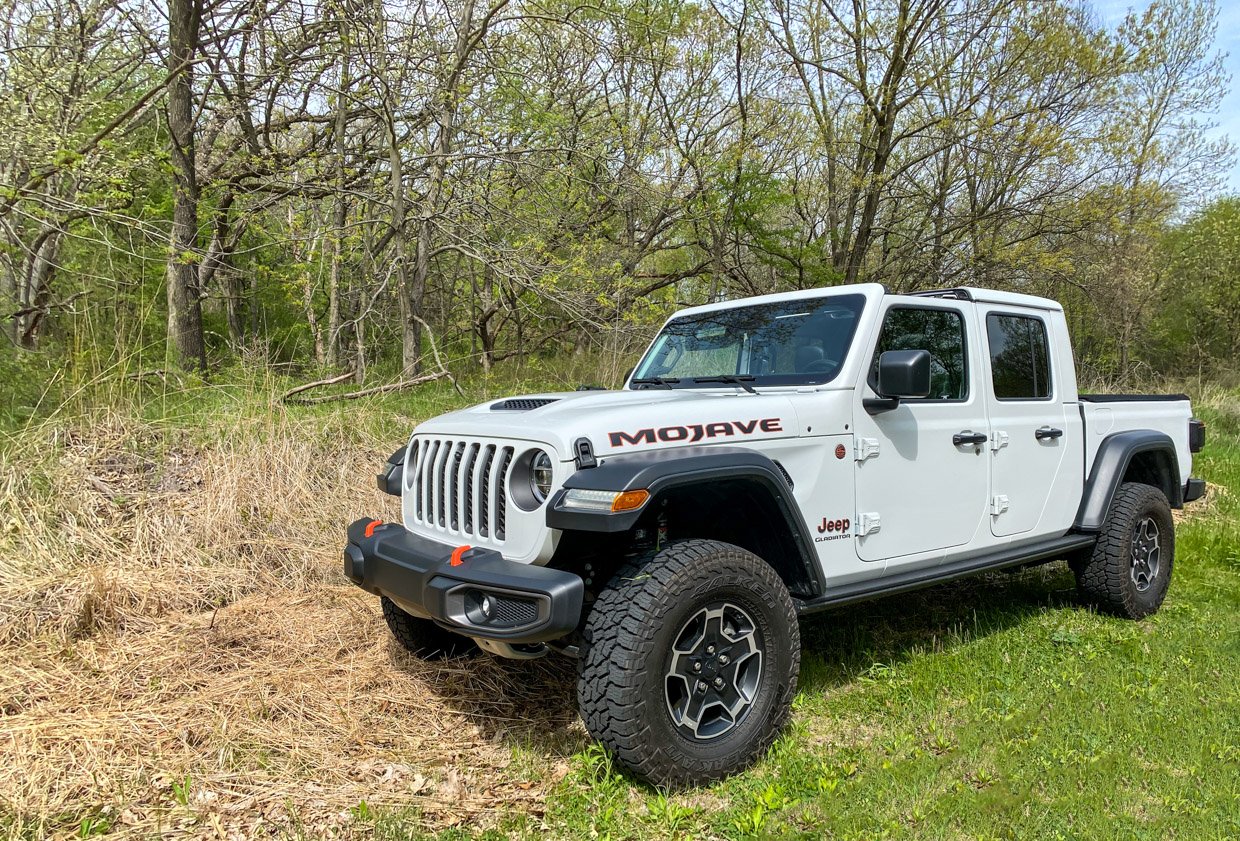 Specs at a Glance

Engine: 3.6L V6
Horsepower: 285
Torque (lb-ft.): 260
Transmission: 6-speed manual or 8-speed automatic
Drive Configuration: 4WD w/two-speed transfer case
City/Hwy/Combined MPG: 17/22/19 (auto) / 16/23/18 (manual)
Curb Weight (lb): 5,072
Wheelbase (in): 137.3
Total Length (in): 218
Width (in): 73.8
Ground Clearance (in): 10"
Base Price (USD): $43,975
Price as Tested (USD): $62,410
When the Jeep Gladiator came out last year, it marked the first time Jeep had made a pickup truck in decades. Until now, the most capable version you could buy has been the Rubicon. That's still the case if you're planning on crawling slowly over rocks and steep grades, but if you're looking for a Gladiator that can tackle sand dunes, undulating hills, and dirt roads as fast as possible, the Mojave is the better choice, and overall, I think it's the best Gladiator model you can buy at the moment.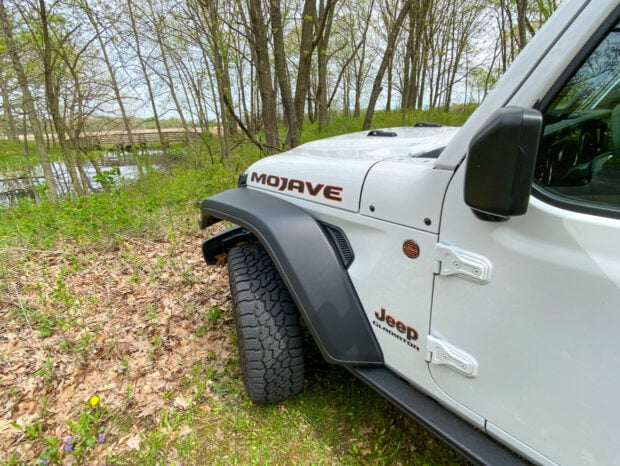 I'll start out by saying that I didn't actually drive the Gladiator Mojave in the desert, since options for that are pretty limited here in the Chicago area, and my usual off-road trails in the state were closed due to COVID-19. But I did manage to spend several days driving the Mojave on public roads and on some not-so-hilly dirt roads and fields, and it offered up just a tiny glimpse as to its potential.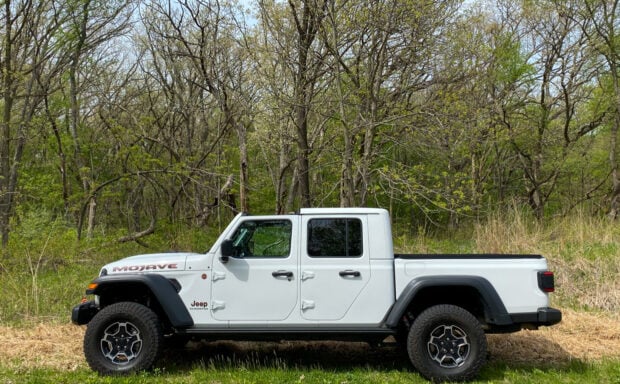 A big part of what I really like about all Gladiators is how smooth and comfortable they are even on the highway – not something I can say about its smaller Wrangler cousin. This is in part thanks to rear suspension elements borrowed from RAM. In the Mojave it's made just that much more agile with 2.5″ FOX internal bypass shocks along with remote reservoirs. Up front, factory-installed hydraulic jounce bumpers help sop up shocks even more, and also I just like saying "jounce bumpers." In other words, this thing eats bumps for breakfast. The suspension in the Mojave feels a bit softer than I recall the Rubicon's being, offering an appropriate amount of shock absorption for the kind of punishment you might experience flying across whoopty-doos at 60 mph. Jeep has also added frame and axle reinforcements to handle higher potential speeds.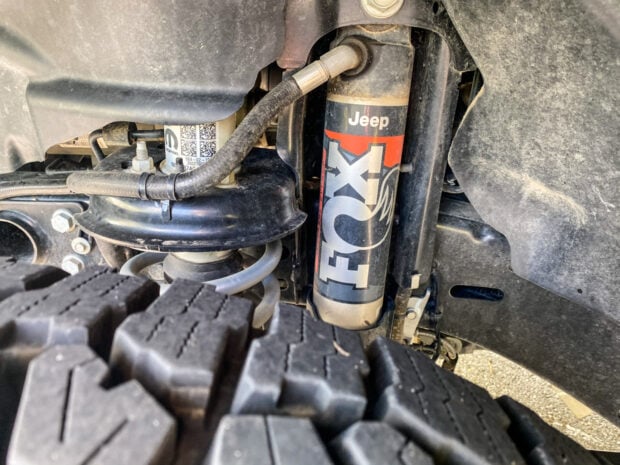 The Gladiator Mojave is designed for fast rides across the desert, and as such has a special "Off-Road+" mode which optimizes the throttle, transmission, traction management as it zooms through the sand. Weighing in at more than 5,000 pounds and powered by a 285hp naturally-aspirated V6, we're definitely not in Raptor territory here, but what the Mojave lacks in brute force, it makes up for in terms of maneuverability and stability. It's equally adept at highway speeds on smooth pavement as it is on bumpy terrain, and feels like a much smaller vehicle than you'd think when you're behind the wheel. With its two-speed transfer case and locking rear differential, the Mojave has no trouble dealing with low traction situations – though unlike the Rubicon, it doesn't get detachable sway bars or a locking front diff.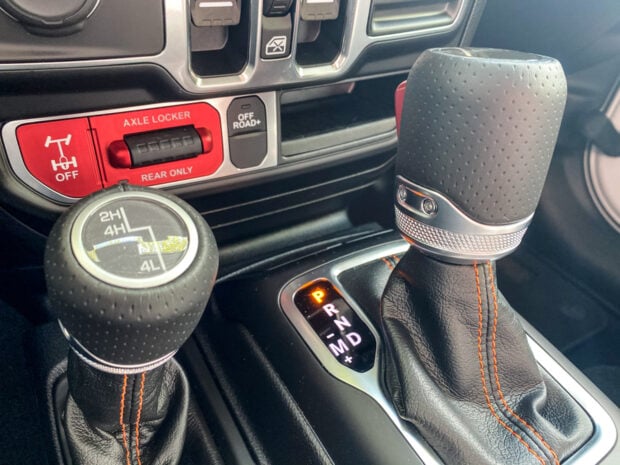 The cockpit of the Gladiator Mojave is typical of modern Jeeps, offering a great balance of style and pragmatism. Accents of orange encircle the air vents, and offer a nice pop on the stitched leather seats, shift knobs, and door panels. Most of these surfaces are easily cleanable from dirt and debris too. The seats are comfy for long rides both on the highway and across bumpy terrain, and of course you get the Jeep benefit of being able to open up the vehicle to truly experience the outdoors.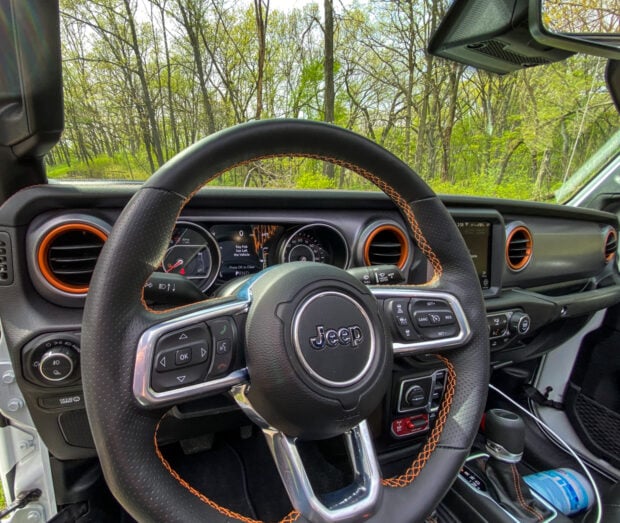 Like other Gladiators, you can remove the front roof panels, rear hard top or soft top, the doors, and even flip down the windshield, for a fully open-air experience. I'm thinking that you might want to leave the windshield raised if you plan on high speed dune hooning though – unless you're wearing goggles or a full-face helmet. Removing the front roof panels takes less than a minute for each side by flipping a series of latches, and can be performed solo. An optional storage bag lets you toss them in the truck bed or back seat without worry about damage.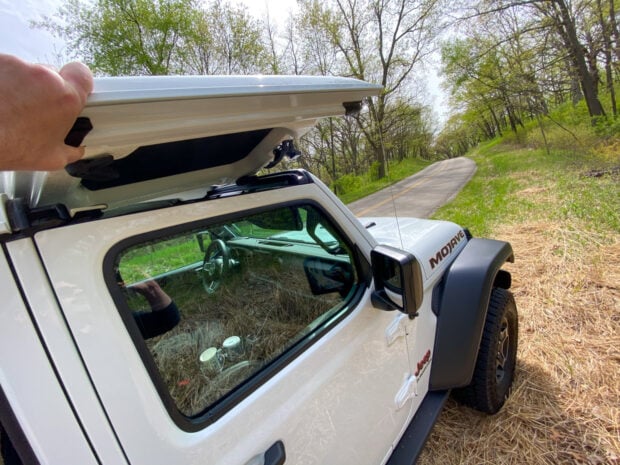 Removing the back portion of the hardtop requires a bit more work – you'll have to pull out multiple bolts and disconnect electrical harnesses – and you'll need a buddy to help lift it off. Removing the doors is similarly involved, but can be performed without a helper – pull out a few bolts, roll down the windows, and disconnect wiring harnesses. Jeep is kind enough to provide a toolkit for all of this, and a convenient storage area under the rear seat so you don't lose any bolts. The biggest challenge with all of this is that you'll need a place to store the doors and hardtop before you head out off-roading, so you'll definitely want to check the weather forecast before you leave the house.
Since the Gladiator has such a long wheelbase, it's never been the optimal rock crawler – especially on tight trails. So while the Rubicon is capable, it's not as practical as a Wrangler when the trails narrow. On the other hand, the Mojave doesn't worry so much about these things. Sure, it'll do just fine on slow trails, but it's can also be a blast at higher speeds. In fact, its four low mode can hit speeds up to 50 mph (vs 30 mph on the Rubicon), and I'm not sure there's any limit in four high mode. All of this spells a truck that's just as comfortable on the highway, dirt roads, or sand, and at much higher speeds than its brethren. That said, the Gladiator Mojave is my favorite of all of the Gladiator models, offering the most versatility of the bunch – and the most fun.
That all said, I do hope to get the Gladiator Mojave out in the desert or some sand dunes down the road, as I'd love to experience all this truck has to offer in its native, dusty habitat.