Ford Insider Says Bronco Doughnut Doors Won't Happen
2021 | doors | ford | ford bronco | rumors | October 28, 2020
---
One of the coolest accessories we've seen on the new Ford Bronco since the vehicle was first shown were the so-called "doughnut doors" that had a big hole in the center. Those doors have an opening in the bottom half so you could see out and let air in. According to information from an unnamed Ford representative at Bronco Super Celebration East, those doors won't be happening.
A contributor on the Bronco6G forums says that the doors were canceled after crash testing was performed. While it's not clear what exactly failed in crash testing about the doors, we assume it has to do with the lack of protection in the center. Ford will still reportedly offer tube doors as an accessory for the Bronco.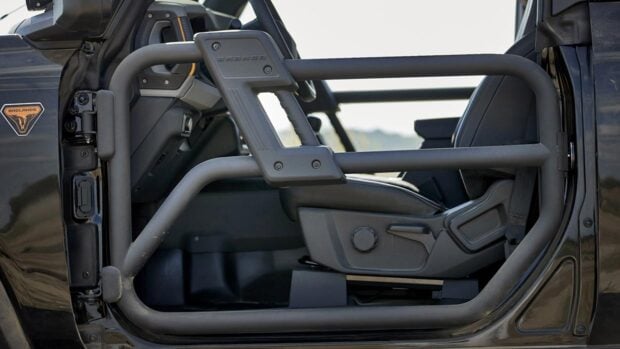 Looking at Ford's tube doors, you can see that they have a very robust metal frame running almost directly through the structure's center while the doughnut doors have nothing at that level. Having nothing to protect occupants in the center of the door presumably poses a significant risk in a crash. We'd wager the aftermarket will step up and offer the doors for anyone willing to take that risk on their own.