2021 BMW M440i Coupe X-Drive Review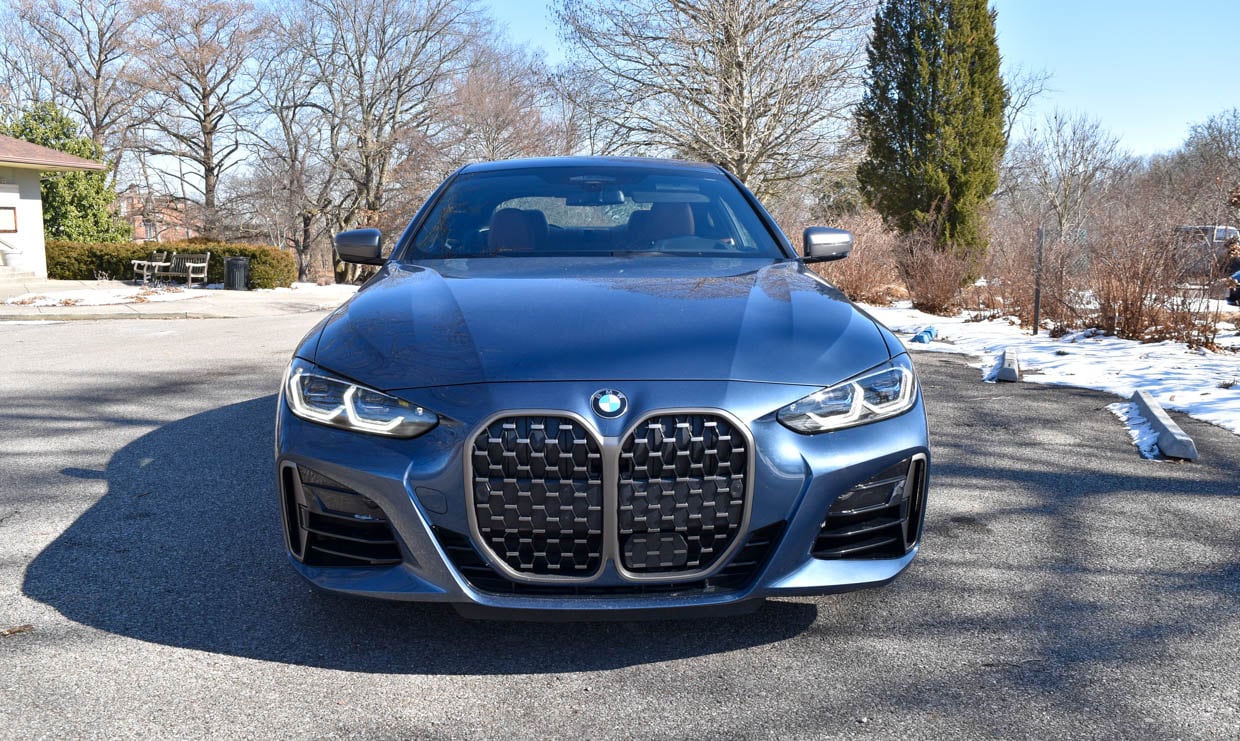 2021 BMW M440i Coupe X-Drive Review

Engine: 3.0-liter 6-cylinder
Horsepower: 382
Torque (lb-ft.): 369
Transmission: 8-speed automatic
Drive Configuration: AWD
Top Speed (mph): 125
City/Hwy/Combined MPG: 22/31
Curb Weight (lb): 3836
Wheelbase (in): 111.2
Total Length (in): 188
Width (in): 72.9
Base Price (USD): $58,500
Price as Tested (USD): $70,470
Some model year changes are easier to spot than others. My tester this week was noticeably and starkly different from prior years upon even the slightest of glances. The 2021 BMW m440i xDrive Coupe is part of the completely redesigned 4-series. You will notice the change immediately especially on the front end.
Gone is the wide kidney-shaped front end that had grown to be a little long in the tooth, even though it still had personality and distinction. However, the new-look m440i still looks the part of a BMW which will make the enthusiasts happy. But it might also churn up interest and excitement for those who had looked past the 4-series for many years. Some will scoff at a coupe still existing in 2021 as cars and sedans have become passe, but personally, I still love a coupe. And the new styling is conducive for a coupe.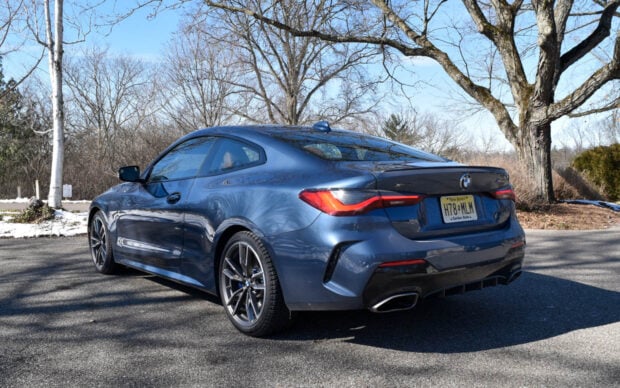 Overall, the appearance of the m440i Coupe is a combination of elegant and aggressive. The rear spoiler adds a playful note. The new grille is absolutely stunning boasting aggressive looks along with functionally attractive LED headlights and cornering lights. The lights balance out the new-look grille and I want to give high praise to the BMW designers on absolutely upgrading the 4-series with this front end.
Another new aspect of this model year is a mild hybrid powertrain. Don't assume that hybrid means poky as it's quite the opposite in this instance. There are several engine configurations for the entire 4-series lineup, but my tester had a turbocharged 3.0-liter inline six-cylinder engine plus a 48-volt hybrid motor to add an extra amount of oomph but also fuel efficiency. The m440i has an EPA rating of 22 mpg/city and 31 mpg/highway. I averaged roughly 26 mpg during some less-than-ideal weather, during which the car handled itself quite well. The engine/motor makes 382 horsepower and 369 lb.-ft. of torque. An eight-speed automatic transmission comes standard and there's all-wheel-drive for the xDrive configuration.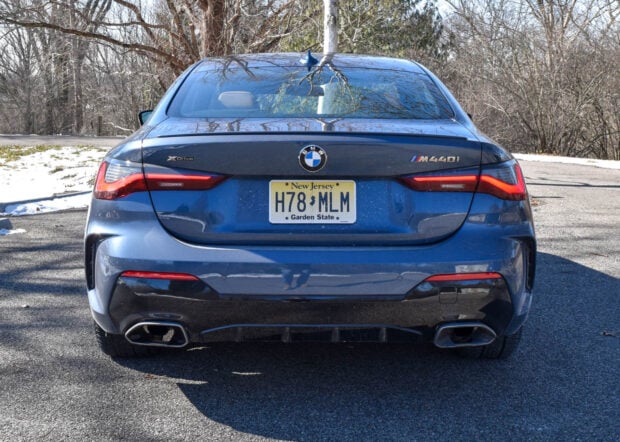 What this all translates to is a mix of power and exhilaration. To be honest, I had to double-check that it was in fact a hybrid because it didn't drive like one at all. Were it not for the quiet start, you wouldn't notice the hybrid portion at all. Off the line it's quick and throughout all gears – it's peppy with a great transmission. One word to summarize this new engine in the m440i is athletic. If you like how BMWs have driven in the past you won't be disappointed this time around and you might even be more impressed with the overall engineering of this coupe.
The interior is elegant and luxurious, as you'd expect a BMW to be. Nothing is garish or over-the-top but the clean and pristine interior has excellent touchpoints and fine qualities that you won't find in other luxury brands. The seats are also incredibly comfortable. Being a coupe, the back seat lacks adequate legroom and headroom. Two passengers could fit back there, but getting in and out through the only door on each side could require some amount of contorting.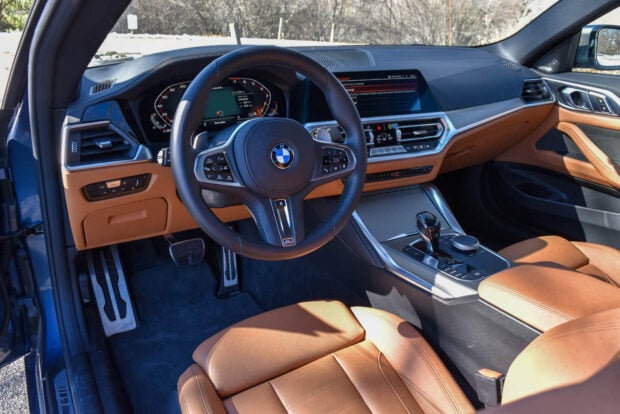 That is the downfall of a 2+2 coupe and why you don't see too many of them being produced these days. As an executive car or a young person's daily driver, the m440i is ideal; less so as a family vehicle. In fact, my tester came with what BMW calls the executive package which includes a heated steering wheel, heated front seats, ambient lighting, and the live cockpit pro system which includes gesture controls for the infotainment system.
As is usually the case with European vehicles, the infotainment is awesome and full of tech but also lacking in intuitiveness. After some learning of how to do the gestures and even manipulate the various aspects of the infotainment system, you grow to be impressed with all it does. Kudos to BMW for the wireless phone charging, Apple CarPlay interaction, and Wi-Fi hot spot. The Harman Kardon sound system is tremendous as well.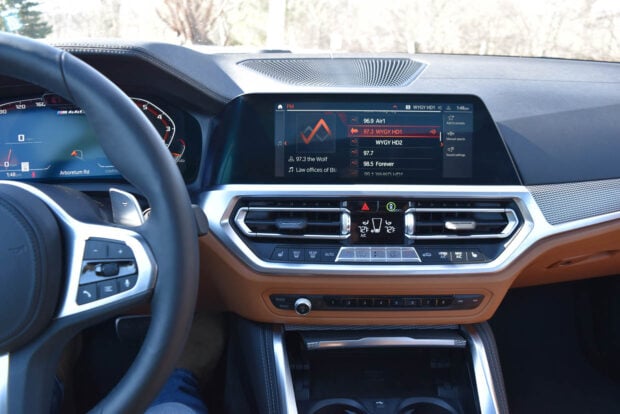 Starting price of the m440i is $58,500. With a slew of packages, options, and features (all priced separately), my tester had a final price tag of $70,470. One of the big and confusing drawbacks to most German vehicles is the price structures and how expensive packages can be. It's almost like getting nickeled and dimed to death.
It had been a little time since I had driven a BMW and boy was I impressed with what I saw from this coupe.