2022 Ford Maverick Pickup Price, Specs, and Photos Revealed
2022 | ford | ford maverick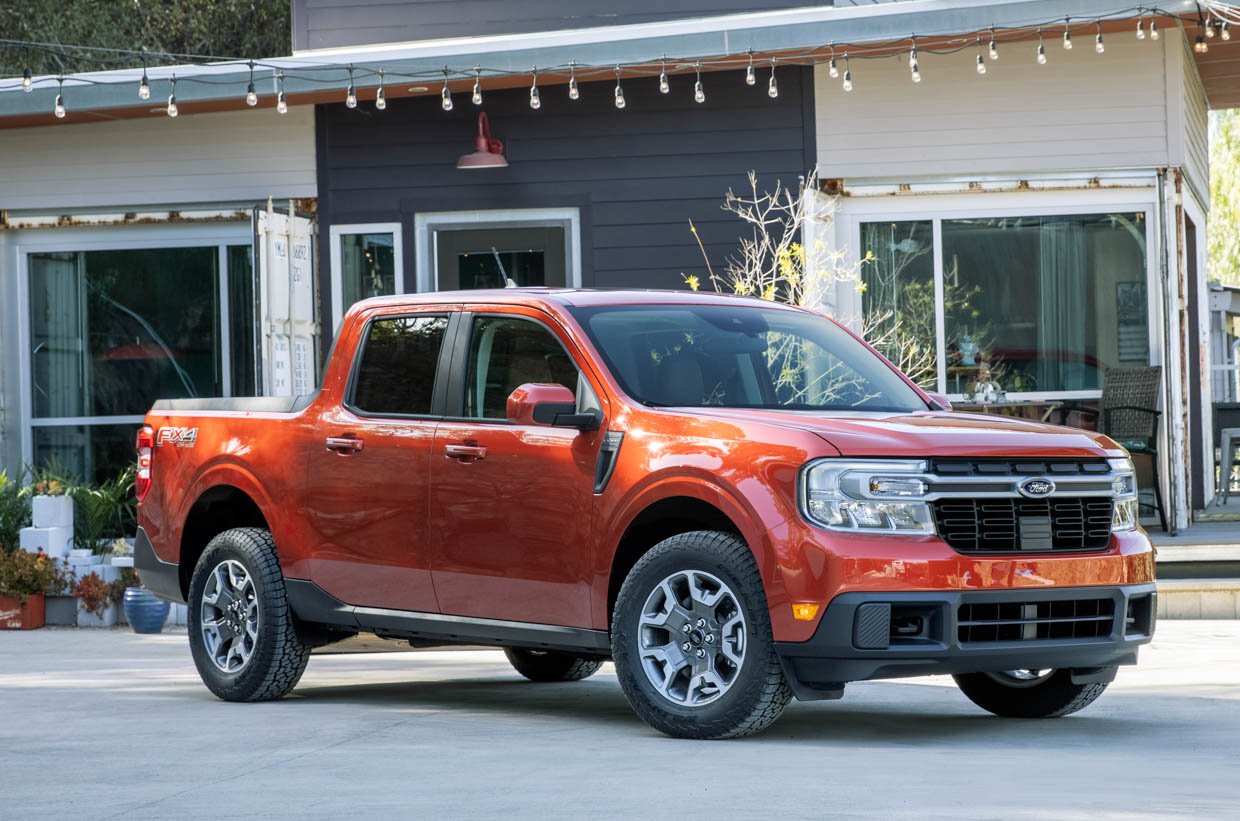 It's been a while since we've seen a new compact pickup truck here in America. Sure, we've got the Ford Ranger, Chevy Colorado, and GMC Canyon, but those still don't seem that small to me. The new Ford Maverick is just 199.7″ long, which is 11.1″ shorter than the Ranger and 32″ shorter than an F-150.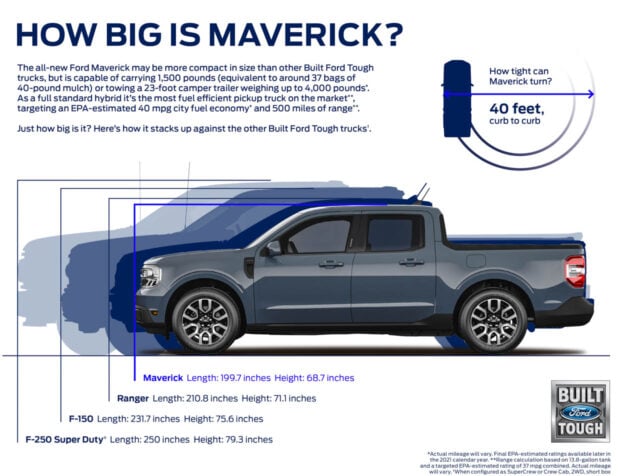 With a starting price of just $19,995, it's notable that the entry-level Maverick comes with a hybrid drivetrain. It's powered by a 2.5-liter inline-4 engine combined with an electric motor, producing 191 total system horsepower. An optional 2.0-liter EcoBoost engine bumps that to 250 horses and 277 lb-ft. of torque, but is sure to trim off some of the hybrid's fuel economy. Speaking of which, the hybrid Maverick gets an impressive 40 mpg in the city and offers up to 500 miles of range between fill-ups. No figures have been offered yet on the EcoBoost's mpg or range.
In terms of drivetrain, the hybrid has an electronic CVT, while the turbo model has an 8-speed automatic. It should be noted that the hybrid model is only available as a front-wheel-drive (which is unusual for a pickup truck), while the EcoBoost can be ordered with all-wheel-drive. One of the more impressive aspects of the Maverick is its FlexBed design, which is wide enough to hold 4×8 sheets of wood or drywall, and low enough for most adults to reach over the side of the bed and reach objects on the floor. Despite the low access height, the Maverick still maintains a reasonable ground clearance of 8.3 for the FWD hybrid and 8.6″ for the AWD model.
The truck's bed includes handy features like tailgate cleats that double as bottle openers, slots for using 2x4s and 2x6s as dividers, sliding tie-downs, and two 12-volt power outlets. Options include a 120-volt power outlet, a storage cubby, and a bed extender for keeping longer items from sliding out. Every Maverick can tow, with the hybrid models offering 2,000 pounds of towing capacity, and the EcoBoost handling up to 4,000 pounds with the optional 4K towing package. Payload capacity stands at 1,500 pounds for all Mavericks.
Inside, the Maverick has a tasteful and modern look and offers seating for five. It comes with an 8-inch touchscreen multimedia interface with support for Apple CarPlay and Android Auto, as well as a 4.2″ or 6.5″ digital information display in the instrument cluster. Interestingly, SYNC 3 only comes as standard on the Lariat package, which also gets an 8-speaker B&O audio system.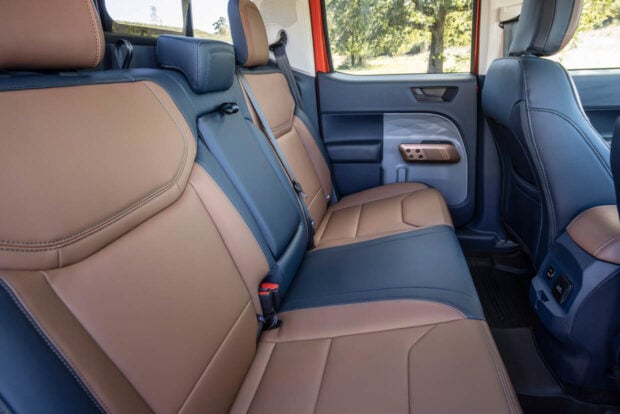 The back seat incorporates a large under-seat storage tray, along with something called FITS – Ford Integrated Tether System, a fancy name for a slot in the back of the center console. Ford will offer add-ons like a cupholder,  trash bin, cord organizer, and hooks, and also plans on publishing the slot specifications so buyers can create their own 3D-printed accessories.
Ford will offer the Maverick in XL, XLT, and Lariat trim levels, along with an available FX4 package for all-wheel-drive XLT and Lariat trucks. FX4 trucks get all-terrain tires, off-road suspension tuning, underbody protection, Mud/Rut and Sand drive modes, and Hill Descent Control.
The Maverick pickup will be manufactured at the Hermosillo Assembly Plant, in Sonora, Mexico which also manufactures the Bronco Sport. Expect the 2022 Maverick to hit dealerships in Fall 2022. Pricing for the Maverick XL starts at $19,995, the XLT starts at $22,280, and the Lariat starts at $25,490. Those prices don't include the $1,495 destination fee. The EcoBoost adds another $1,085, while AWD is the real wallet-buster, adding $3,305 on top of that.
Check out the Ford website for the Maverick configurator, reservation, and order information.