Hyundai Reveals Some Cool Camper Vans for Europe
campers | europe | hyundai | Hyundai STARIA
Hyundai has revealed a replacement for the Starex minivan it sells overseas. The futuristic-looking new model is called the Hyundai Staria, and it's available in several versions. Two of the models shown are campers known as Camper 11 and Camper 4.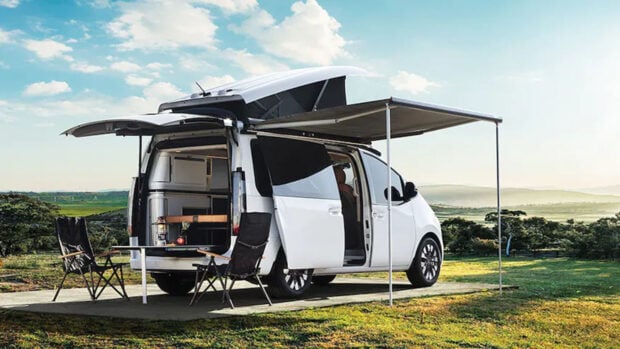 The images here are of Camper 4, which sleeps four people. How you would pack 11 people into Camper 11 is a mystery. The Camper 4's features include a pop-up roof that has what appears to be a bed in the top section. The second and third-row seats inside the van fold flat to create another sleeping area.
Hyundai fits the van with a small indoor kitchen, including a sink and refrigerator. Connections on the exterior for power and water supply the interior sink and an exterior outside shower. A folding table is available inside the van and a slide-out table on the back for outdoor dining.
The van also has a retractable awning on the exterior and a mesh screen that attaches to the rear hatch when the doors open to keep bugs out while letting air flow through. Unfortunately, the Staria van is not destined for the US, so we will have to enjoy it from afar.
[via Motor Trend]