8 Things to Love About the 2022 Nissan Frontier PRO-X
2022 | nissan | Nissan Frontier | reviews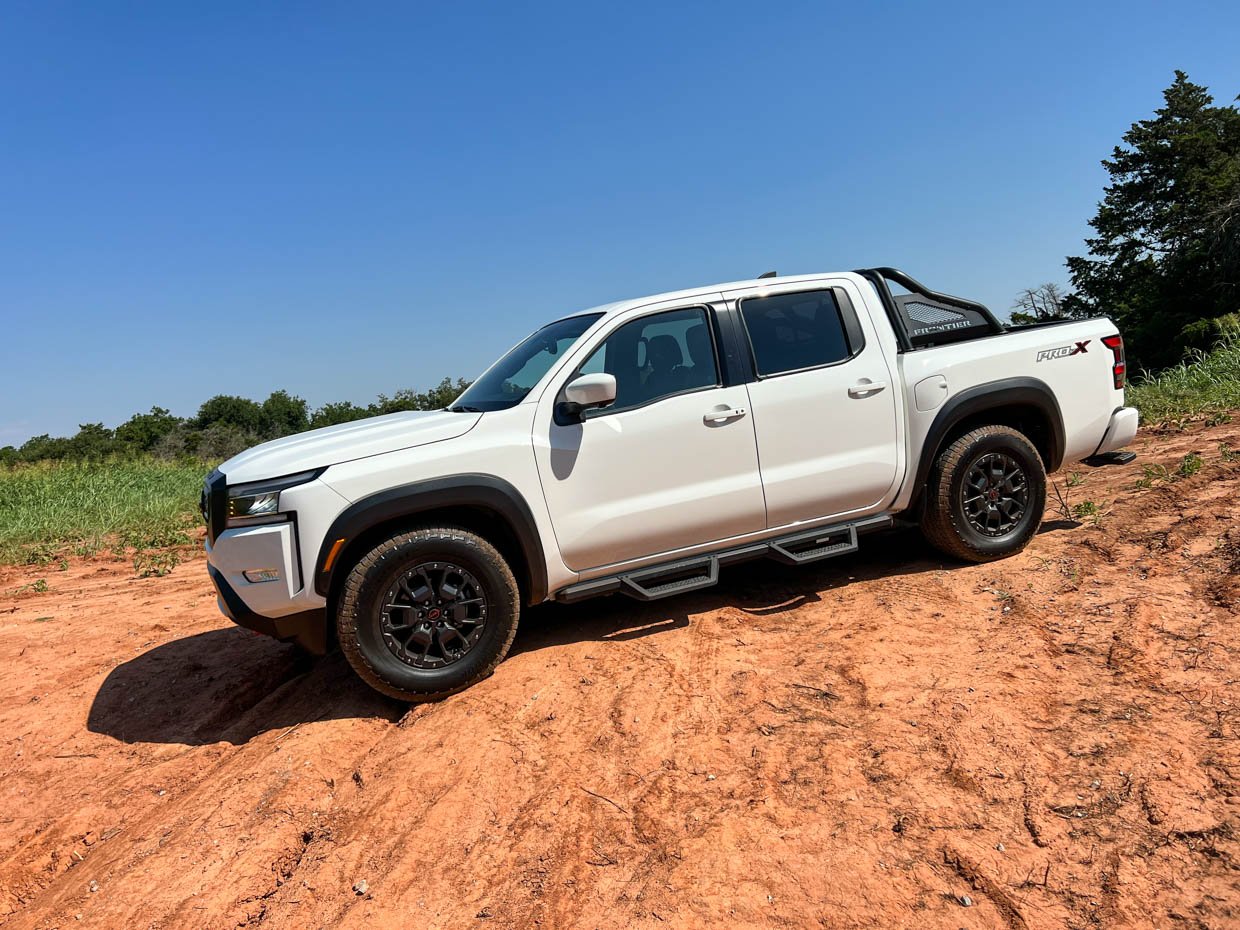 Nissan redesigned its venerable Frontier mid-size pickup truck for the 2022 model year, and it has a lot of great things going for it. I spent a week with the updated truck back in December in Chicago and liked it. I recently got another week with the RWD PRO-X version of the truck to drive around Oklahoma's rough and tumble countryside. The new Frontier looks great, is comfortable and capable, and is a worthy contender in the highly competitive landscape of pickup trucks. With that in mind, here are eight things that make the truck stand out:
1) Sized Right
The Crew Cab model of the Frontier measures 210.2″ long, has a spacious interior for both front and rear passengers, and comes with a 58.9″ short bed. With a width of 74.7″, it fits well in most garages while still having enough useful cargo space both outside and in. It's just a hair smaller than a Toyota Tacoma and significantly more manageable in tight spaces than a Ford F-150, Chevy Silverado 1500, or RAM 1500. There's a nice amount of storage space beneath the back row of seats too, and you can transport larger items inside when you're not carrying passengers back there.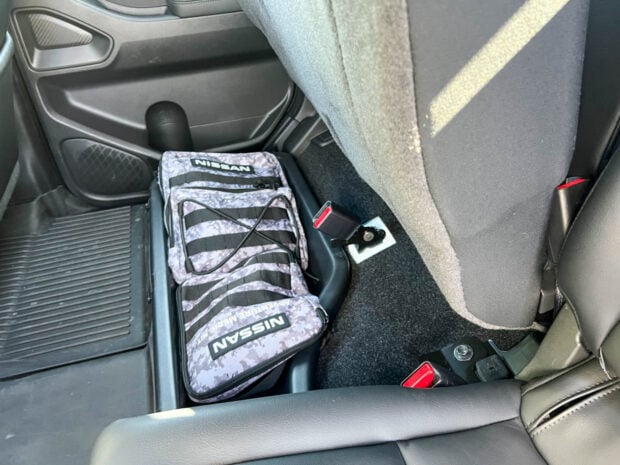 2) 6-Cylinder of Goodness
Just before this redesign, Nissan put a new engine into the Frontier, which has carried over to the 2022 model year. That 3.8-liter V6 offers superior power for its class, with 310 horsepower and 281 lb-ft. of torque. Mated to a 9-speed automatic transmission, the Frontier provides excellent acceleration and the ability to tow up to 6570 pounds. At no point does it feel like the engine is working too hard, and it operates quietly too.
3) Rugged and Handsome
The old Frontier had dated looks and was a bit soft around the edges. It struggled to display the substance of a truck and looked more like a Pathfinder with a bed. Now the Frontier has carved out its distinctive styling with a tough and handsome design that embraces straight lines and a grille that doesn't attempt to shoehorn itself into the standard Nissan "V-grille" aesthetic. I dig the black grille, boxy headlights, and smart use of lower-body cladding, which give the PRO-X and PRO-4X models a rugged look that implies off-road capability.
4) Step on It
There are two kinds of steps on the outside of the Frontier PRO-X. Up first are the individual metal steps attached securely under each door. Not only do they reinforce the truck's hardwearing style, they feel substantial. I'm not a lightweight guy, and these steps don't move in the slightest as I put my weight down to enter the cab. The embossed "FRONTIER" logo and nubby dots provide exceptional grip when your shoes are wet from rain, mud, or snow. Around back, you'll find another convenient step. This one can be kicked out from the back left corner under the bumper, providing a place to stand for easy access to the truck's bed without stepping up to the bumper.
5) Tie It Down
If you buy a Frontier, I can't emphasize enough that you should tick the box for the Utili-Track bed rails. This optional system gives you aluminum rails on three sides of the box and four adjustable tie-down cleats. This setup provides tremendous versatility for handling various cargo and ensuring it doesn't slide around. Opt for the under-$2000 Pro Convenience Package, and you'll get those rails and a whole lot more, including a durable spray-in bed liner, 120-volt outlets in the bed and rear center console, LED under-rail lighting, a trailer hitch, heated front seats, a heated steering wheel, heated side mirrors, remote engine start, and an around-view monitor.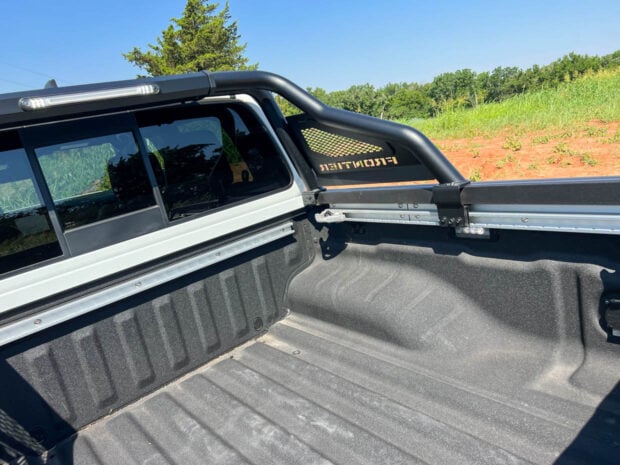 6) Kick the Tires (and Wheels)
The PRO-X and PRO-4X grade Frontier come with Hankook Dynapro AT2 all-terrain tires. These nubby tires offer excellent grip on dirt, gravel, rocks, and mud while being relatively quiet and well-behaved on smooth roads and highways. They come wrapped around 17″ aluminum-alloy wheels with a hefty, industrial look and complement the blacked-out grille and body trim, including black plastic overfenders that help protect the body from loose rocks and other debris causing dings.
7) Pump Up the Volume
The available Fender premium audio system kicks out exceptional sound, with plenty of volume and crisp, enveloping sound. It has ten speakers, including two low-distortion subwoofers, and is as good as many luxury vehicles' sound systems. Its amplifiers output 440 watts of power, and its speakers feature Panasonic Acoustic Motion Control, compensating for unwanted vibrations while driving. The front 3-way speakers provide excellent imaging and dynamic range.
8) Smooth Mover
A significant advantage of the Frontier's size and updated suspension is that it handles more smoothly and comfortably than most other pickups I've driven. Road vibrations are barely noticeable thanks to new jounce bumpers and hydraulic cab mounts, and the truck's front and rear stabilizer bars keep the truck's handling predictable. I drove the Frontier on various terrain, including loose rock, gravel, mud, grass, and asphalt, and the suspension was happy to comply. While some might not care for the truck's somewhat heavy steering feel, it felt connected and provided good road feedback.
To wrap up, the 2022 Frontier offers the necessary styling, features, and comfort to make it a great daily driver truck. I love its garage-friendly size and lively drivetrain, and the PRO-X and PRO-4X give the truck the rugged looks and off-road capabilities welcome here in my new home in the country.