Toyota Tundra 1794 Goes Full Woodgrain
toyota tundra | wood | wraps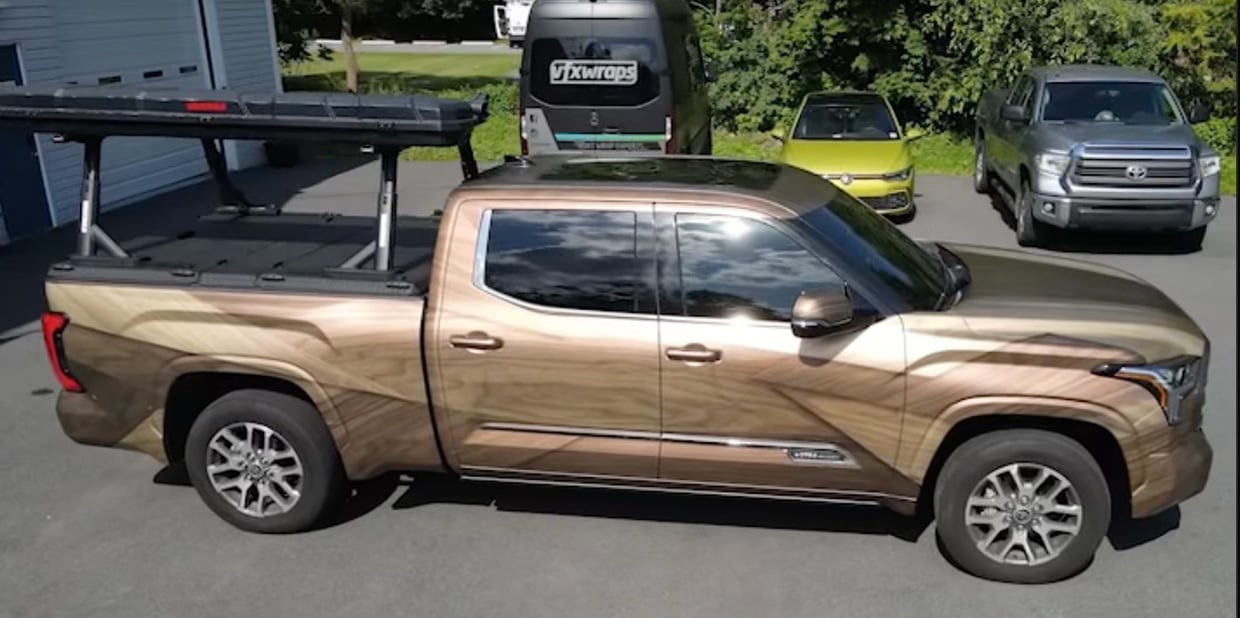 Back in the early days of the automotive industry, cars and trucks were actually made from wood. Once they moved to steel construction, the Woodie gave buyers real wood panels on the outsides of their cars. Over the years, car companies transitioned to faux wood made from plastic and continued to make woodgrain trim until it went out of fashion in the early 1990s.
Is woodgrain about to make a comeback? Well, if you ask the guy who ordered this custom woodgrain wrap for their 2022 Toyota Tundra 1794 edition, the answer is a resounding "Yes!"

Image Credit: VFX Wraps
Oliver Ngy and his girlfriend Riley Kolich took their 2022 Tundra to the talented folks at New Jersey's VFX Wraps and asked them to go to town and wrap every painted surface on the pickup truck with a woodgrain vinyl wrap. Their dream truck has also been kitted out with a sweet Yakima rack for their fishing and kayaking gear and a rugged Diamondback cover to protect their cargo from the elements.
The result is quite spectacular, replacing the stock red paint with precision-cut sheets of vinyl to match every crease and curve of the truck's muscular body. This Instagram clip shows off a little bit of the process, which I'm sure took countless hours to get exactly right.

Image Credit: Oliver Ngy
I really love the contrasting grains on the center of the hood and around the Tundra's gargantuan chrome grille. The guys at VFX Wraps did a fantastic job on this. Maybe we can convince Toyota to offer a full woodgrain option as a modern reboot of the Woodie. What do you guys think of the woodgrain Tundra?