2022 Chrysler Pacifica Pinnacle Hybrid Review: The Master of Minivans
2022 | chrysler pacifica | chyrsler | hybrids | minivans | phev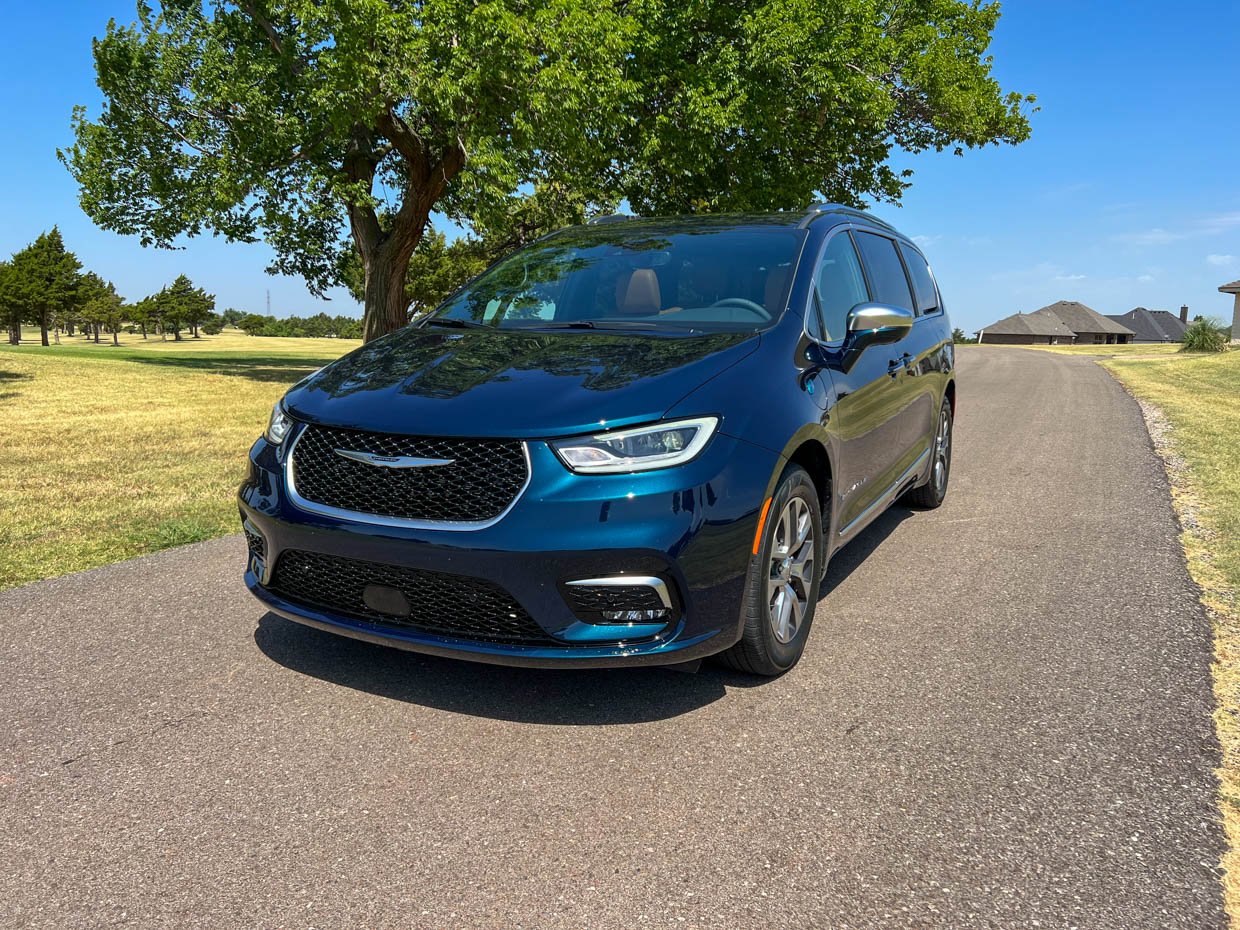 When it comes to family-friendly vehicles on the road in America these days, SUVs and crossovers get most of the love. While minivans are known for being boring, they offer a significant amount of cabin space, comfortable seating for all passengers, and cargo-hauling versatility. The Chrysler Pacifica Pinnacle Hybrid sits high atop Minivan Mountain with its balance of practicality, luxury, technology, and fuel economy.
The Pacifica Hybrid comes in three grades: Touring L, Limited, and Pinnacle, which offers more features and better finishes than any other minivan on the market – and with a starting price of $58,172, I would expect no less from Chrysler. Aesthetically, the Pacifica is as pleasant as minivans get, with a smooth and upscale silhouette. The Pinnacle model rides on 18″ polished aluminum wheels and has platinum chrome surrounding the grille, on the mirror caps, body trim, the door handles, among other spots.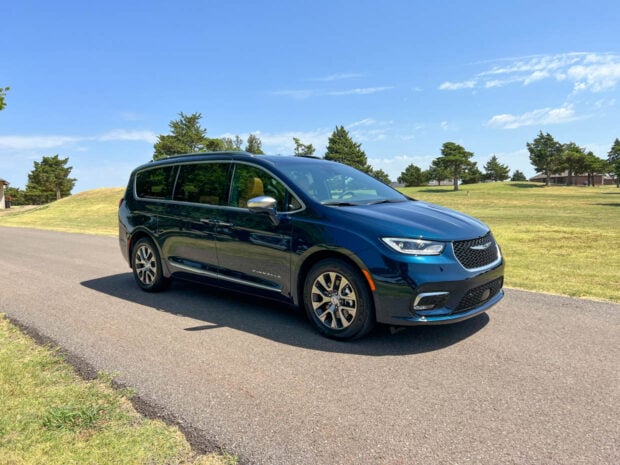 What makes this hybrid different than most is that it's a plug-in (PHEV). That means you can drive the Pacifica Hybrid on pure-electric power on short drives. After a full charge, you're looking at 32 miles of driving without using a drop of gasoline. But don't fret about that range number. Since it's also a conventional hybrid, it'll go up to 520 miles using a combination of gas and electric power, making it ideal for long road trips. I'm a big fan of PHEVs because they afford the best of both worlds – emission-free, electric power for everyday drives and no range anxiety when you want to hit the road. Combined, the system has an EPA rating of 82 MPGe combined. The only downside of the Hybrid model is that it's not available in all-wheel drive like the gas Pacifica.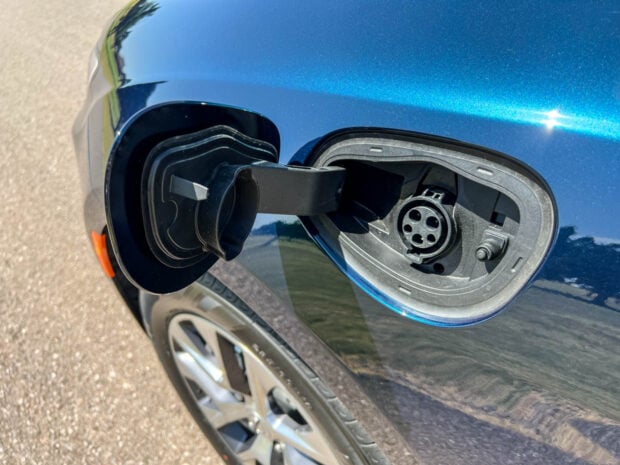 With a combined system output of 260 horsepower, the 3.6-liter V6 and front-wheel drive motor provide a reasonable amount of acceleration and good passing power. The ride quality is soft and smooth, and the cabin is incredibly quiet, even at highway speeds. There's quite a bit of body roll when cornering, but I don't expect you'll be taking a Pacifica to the race track.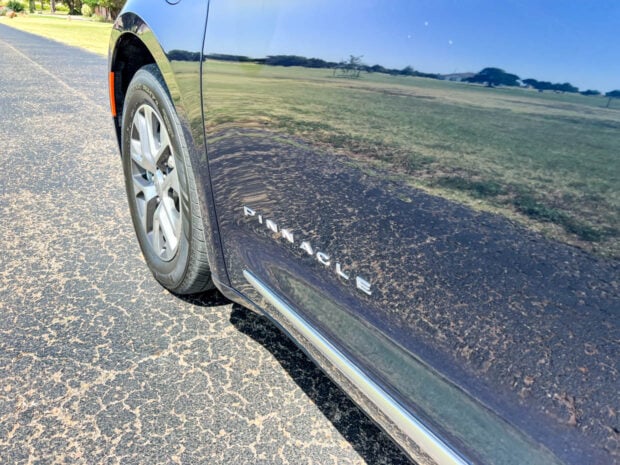 Getting in and out of the Pacifica is easy, with smooth-gliding power electric doors on both sides of the cabin, which can be opened and closed from the driver's seat. There's also a power liftgate in the back. Both the sliding doors and liftgate can be operated hands-free. All you need to do is kick your foot under the sliding door or liftgate, and it will open as long as you have the key fob in your pocket.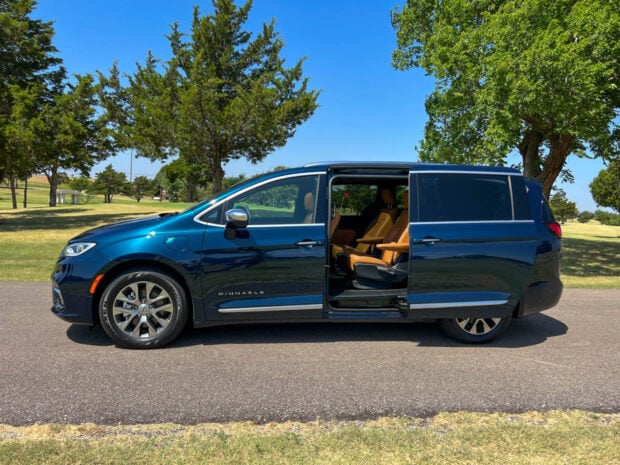 As a top-of-the-line model, the Pinnacle offers a truly luxurious interior, with stitched and quilted Nappa leather seats in a caramel brown color. The premium leather continues onto the doors, contrasted with black leather and shiny woodgrain trim on the dashboard around the door handles. The front seats have both heat and ventilation too. Even the floormats are fancy schmancy, done up in Berber carpet. There's also a great-sounding 20-speaker audio system from Harmon Kardon.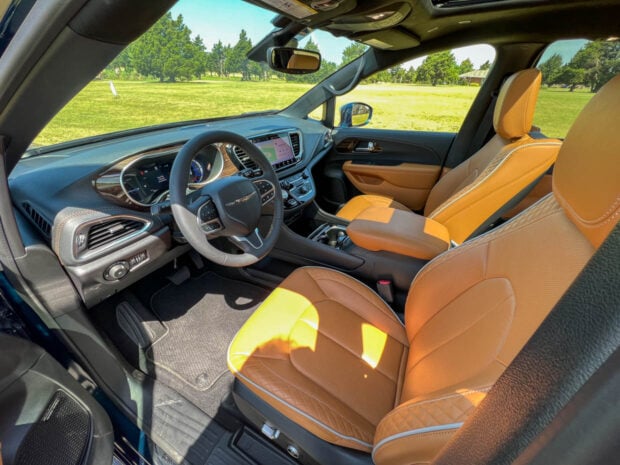 In the interest of comfort, the second row gets elegant bucket seats with fold-down armrests. While they don't fold flat into the floor like the cheaper Pacifica's Stow n' Go second row, they slide forward for easy access to the third row. The back of the center console hides a pull-out drawer with cupholders and room for storing iPads or other items. The front-row seatbacks come equipped with pop-up entertainment screens, both of which can stream content from Amazon Fire TV and Prime Video. They also come with elegantly-quilted throw pillows, which I would only leave in the van if you're hauling adults or really well-behaved kids. Otherwise, pillow fights might ensue while you're driving – especially from the jealous third-row passengers who don't get the same cushy accouterments.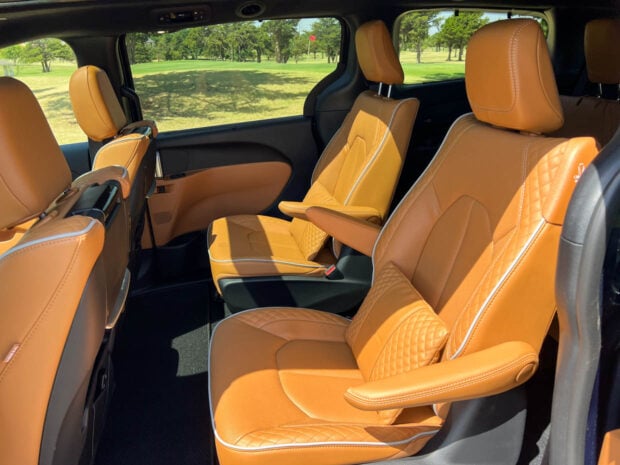 That said, the third row still gets quilted leather surfaces and has good legroom and headroom. It's supposed to hold three passengers back there, but it's better for two. These seats feature Stow 'n Go capability, which gives you a nice ample cargo space when they're not in use. Both the second and third rows have anchors for infant car seats as well.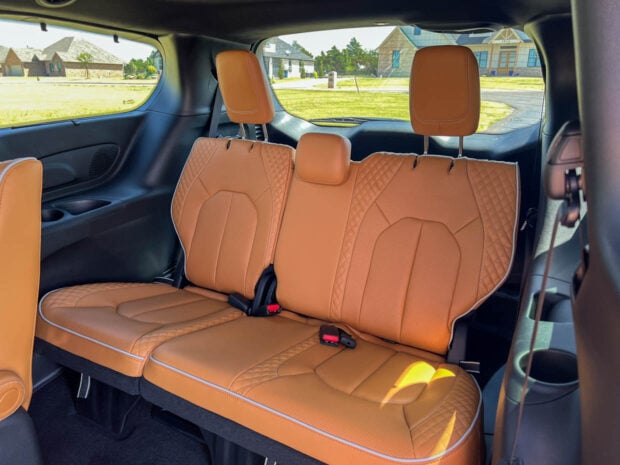 If you're worried about your kids acting out in the back, a set of cameras provides a top-down view of the cabin so you can see who the culprit is and take away their quilted pillow. There are ceiling-mounted vents over the back rows, ensuring climate comfort for all. There's a laundry list of other technology on board as well, including a surround-view camera, adaptive cruise control, blind-spo,t and rear cross-path detection, front-collision warning, hill-start assist, lane-departure warning, and parking assist features. The 10.1″ touchscreen display is powered by Uconnect 5, which is intuitive, responsive, and has Apple Carplay and Android Auto support.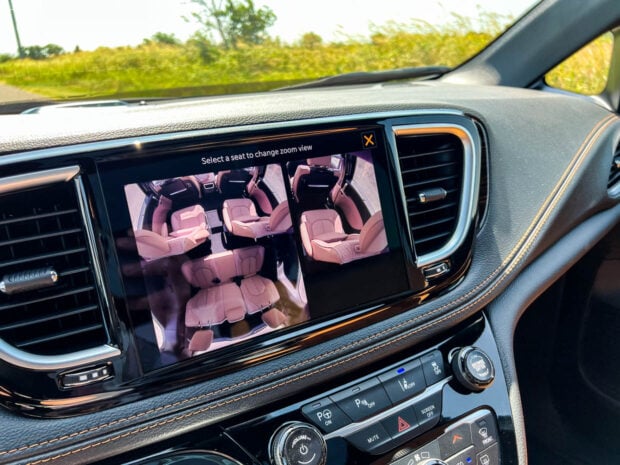 As is the case with most three-row vehicles, cargo space behind the back seat is limited, but Chrysler smartly created a cutout floor area back there which provides an excellent spot for carrying groceries or other items which might otherwise slide around. The total cargo space behind the third row is 32.3 cubic feet. With the seats folded down, that jumps to 87.5 cubic feet.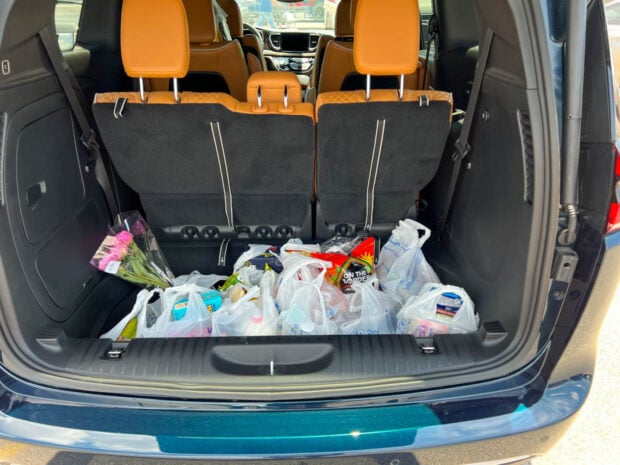 If you're looking for the space and utility of a minivan, you can get into an entry-level, gas-powered Pacifica for under $38,000. However, the Pacifica Hybrid gives you the significant advantage of pure-electric driving and improved fuel economy on longer trips. The Pinnacle model offers all of the bells and whistles you'd expect from a luxury trim model, though I question the practicality of high-end Nappa leather and throw pillows if you have little kids as passengers. But if you're an Uber Black driver, a real estate agent, or need to haul adults in comfort and style on a regular basis, the Pinnacle is worth the extra money. Otherwise, you can save about $10,000 and go with the Pacifica Hybrid Touring L, which has the same drivetrain and capacities minus the fancy materials and a few other nice-to-have features.