2023 Nissan Z Manual Review: A Fun Sports Car for Purists
2023 | manual transmission | nissan | nissan z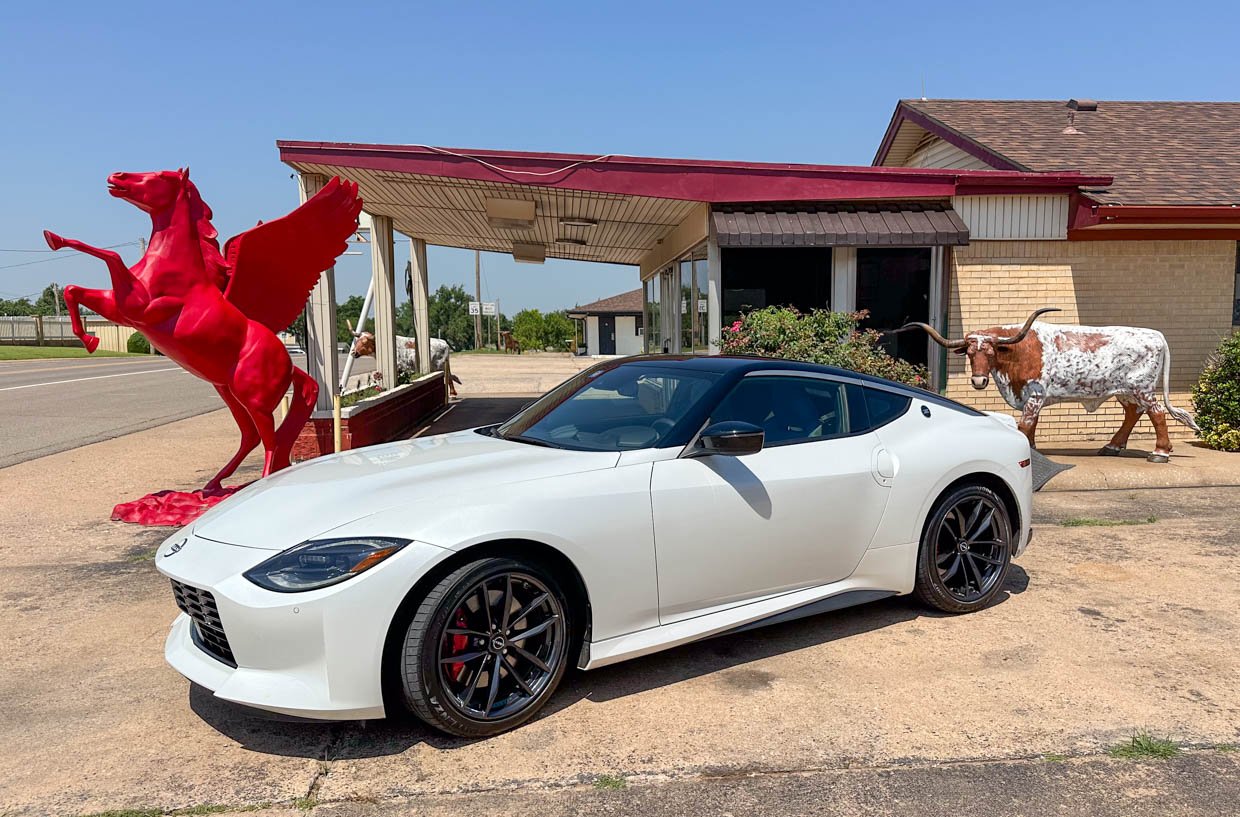 Nissan has been making Z cars for decades, and the 2023 Z builds on that experience, giving drivers a car that is extraordinarily fun to drive, has head-turning looks, and pays tribute to Nissan Z's heritage. While there's a NISMO Z in the works for 2024, the current pinnacle of Z capability is the Z Performance. The two-seat coupe has everything you want in a sports car – muscular looks, a powerful turbocharged engine, rear-wheel drive, and an available manual transmission.
The latest generation Z car deftly combines modern and classic design elements, including a Fairlady Z-inspired front end and taillamps copped straight from the 300ZX. My favorite nod to the past is the wishbone-shaped hood sculpting straight from the 260Z and 280Z. The Z's curvy fastback profile takes 370Z's best angle and makes it even better by smoothing out the roofline and adding a crisp sheet metal crease at the beltline. The Z Performance model rolls on 19″ RAYS lightweight alloy rims, wrapped in sticky Bridgestone Potenza S007 tires, which provide excellent grip in wet and dry conditions – as long as it's reasonably warm.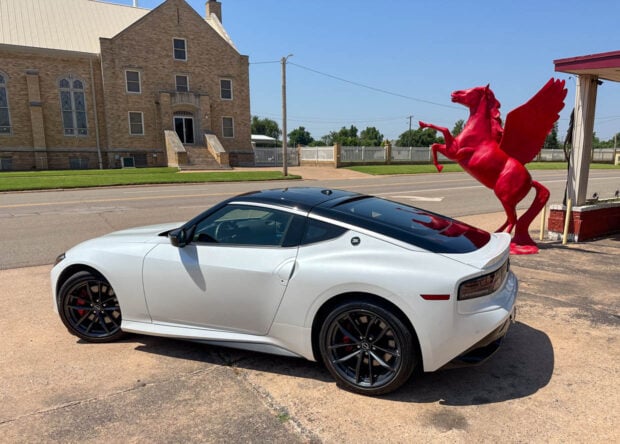 Beneath the hood, you'll find a 3.0-liter, twin-turbocharged V6 engine that produces 400 horsepower and 350 lb-ft. of torque. There's not an ounce of turbo lag, and it's powerful enough to launch the Z from 0 to 60 mph in about 4.5 seconds with the 6-speed manual transmission. I got closer to a 4-second launch in the 9-speed automatic Z I drove last year. While the engine sounds great, I'd probably go for an aftermarket exhaust system to amplify its grunt a bit more.
As expected, the 6-speed is significantly more engaging than the automatic, and the Exedy high-performance clutch offers an easygoing pedal feel. Shifting gears is smooth, and the SyncroRev-matching feature helps provide smooth downshifts by automatically matching engine RPM for every shift. While heel-toe drivers probably won't use this feature, I found it to be especially nice in daily driving in traffic. Adaptive cruise control is another feature I've not experienced in a manual car. In this case, it can maintain highway speeds and distance from the car in front of you so long as it doesn't need to change gears.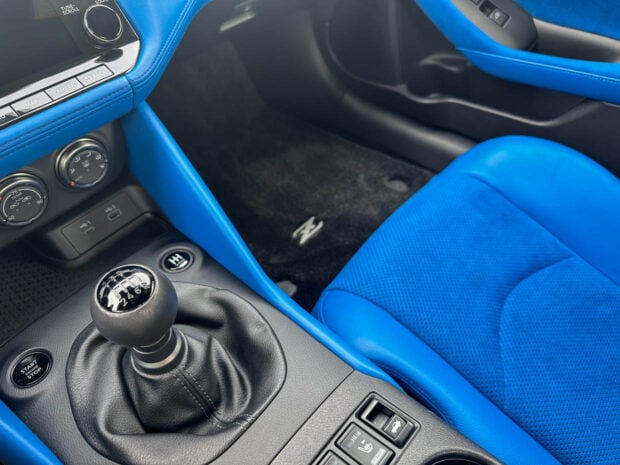 The Performance trim also has a mechanical limited-slip differential which helps the car remain balanced and on target when cornering. But it's just as easy to put the Z into a drift thanks to its high horsepower, RWD configuration, smooth throttle, and proper manual handbrake. The steering has a nice weight, and the sport-tuned suspension provides a great connection to the road. Keep in mind that adaptive dampers aren't available, so the ride tends to be harsher in everyday conditions than other sports cars that can soften their suspension.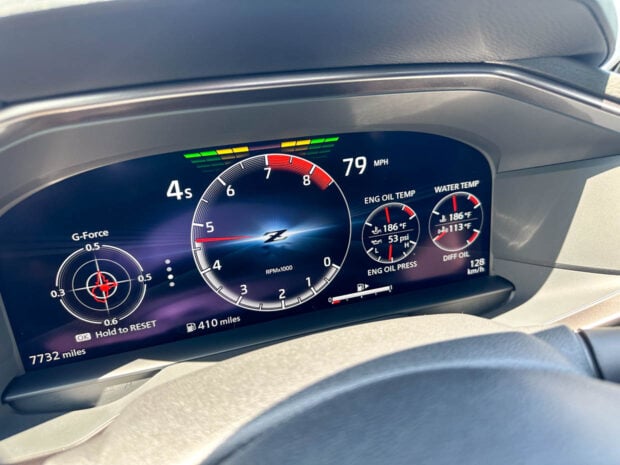 The digital instrument cluster provides a big tachometer front and center, along with a current gear indicator and a green-yellow-red display to help with upshift timing. You can also view a G-force graph and gauges for critical systems like engine oil temperature and pressure, coolant temperature, and differential oil temperature. Z traditionalists will appreciate the triple analog gauge cluster on top of the dash showing turbo boost, RPMs, and battery voltage. The Base trim has an 8″ screen with wired CarPlay and Android Auto, while the Performance trim has a 9″ touchscreen with wireless CarPlay support and an 8-speaker Bose audio system.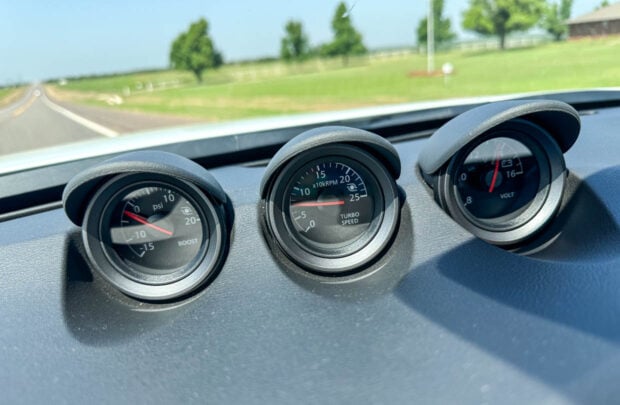 My test car was outfitted in the boldest of the interior color schemes, with blue leather trim on the seats, lower dashboard, center console, and doors. The center section of the well-bolstered sports seats is trimmed with microsuede to keep your butt planted in the seat when cornering. The interior is quite comfortable once seated, though the low cabin takes some effort to get in and out if you're used to driving something other than a sports car. At highway speeds, expect a good deal of interior noise and vibration, most of which I attribute to the run-flat tires and suspension tuning.
I'm a big fan of liftbacks and hatchbacks because they provide greater cargo-carrying versatility than the small trunks typically found in sports cars. There's enough room to carry a couple of roller suitcases or duffel bags. Remember that the sloped roof limits the height of items you can put back there. I like that you can access part of the cargo area from the front seats, too – a nice feature for road trips and when you want to grab snacks from the cooler bag. A metal bar helps keep items from sliding forward into the passenger compartment. There's also a lidded storage bin in the center console, storage trays behind the seats, and a hidden parcel storage box behind the passenger seat.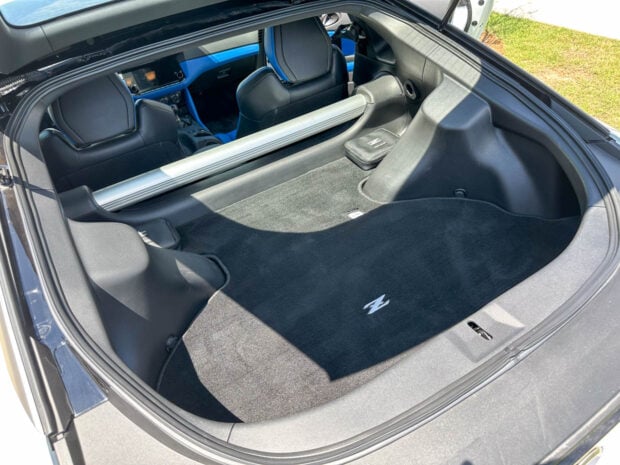 Nissan has done a fantastic job modernizing the Z, adding just enough technology while preserving its purity as a driver's car. It's much faster than its predecessor, the 370Z, handles better, and is even more engaging to drive. The cabin is also quite comfortable for a sports car, and there's enough cargo space for a week-long road trip for two. While you can get into a base Nissan Z for as little as $40,990, the Z Performance starts at $49,990. The car tested here came to $53,665, including destination charges.