2024 Mercedes-Benz E-Class All-Terrain Is a Station Wagon with Off-Road Abilities
awd | e-class | mercedes-benz | off-road | station wagons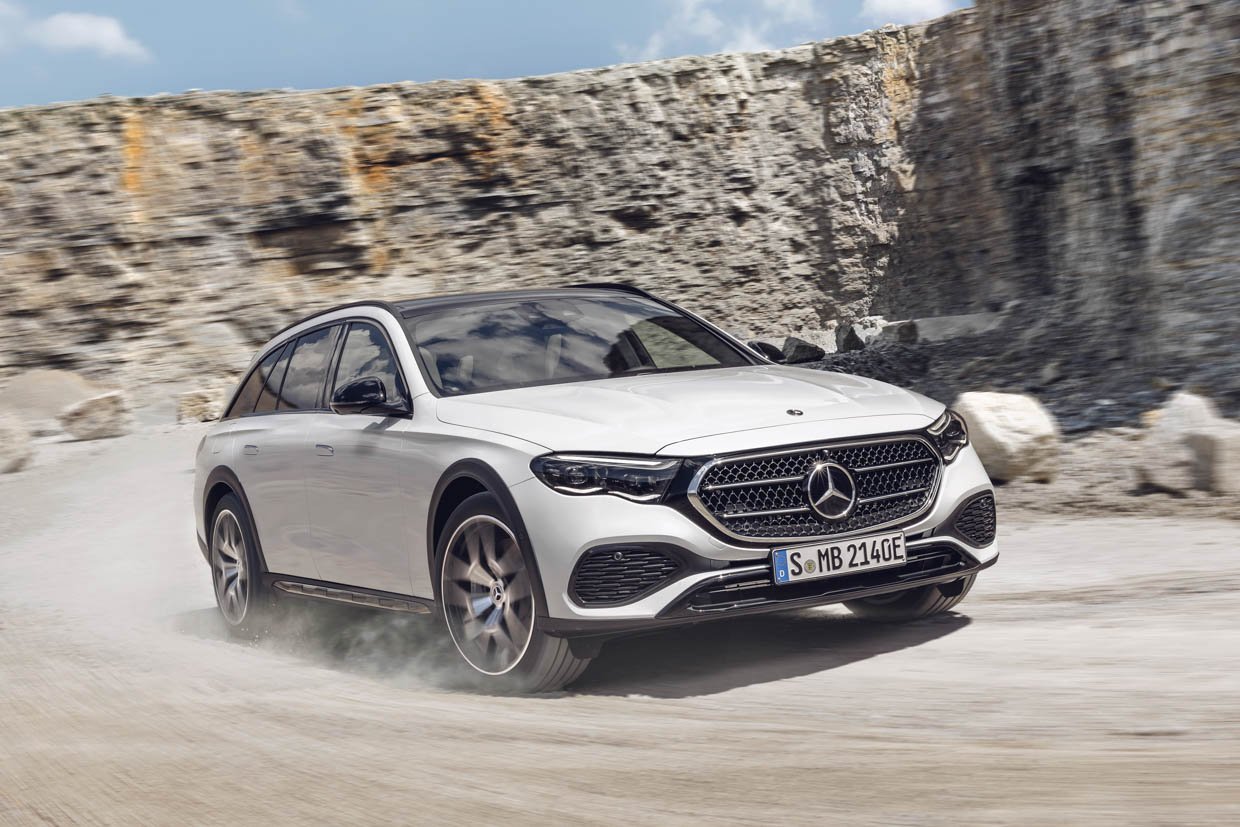 Mercedes-Benz made its E-Class even more compelling by announcing the new 2024 E-Class All-Terrain. This luxury station wagon is ready to conquer everyday driving and rough and rugged trails. If I wasn't excited enough to get a new E-Class wagon here in the States, the fact that it's been tricked out for off-roading puts an even bigger smile on my face.
The E-Class All-Terrain comes standard with 4MATIC all-wheel drive for optimal traction and AIRMATIC air suspension to sop up bumps and ruts. It's also a bit wider and taller than the sedan, measuring 75 inches wide and 58.9 inches high. It's powered by a 3.0 liter turbocharged inline-6 engine, making 375 horsepower and 369 lb-ft. of torque. A mild hybrid system uses an electric motor to provide 23 extra horses and 151 additional lb-ft. of torque for enough get-up-and-go to launch the wagon from 0 to 60 mph in 4.6 seconds – that's 0.7 seconds faster than the outgoing E 450 4MATIC All-Terrain Wagon.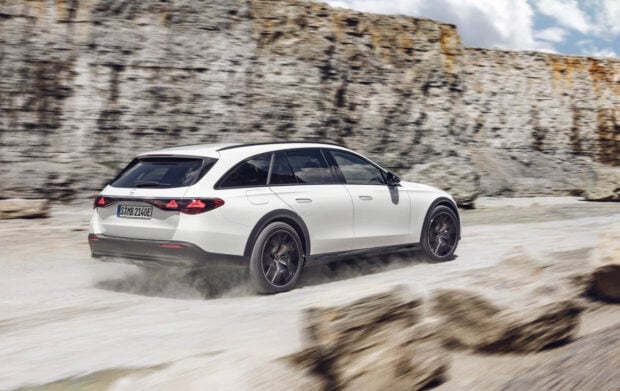 The suspension system combines air suspension bellows with adaptive dampers, which can dynamically adjust stiffness at each wheel in a fraction of a second based on the current terrain. This system can raise the vehicle to improve ground clearance and also lower its height by 0.6 inches at highway speeds to help improve aerodynamics. The All-Terrain also has a few notable exterior details, including a unique front grille, dark grey wheel cladding, and an underbody guard at the car's rear. It comes standard with 18″ wheels, with 19″ and 20″ options. But when it comes to off-roading, I always recommend smaller rims, so the 18″ standard wheels are your best bet to maximize sidewall coverage from your tires.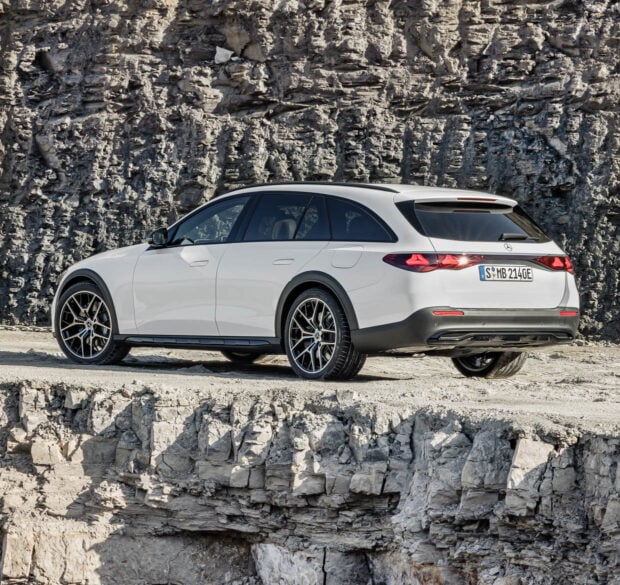 Inside, the E-Class All-Terrain is every bit as luxurious as you'd expect from a Mercedes, with premium materials throughout and elegant touches like metal pinstriped wood on the dashboard and center console. The large MBUX screen for controlling the multimedia system floats atop the center stack while bright ambient lighting runs across the dash. The touchscreen includes an off-road display mode, which provides video from a 360º camera, and a transparent hood mode, which lets you see obstacles beneath the front of the car.
As a wagon, it's designed to carry gear in addition to passengers, with up to 64.6 cubic feet of space for luggage, adventure gear, and golf clubs with the rear seat folded down. With passengers sitting back there, you're looking at 21.7 cubic feet, which is still better than a sedan, plus the seats fold in a 40/20/40 split for versatility.
Mercedes has yet to announce pricing for the 2024 E-Class All-Terrain. But the 2023 E 450 4MATIC All-Terrain started around $72,000, so I'd expect a bit of a price bump from that model. The car is expected in U.S. dealerships in early 2024.