2015 GMC Yukon & Yukon Denali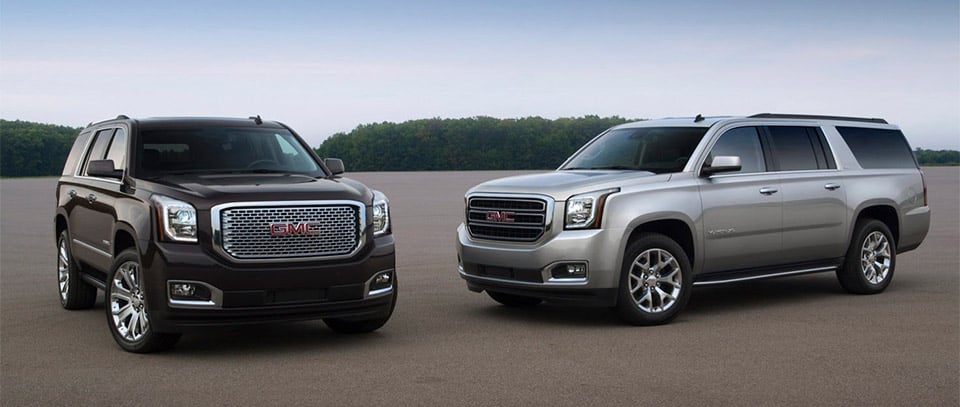 2015 GMC Yukon

Powertrain: 355hp 5.3L V8 (Yukon models), 420hp 6.2L V8 (Denali models), 6-speed automatic transmission
Curb Weight (lb): 5349 to 5981 lbs., depending on model
Wheelbase (in): 116 in. (Yukon models), 130 in. (Yukon XL models)
Total Length (in): 203.9 in. (Yukon models), 224.3 in. (Yukon XL models)
Width (in): 80.5 in.
It's amazing what a new grille design can do to improve the aesthetics of a vehicle. Case in point: the 2015 GMC Yukon. By increasing the height and width of its chrome-accented grille, its new models look dramatically more desirable on approach than its last-gen variants. We especially like the new perforated grille on the Yukon Denali. In addition to its obvious front-end facelift, the 2015 Yukon offers projector beam headlights with LED accents, improved aerodynamics, a standard rear spoiler on its liftgate, and more aluminum components to decrease overall weight and improve fuel efficiency.
Speaking of efficiency, the Yukon now comes with one of two EcoTec3 V8 engines, either a 5.3-liter, 355hp model offering 375 lb-ft. of torque, or a 6.2-liter, 420hp model with 470 lb-ft. of torque in the Denali model. Both engines are connected to a Hydra-Matic 6L80 six-speed automatic transmission. To improve overall handling, the Yukon's wheels are now 1/2-inch wider, and it's been upgraded with an electronic variable-assist power steering system.
Inside, all Yukons offer three rows of seating, with fold-flat capability for both the second and third row, along with improved legroom for second row seating when compared to prior models. All models offer premium interior materials which provide a luxurious interior while still being quite capable of hauling cargo and passengers. GMC also says it put considerable thought into reducing cabin noise, changing the design of doors, mirrors, windshield and exhaust systems to help provide a quiet ride.
All models include an 8-inch touchscreen infotainment system, and a driver dashboard information screen, which gets upgraded from a 4.2-inch to a configurable 8-inch display in the Denali model. Available technologies for the Yukon line include keyless entry and pushbutton start, forward collision alert, front park assist, side blind-zone alert, crash-imminent braking, lane departure warning, lane change assist, rear cross-traffic alert and adaptive cruise control.
The Yukon is available in four basic flavors: The base Yukon, the luxury and performance enhanced Yukon Denali, and its longer brethren the Yukon XL and Yukon Denali XL, both of which are about 20 inches longer – resulting in increased legroom and cargo capacity.
GMC expects to start shipping the new Yukon models in early 2014.