McLaren 650S Spider Drops its Top in Geneva
convertible | mclaren | March 4, 2014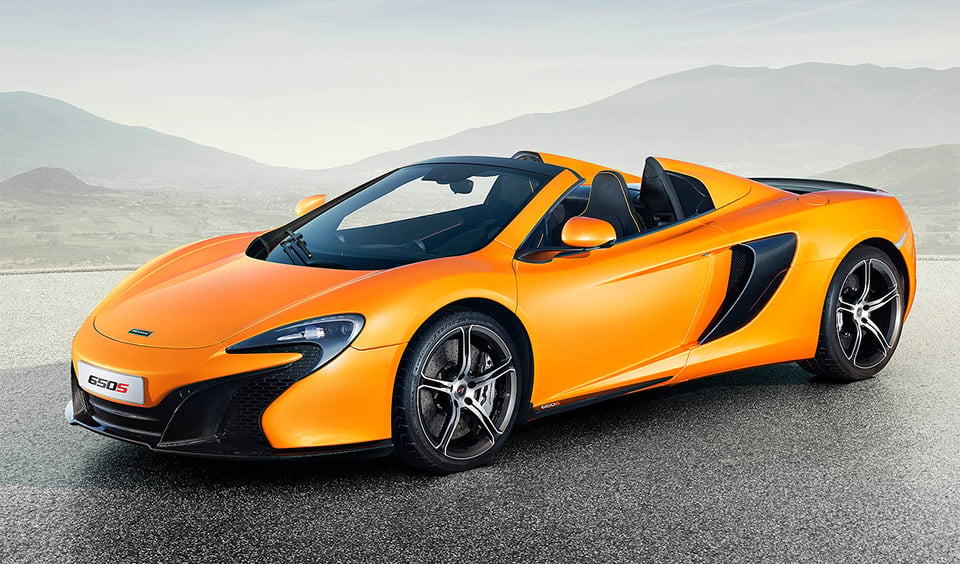 Hot on the heels of the announcement of the McLaren 650S, the company made a surprise reveal of an open-top variant during the 2014 Geneva Motor Show, the 650S Spider.
Incredibly, the company has figured out a way to maintain the same torsional strength as the Coupe version, thanks to its carbon fiber MonoCell chassis, and the car has minimal added weight compared to its brother. In fact, it only weighs 88 pounds more, with a total dry weight of 3,020 lbs. Its two-piece roof can be electrically raised or lowered in about 17 seconds, and at speeds up to 19mph.
Like the 650S Coupe, the Spider can hit 62mph (100 km/h) in just 3.0 seconds, though it's 2/10ths of a second slower to 124mph (200km/h) in 8.6. Naturally, it shares the same drivetrain and 650hp V8 twin-turbo power plant. Top speed for the Spider is rated at 204mph, versus the 207mph top for the Coupe. Still, that's not too shabby for a convertible.
While U.S. pricing has yet to be announced for the McLaren 650S Spider, it's expected to sell in the U.K. for £215,000 (~$360,000 USD), a premium of £20,000 (~$33,000 USD) over the Coupe model.