Arcimoto SRK Electric Car
arcimoto | July 6, 2014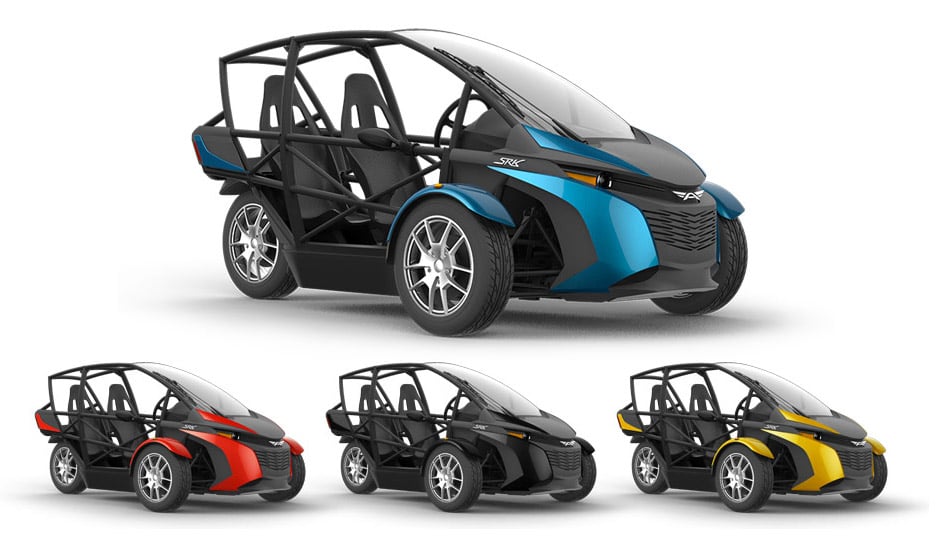 Arcimoto SRK

Powertrain: 100hp electric motor, front-wheel drive
Top Speed (mph): 75 mph
Curb Weight (lb): 1500 lbs.
Wheelbase (in): 87 in.
Total Length (in): 124 in.
Driving Range (mi): 40, 80 or 120 miles
Base Price (USD): ~$17,500
While most of the open-air cars we see are designed for racing and off-road use, this one is designed to be a daily driver. The Arcimoto SRK is a pure-electric enclosed frame vehicle that's designed to provide extraordinary energy efficiency. Officially defined as a three-wheeled motorcycle, the Arcimoto SRK sure looks like a car to us.
Despite its classification, the SRK drives like a normal car, with a steering wheel, accelerator and brake pedals.  The vehicle provides a tandem seating configuration for its driver and passenger, and checks in at just 1,500 pounds curb weight. There's a small cargo area in back for carrying groceries and other items, and there's even enough room for a set of golf clubs (standing up, we assume). While the cockpit looks completely open other than a windshield, Arcimoto plans on offering a hard-panel enclosure option – which we'd say is a necessity if you live anywhere that it rains or snows on a regular basis.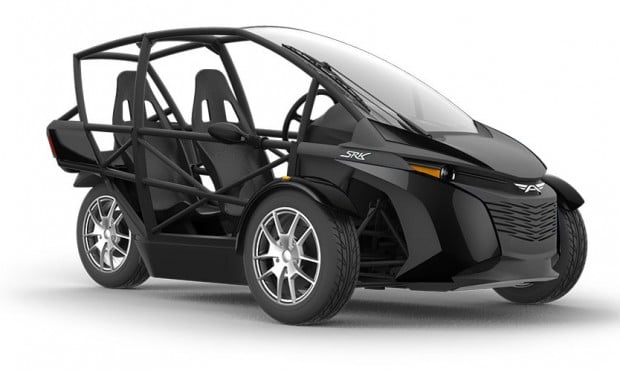 It's driven by a 100 horsepower electric motor capable of pushing out 230 lb-ft. of torque. Top speed for the SRK is 75mph, while its 0-to-60 time is 8.6 seconds. Driving range is 40 standard; 80 or 120 miles respectively when equipped with 8.9kWh, 17.6kWh or 24.8kWh battery packs.
Arcimoto is targeting a retail price of $17,500(USD) for the SRK, and is accepting $100 deposits for those interested in securing a spot in line for a production vehicle. Keep in mind that the company has been refining the car's design and prototypes for nearly six years (with the designs improving in leaps and bounds since the earliest versions), but we may still be waiting a while before we see the SRK on the road.