Review: 2014 Scion FR-S
scion | July 14, 2014
2014 Scion FR-S

Powertrain: 200 hp, 2.0L flat-4, 6 spd. manual or auto
City/Hwy/Combined MPG: 22/30 (25 combined) - manual / 25/34 (28 combined) - auto
Curb Weight (lb): 2,758 lbs. (manual) / 2806 lbs. (auto)
Wheelbase (in): 101.2 in.
Width (in): 69.9 in.
Base Price (USD): $24,700
Price as Tested (USD): $27,534 (incl. $755 delivery)
When the Scion FR-S first came on the scene a couple of years back, I had an opportunity to drive one through the Hollywood Hills for an afternoon. While I really enjoyed my experience, I didn't get the chance to do an in-depth review. Fast forward to 2014, and I have to say I still love this car. It's one of my favorite entry-level sports cars of all time, combining awesome styling, great driving characteristics, and a reasonable price.
Exterior
The FR-S has a bold and unmistakable design. Its front end has sort of a mischievous look about it, with its cat-like sculpted headlamps and low-lying hexagonal grille, it looks like its ready to pounce on its prey. From the side, my favorite visual element is how the lower body crease starts all the way at the front and ends as a curved edge at rear of its doors. Wide wheel flares give the car an increased sense of width and stability, as it rides along on 17-inch alloys. Its tail is highlighted by a low-profile spoiler, nifty round LED brake lights, and dual exhaust pipes. And while it's become a trademark of the FR-S, I'm still a little baffled by the triangular brake and backup lights integrated in the center of the bumper. For me, this is the low point of what is otherwise a stellar design.
Interior
Beyond its sport seats and aluminum trim, the interior of the FR-S is best described as "spartan." It's minimal and gets the job done, but there's not a whole lot going on here. The cloth seats are comfortable and offer accent stitching, and the aluminum pedals are a nice touch, and the faux carbon fiber on the dash and glove box is some of the better execution I've seen of this sort of material. But this isn't a car you're buying for a fancy interior. This is a driver's car. The very fact that the tachometer is the single most prominent feature on the dashboard is proof of that very fact. Speaking of the tach, there's a handy indicator which can be enabled to tell you when to upshift in 100 RPM intervals. The leather-trimmed steering wheel is also quite nice, but I'd love to see a proper "D-shaped" sport steering wheel as an option.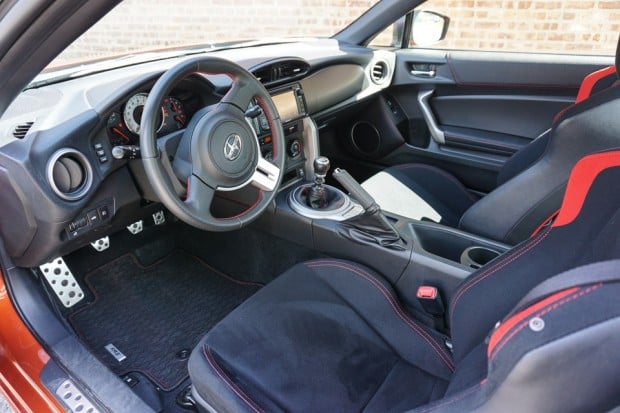 The front seats offer good comfort and offer plenty of legroom. As a 2+2, the rear seats on the other hand are pretty much useless. While you can certainly fit children or a dog back there, I suggest you just flip the seat down and extend your trunk space – which only offers 6.9 cubic feet of storage. Or better yet, I'd love to see Scion offer a hatchback instead.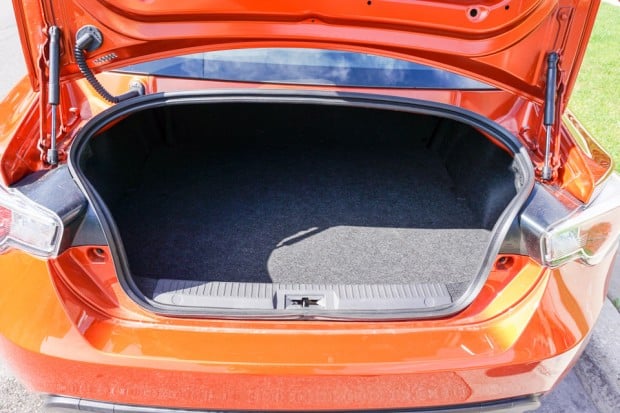 Standard features include a Pioneer 8-speaker audio system with Bluetooth and HD radio, power windows, power mirrors, and a tire pressure monitoring system.
Drivetrain/Engine
Under the hood of the rear-wheel drive Scion FR-S is a 2.0-liter, naturally-aspirated Subaru Boxer engine which outputs 200 horsepower at 7,000 RPM and 151 lb-ft. of torque. Despite its relatively low output, the car has plenty of get-up-and-go, since it weighs an astonishingly light 2,758 pounds.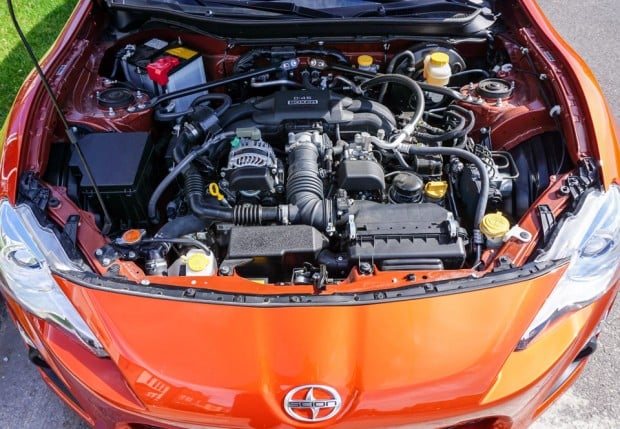 When equipped with the optional TRD exhaust system, it's got a wonderfully throaty bass note when starting up and accelerating. Having driven both the 6-speed manual and 6-speed automatic variants of the FR-S, I have to say this is one car where the manual is a bit more fun. There's nothing wrong with the automatic, it's just that the FR-S is one of those stripped-down cars where driving with a stick makes you feel more connected. Yes, the automatic offers paddle shifters, but I found myself pushing the engine to higher revs with the manual, which is satisfying in both sound and feel.
Handling/Performance
With its flat-4 engine, impressively low center of gravity and 53/47 front-to-rear weight distribution, the FR-S feels incredibly stable in the corners. Despite being a rear-wheel drive, it never feels like you'll lose control – which can also be attributed to the fact that its not overpowered for its weight. That said, you can always get a powerslide going if you want. I'm also happy to say that its steering is incredibly tight and responsive, despite having electric, not hydraulic, power steering.
The FR-S exceptional handling is further enabled by its independent McPherson Strut front suspension, and double wishbone rear suspension. The car also offers driving aids in the form of traction control and vehicle stability control, both of which can be disabled for track-day fun.
The just-released 2015 model gets a slightly more rigid front suspension, and the rear has had adjustments to reduce body roll – though to be honest, I found body roll to be negligible.
Pricing and Options
Base price for the 2014 Scion FR-S with a manual transmission is $24,700(USD). Scion doesn't offer that many options, but my review car was fitted with fog lights ($490), a rear spoiler ($399), all-weather mats ($90) and the awesome sounding TRD exhaust system ($1100). Yes, if there's one option you buy with an FR-S, get the exhaust upgrade. I've driven an FR-S without this option and this should be standard equipment.
If you're willing to spend a little more money, the Subaru BRZ does offer more options and more premium finishes than the FR-S, but I prefer the exterior styling of the FR-S, both cars drive almost exactly the same.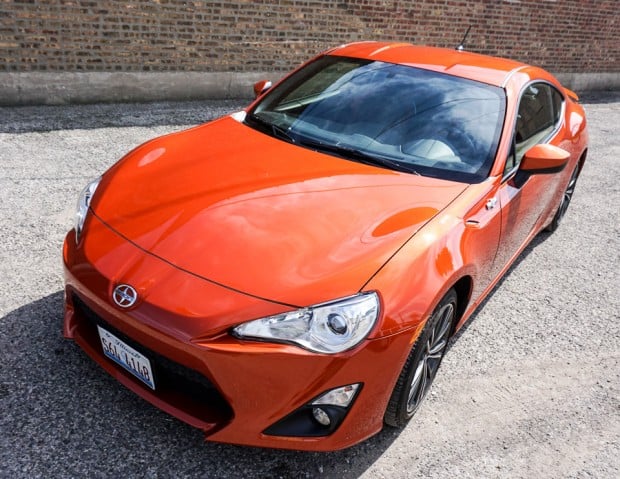 If the Scion FR-S had existed back when I graduated college, there's no doubt it would have been the car I bought for myself. Sadly, I ended up with a 1986 Pontiac Grand Am instead. The Scion FR-S is a blast to drive – especially in the corners. Kitted out with the TRD exhaust, it sounds just great, and it won't cost you a mortgage payment to get behind the wheel of one either.
Sure, there are fancier and more powerful sports cars out there, but other than its sibling the Subaru BRZ, no factory-new car can compete with the price/value ratio of the FR-S at this point.