Audi Will Fit Cars with 48-Volt Electrical Systems
audi | technology | August 28, 2014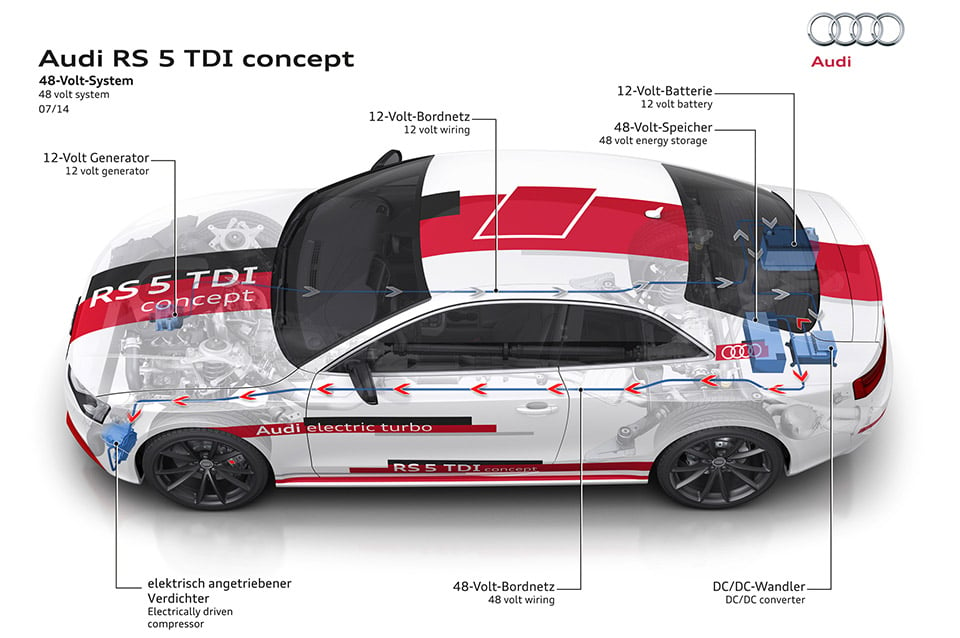 Audi has announced it will be bringing the 48-volt electric system that it first previewed in the Audi RS5 TDI Concept to its production vehicles in the future. The new system will boost the electric bandwidth from the currently available 12 volts to a full 48 volts. Audi points out that currently technologies are already pushing 12-volt systems to their limits and that the 48-volt system will allow more energy to be available for new technologies.
In the RS5 TDI Concept, one of the benefits provided thanks to the system was the ability to drive an electrically powered compressor which operates independently of the engine and improves the car's acceleration performance. Other applications may be dynamic chassis control and adjustable suspension damping and Audi expects to announce others in the future.
The 48-volt system features new storage technologies (currently using a compact lithium‑ion battery along with an efficiency-optimized alternator) and is a second, subsidiary system designed to complement the standard 12-volt power supply.