Audi Celebrates 25 Years of TDI Diesel Tech
audi | July 16, 2014
Audi introduced its first TDI engine in 1989, when diesel engines were often thought of as the proper powertrain for big trucks or, perhaps, some large sedans where efficiency was more important than performance. They were rarely considered in discussions about sports cars or racing. But with 25 years of research and testing, Audi is celebrating the progress made in diesel technology over the past quarter century.
Audi was first carmaker to bring the TDI to market with the Audi 100 equipped with a 2.5 TDI, a fully electronically-controlled diesel engine with direct injection. Since then, Audi has produced roughly 7.5 million cars with TDI engines – nearly 600,000 in 2013 alone. Over the course of these 25 years, the TDI has seen its power and torque relative to displacement increase by over 100 percent, while pollutant emissions have come down by 98 percent over the same period. And TDI engines can be found in every Audi model produced — with the exception of the Audi R8 supercar. In fact, Audi is currently testing a RS5 TDI with performance numbers besting its current 450hp v8 equipped production model.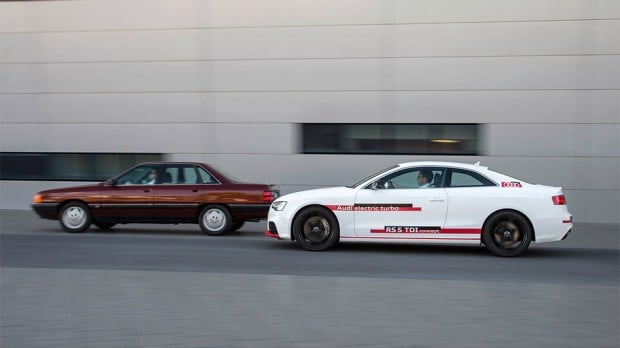 Audi has also equipped its top-end racers with TDI engines, crossing the line in positions 1 and 2 in the 2014 24 Hours of LeMans driving diesel-powered Audi R18s. With the continued development of diesel technology, it's becoming more and more common to see diesel versions of everyday drivers on the roads in the U.S.; something that has been seen in Europe already for years. It will be interesting to see if diesel also moves into performance cars like the Audi RS5 or comparable models from other manufacturers.